Don't you like to spend money on subscription-based video streaming services like Netflix and Hulu? There is a growing number of alternative options that offer free movies and TV shows backed by advertising. And now you can also add Pluto TV to this stack. Here is the guide that will show you what is Pluto TV, Why on Firestick, How to Install Pluto TV on firestick and features.
What is Pluto TV?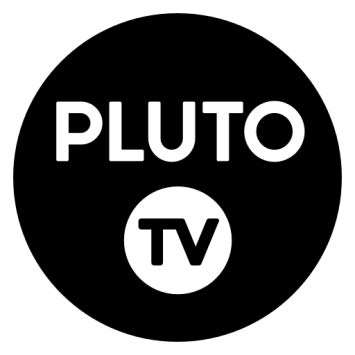 Pluto TV is a bit different from other services of this kind which bring together a wide range of content, including custom and web-based channels – movies on demand. Despite its unique approach, this service offers us more than 100 channels with streaming features available for viewing on many different devices and is completely free. Adding all the good video content on the internet is not an easy task, but that is the promise of Pluto TV. This is a free television service launched in 2014 that gives you access to multiple information and entertainment channels programmed with web content. Pluto TV is a cool platform and uses sites like YouTube to fetch the videos. If you are amazon firestick users and looking to download & install pluto tv on firestick then you should definitely follow this guide.
Check – How to Install Gears TV on Firestick & Fire TV
Why Pluto TV on Firestick?
For those who want to eliminate or reduce monthly charges with a monthly cable subscription, the firestick is the perfect solution. With a Firestick, you can download thousands of amazing apps. Many of them can easily be used to completely replace this signature. Applications like Pluto is fast turning cable television into an unnecessary service.
Features of Pluto TV
Here are some features reasons why you should install Pluto TV on Firestick right away.
Feature 1: Easy to download
First of all, when compared to other apps, downloading Pluto TV on firestick is incredibly fast and easy. Pluto TV is completely free to download and does not require credit card information to run.
Feature 2: Legal content
Pluto TV only runs licensed, paid content through advertising, anything that is available through Pluto TV is completely legal.
Feature 3: Maximum entertainment
Pluto TV is a free TV application available for Fire TV Stick, offering a mix of sports, entertainment, and news. It's a great app worth checking out.  However, Pluto TV has partnerships with a variety of television stations, studios, and publications such as Sky, NBC, A&E, Bloomberg and Paramount which result in better channel offerings.
Feature 4: play on demand
Unlike applications like Netflix, Pluto TV offers on-demand movies and series. This service seeks to replicate the live TV experience. The service is focused on free content and not on paid channels.
Feature 5: Happy users
Pluto TV has more than 5 million monthly viewers. Pluto TV organizes live streaming in the thematic process. For example, one dedicated to the American Democratic Party, another basketball, one food, and several music channels. Pluto TV also has established off-platform channels such as NASA TV. Pluto TV is the most used platform for live streaming.
How to Install Pluto TV on Firestick & Fire TV (2019)
Downloading and Installing Pluto TV for firestick is surprisingly easy. This method will also work for fire tv, firestick 4k, and fire tv cube. Just follow these steps.
After the installation of Pluto TV on Firestick, you can download a VPN system to make your online streaming experience secure and better.
From the Firestick main menu, click the search icon on the screen. The "Search" screen will open.
From here, type the words "Pluto TV". This should take you directly to the Pluto TV download page.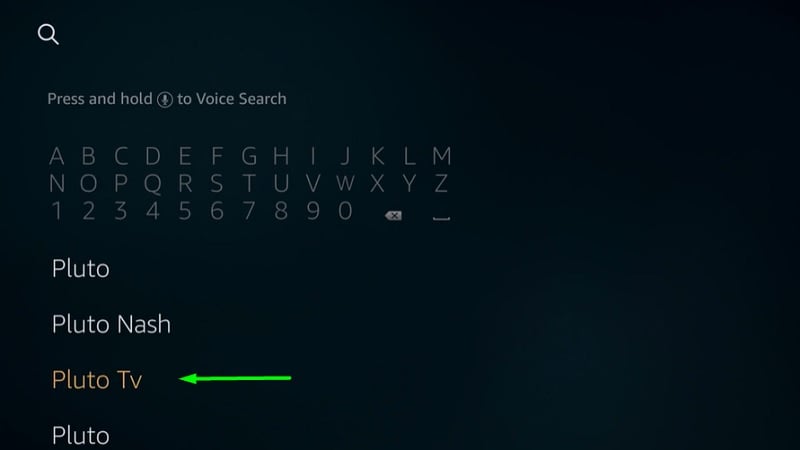 Install Pluto TV on Fire TV. Click on the Download icon. Pluto TV should now start the download and will auto-install itself. This process should be relatively fast depending on the speed of your internet.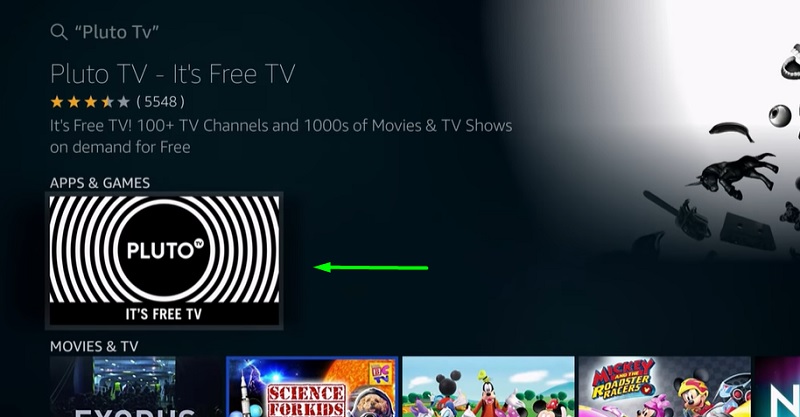 Once the application is installed, the download icon will be replaced by the "Open" icon. Click to open Fire TV Stick home screen where you can select Pluto TV.
Likewise, you have access to this service from the Fire TV Stick input screen.
And by selecting from the menu "Opened apps recent" or "See all" from the "Apps" menu.
Open Pluto TV on firestick and enjoy your favorite shows.
The Importance of Using a VPN
Although it is not mandatory to use authentic VPN service to use Pluto TV live streaming. This is just a suggestion. If you give importance to your online safety and privacy you can use VPN service. Why let service providers know what you are doing online? Live streaming service without a secure VPN will let the advertisers, hackers and Internet providers know about each step that you take online – what you do, which website you visit, which content you download, etc. Since some streaming services are in direct competition with those provided by your internet service provider. It is strongly recommended using a good VPN service like IPVanish before you strat stream Pluto TV on Firestick.
Don't Miss – How To Install Disney Plus App on Firestick
Pluto TV Fire Stick -How to Install Pluto TV on Amazon Fire TV (Video Tutorial)
Conclusion: The Entertainment of Future
As technology advances, more and more of the services you consider necessary are becoming obsolete. Not so long ago, people were using payphones. Now, this is passed, so will cable TV in the distant future. The convenience and value of modern streaming services are rapidly making cable television obsolete. So, this is time to step into the future entertainment with Pluto TV. I hope you liked this article about How to Download & Install Pluto TV on Firestick if you still have doubts then feel free to comment down.