In this article, I will show you how to download and install hotstar on firestick in just 3 minutes. The guide provided below will also work for fire TV, Firestick 4k and Fire TV Cube.
In today's competitive world, everyone is in a rush right from students to professionals. We don't have any more time to watch scheduled shows and movies on TV or satellite television. Therefore, we stick more towards the digital platforms just like Hotstar as they provide the amazing number of features like online streaming, IPTV, etc. If you are confused about Hotstar then, in brief, it's a popular video streaming service that has got hours of content which is targeted more towards the audience residing in the Indian subcontinent.
Why Hotstar on Firestick?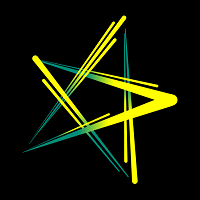 Hotstar is an Over-The-Top (OTT) streaming service that has been developed by Novi Digital Entertainment. It has both free and paid content, and to access the premium content, you will have to purchase the subscription plan/plans. There are mainly two subscription packages, Hotstar VIP and Hotstar Premium that one can go for. The app has various web series, movies, show, etc that usually the Indian subcontinent audience crave for. Also, if you are interested in watching live sports like IPL, Football leagues, etc then there's good news for you that Hotstar is known as the official online broadcaster of most of the sports games, so you can expect a lot from it in this genre.
Spending money on purchasing Firestick is a one-time investment and after that, you won't have to worry about getting any sort of cable subscriptions. Once you have your Firestick device in your hand, all you need is a stable internet connection and after that, you can stream whatever content you would like to using apps like Hotstar. Hotstar is a dynamic app that works quite well with the device and the best part of all is that you can download and save the content for later viewing, once you have time in your hand. Quite cool, isn't it? Downloading Hotstar on firestick will make your streaming experience special. SO let's learn how to install hotstar on firestick & Fire TV.
Also, Check – How to Install Sky Go on Firestick
Features of Hotstar on FireStick
Adaptive Video Streaming Technology
It doesn't matter whether you are running on a fast or slow connection, the advanced playback technology of Hotstar will automatically itself determine the best video quality so that you can enjoy seamless playback at your convenience.
If due to some reason, you have missed out on some live sports telecast then you can easily check back the essential match highlights, replays, and scores of various games including Football, Cricket, Formula 1 Racing, Cricket and much more.
Content Regularly Updated
Not only the daily shows or series gets updated, but even the movie list gets fresher additions from time to time. There are various types of movies in different genres, languages, etc. We are sure that whatever your mood is, something similar on that taste would be definitely present over Hotstar.
Subscription Plan To Watch Content Ahead Of Its Time
If you are someone who is always eager or excited about knowing what's going to happen next in a show or series, then the Hotstar VIP subscription is something that you must go for. The subscription pack lets you view Star serials even before they premier, get access to live sports feeds, to name a few.
Just like YouTube, you can download various contents inside the app and view them later on in the future. The download mode is quite good and works flawlessly just like the regular online streaming. This feature comes to a lot of handy for those who aren't always in reach of a good and stable Internet connection.
Read – Best Live TV Apps For FireStick
Steps to Install Hotstar on Firestick & Fire TV (2019)
Turn on your Firestick device
Once you are on the home screen, select the search icon
In the search bar, type in Hotstar using the virtual keyboard that would have displayed upon your screen. Click on the search icon to proceed ahead.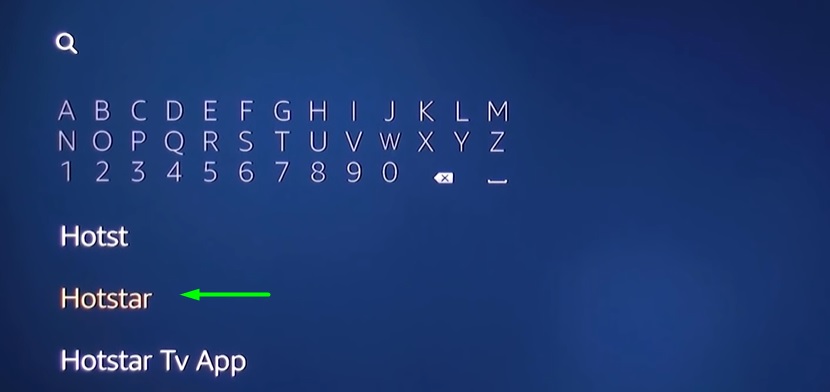 Select Hotstar from the list of searches and click on Get option to initiate the download process.
Once the download has been successfully completed, click on the Open button.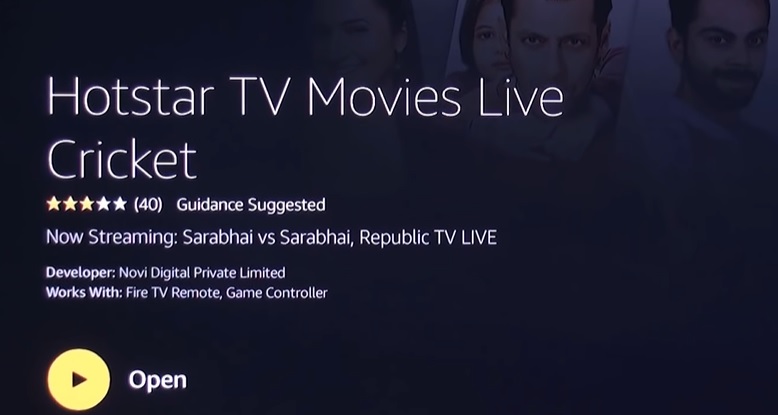 The app would have now opened, just register by adding your mobile number and after that, you can start streaming your favorite movies, shows, series, sports, etc directly on your Firestick.
Conclusion
That's all! You have successfully installed Hotstar on firestick. Hotstar is a brilliant video streaming service that will satisfy almost all of your entertainment needs under one roof only. The app database is regularly updated to ensure that the freshness and demand needs are met. The video quality is superb and what even surprised us was that the app was able to perform quite well on a 2G connection also. In short, it's now time to start streaming whatever you would like to!