Looking for the best browser for your amazon firestick? I strongly suggest you to use chrome and firefox. I have already shared a guide to use chrome for fire tv and In this tutorial, I will show you how to download and install Mozilla Firefox on Firestick in 2 minutes.
Mozilla Firefox is one of the most popular web browsers worldwide. It is available for almost all the major platforms including Android, iOS, Windows, macOS, and Linux. There's also an Android TV version that you can install on your Android streaming device.
The preinstalled Amazon Silk Browser is decent for normal usage but it lacks a decent web engine and features compared to Firefox. Mozilla Firefox is officially available for Amazon Fire TV devices. Continue reading this article to learn how to install Firefox on Firestick.
What is Mozilla Firefox?
Mozilla Firefox, formerly known as the Mozilla Browser, is a free and open-source web browser. It is developed by the Mozilla Corporation. After extensive research, the German Federal Office for Information Security declared Firefox as the most secure browser. Compared to competitions like Google Chrome and Opera Browser, Firefox runs on a modern web engine that scales with almost every hardware out there. It is also a feature-rich web browser, with a focus on implementing new security features. Mozilla has done some heavy optimizations for the Android TV version, so it can run smoothly on low-end hardware with minimal memory usage.
The user interface is also redesigned for easier navigation with remotes. If you are a firestick user then you should definitely go for a firefox browser. For more information, take a look at the list of Firefox features on Fire TV Stick below.
Features of Firefox on FireStick
The modern Gecko web layout engine provides a fast and snappy web browsing experience.
Mozilla's Enhanced Tracking Protection blocks obtrusive ads, pop-ups, Javascript malware, and gets rid of third-party trackers for keeping your anonymity on the internet. It is also one of the first browsers to implement the DNS-over-HTTPS web protocol that works like a built-in VPN.
Private browsing mode for a secure and private browsing session that automatically deletes your history, cookies, and other personal data once you close the session.
Sync your bookmarks, browsing history and login details across multiple devices for a seamless browsing experience. It also has a robust password management system with the option to keep it secure with a master password.
Optimized for less CPU + RAM usage and a redesigned modern user interface with a focus on media consumption and easier navigation with an Android or Fire TV remote.
Related – Best Media Player For Firestick & Fire TV
How to Install Mozilla Firefox on Firestick?
Mozilla Firefox is free to download from the official Amazon App Store. You can easily install it on your Firestick for browsing the web on your TV. Just follow the steps as instructed below.
To get started, connect your Firestick to a stable Wi-Fi network with internet access. You can also use an ethernet adapter to utilize your full bandwidth.
Move over to the upper section of the Fire TV home screen.
Go to the left, and highlight the magnifying lens icon following the tab groups.
Enter "Firefox for TV" in the search bar using the on-screen keyboard. You can also hold the Alexa button on your Firestick remote to search.
A few results will show up below the search bar. Choose Firefox for Fire TV from the search results.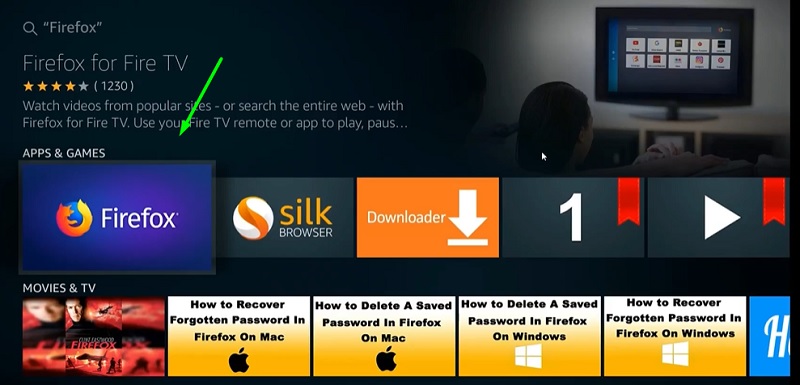 Click Get Or Download under the app description. The app will start downloading and might take 2-3 minutes to finish the download and installation.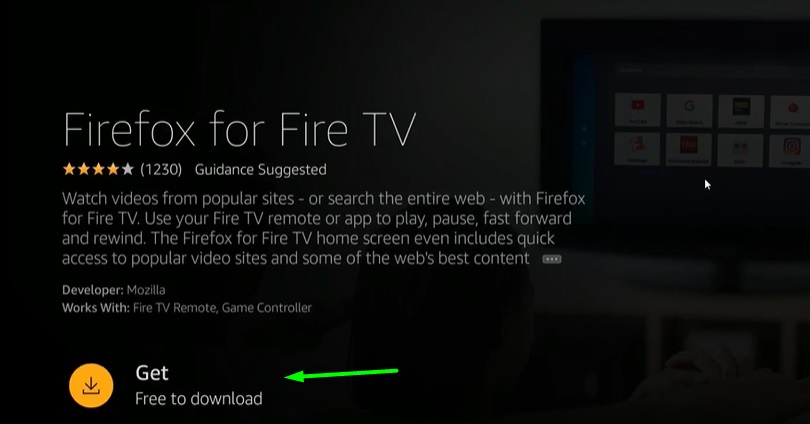 Click Open to launch Firefox for Fire TV after the app is successfully installed.
How to Use Firefox on Firestick
You can launch Firefox on Fire TV Stick from Your Apps & Channels section which is just a step below the home screen. Scroll right to the end and select See All to see a grid list of your installed apps.
Start surfing the internet with Mozilla firefox on Amazon Fire TV. Use your firestick remote to search on the browser.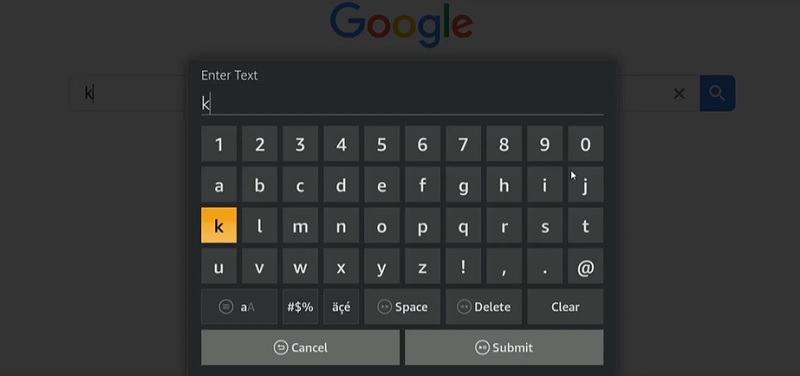 FAQ
Can I watch 4K Youtube using Firefox for FireStick?
Answer: Yes, but only with the Firestick 4K. The video will stutter on the standard Firestick because of hardware limitations.
Webpages and videos are not loading. What should I do?
Answer: Restart Firefox or make sure your internet connection is working correctly.
Final Words
In this article, we have discussed Mozilla Firefox and its features. We have also included a step-by-step guide to help you install Mozilla Firefox on Firestick. In case you have the original Fire TV box, Fire TV Cube or a Smart TV with FireOS, you can follow the same steps mentioned above.