Not everyone is a morning person, and we can relate to that. However, nowadays everyone should be conscious of their health and start their day with at least a morning walk or simple exercises.
If you don't feel like hitting up your nearby gym or pay a hefty fee for scheduled workouts, one of the best alternative solutions to keeping yourself fit is to get Peloton's digital membership, which gives you the freedom to work out in your private space.
Peloton, the popular American fitness brand, has recently launched its digital fitness app for Fire TV devices. With the Peloton digital app on Firestick, you can literally transform your living room in a private gym by streaming hundreds of hours worth of exclusive fitness courses from some of the renowned sports personalities.
In case you are interested, you can follow this guide to install the Peloton app on Firestick, as well as activate the app with Peloton's monthly subscription.
What is Peloton?
Founded in 2012, Peloton is a US-based exercise equipment manufacturer that gained a lot of traction mainly for its stationary bicycle. It had a 22" dashboard, which ran on a custom version of Android and let users access Peloton's daily cycling classes on-demand. Followed by the launch of their proprietary treadmill equipment named the Peloton Tread, Peloton also extensively launched its subscription-based live and on-demand fitness streaming app for smartphone and tablet users.
As you might already guess, Peloton is known for its cycling and treadmill courses. However, they also offer a variety of fitness classes, including Bootcamp, cardio, yoga, meditation, strength, toning, running, outdoor workouts, and many more. Most of the fitness courses offered by Peloton will require you nothing but yoga mats or hand weights.
To get access to Peloton's live and on-demand workout classes, you will need to pay for the Peloton Digital Membership, which costs $12.99/month only.
Peloton Fire TV App Features
You can stream a wide variety of on-demand fitness courses and live classes, which features some of the best fitness instructors and sports personalities in the world.
Peloton's ever-growing streaming library is available in both 720p and 1080p resolution.
The app also features a dedicated section for music playlists, so that you can improve the quality of your daily workouts.
The Peloton app's material user-interface layout is exceptionally polished, and the custom text font scales well on big screens.
There are no in-app advertisements. Also, the monthly subscription fee is only $12.99.
How to Install the Peloton App on Firestick?
Attention FireStick Users – Read Before You Continue
When you stream online content on your devices, your personal information such as IP address and location gets monitored by third-party trackers. Even Currently, your IP is visible to everyone. You are also at risk of getting sued by media companies for streaming copyrighted content for free. I strongly recommend you to use a good VPN to hide your identity.
Using a VPN, you can encrypt your internet connection to get rid of prying eyes from stealing your personal information and monitor your private activities.
I personally use IPVanish VPN on my all Streaming device. MY experience with IPVanish VPN has been great because of its fast VPN servers and reliable encryption methods for keeping your data secure on the web. IPVanish also offers a 30-day money-back guarantee so you can ask for a refund if you don't like the service. We have special offers for our readers. Click here to Get 46% Off On IPVanish VPN.
The Peloton app is officially available in the Amazon Appstore. Excluding the 1st-gen Firestick, it is compatible with the 2nd-gen Firestick and Firestick 4K. Here's how to install it:
First, move up and highlight the Search option on top of the Fire TV home screen, which is indicated by a magnifying glass icon.
Next, search for the app by typing "Peloton" using the on-screen keyboard, then select Peloton from the list of suggestions that show up on the bottom half of the screen.
After that, navigate down to the Apps & Games category on the next page and click the red Peloton app logo.
Finally, click Get right under the Peloton app description.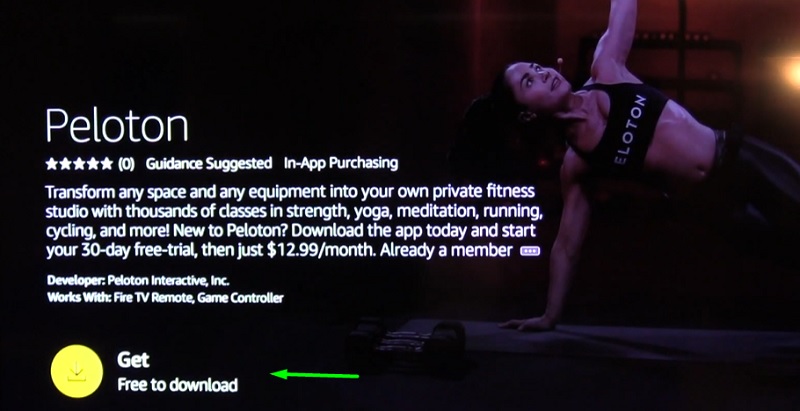 Once Peloton is installed on your Firestick device, you can go back to the Fire TV home screen, scroll down to Your Apps & Channels category, then highlight and click the Peloton app to launch it.
How to Sign Up for Peloton Digital Membership?
Although Peloton "All-Access Membership" is included with Peloton's stationery Bike and Tread, not everyone can purchase fitness equipment that costs three grand. If you have a Firestick, then you can get the Peloton Digital Membership instead. You can follow the steps below to purchase your subscription.
On your smartphone or PC, go to members.onepeloton.com/login using a web browser.
Click the Sign up now link, then enter your email address and a secure password in the required fields.
Tick the box next to "I have read and agree to the Peloton Terms of Service… Membership Terms" and click Create Account.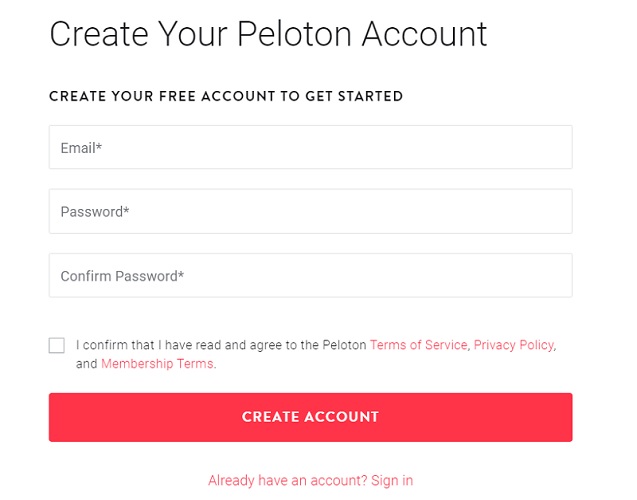 After that, click Set Up My Account, enter your preferred username and location, then click Get Started.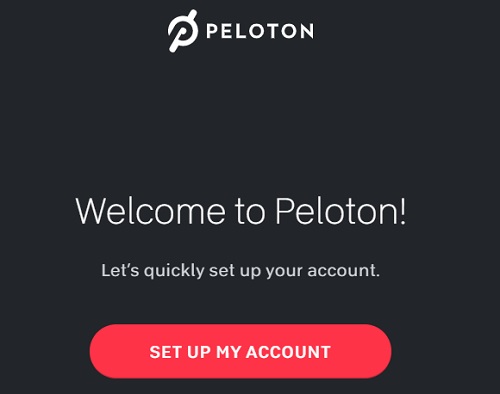 Next, click Join Class on an upcoming class. You will be asked to become a Peloton Member.
Continue by clicking Join Now, then enter your credit card credentials in the form. Tick the box next to the statement at the bottom of the form, then click Start Your Membership.
Once you verify your payment method, you will receive an email regarding the successful activation of your Peloton Digital Membership free trial.
Peloton is providing a 90-day free trial for new users. Hence, you won't be charged for the monthly subscription until the trial period expires.
Guide to Log In to the Peloton App on Firestick
With your Peloton Digital Membership, you can now easily log in to the Peloton app on Firestick. Here's how:
Launch the Peloton app on Firestick. You will be asked to either create a new account or log in to your existing account.
Since you already have a Peloton account with an active Digital Membership, proceed with the Log In.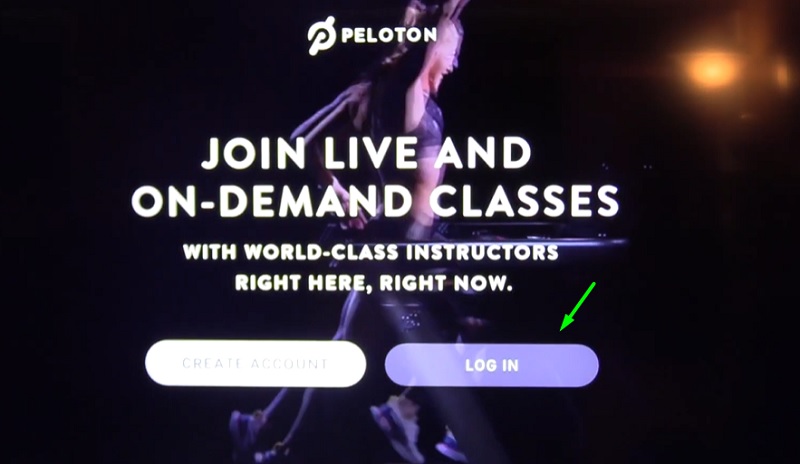 Now enter your Peloton account credentials and click Log In.
Once you successfully log in to your account, you will have full access to Peloton's live and on-demand fitness classes and courses, which you can stream on your Firestick.
Related
Final Words
Peloton is an excellent fitness app for Firestick, especially when you are unable to go outside your house for exercise. We have compiled this guide to help you install the Peloton app on Firestick so that you can stay fit all the time.
This Firestick guide will also work for other Fire TV devices, including the 3rd-gen Fire TV, Fire TV Cube, and Fire TV Edition Smart TVs / soundbars.