In this article, you will learn to install ZiniTevi on Firestick. You can also install ZiniTevi on other Fire TV devices, which include Fire TV Cube, 3rd-gen Fire TV, and Amazon Fire TV Edition Smart TVs/soundbars.
There is a large community of third-party developers that create free streaming apps for users. Some people have to rely on such apps for content consumption since they can't handle multiple subscriptions of live TV and on-demand streaming services every month.
Third-party streaming apps can be used to stream unlicensed content for free, which is considered as piracy. However, since there are no proper jurisdictions over streaming content that are shared across file hosting and torrent services, it is not considered to be an illegal activity in most countries, yet.
But, third-party streaming services are often hit by copyright claims and DMCA takedowns as they infringe copyright laws. While it doesn't affect the userbase, they lose access to free premium content and force them to search for an alternative free streaming app. Such takedown activities have recently seen an increase, which is forcing the developers to discontinue its free streaming apps for avoiding legal issues.
As there is a considerable demand for third-party apps for Amazon Firestick devices, users like you are probably in search of quality free streaming apps. ZiniTevi is one of them, offering movies and TV shows for free. This guide will show you how to install ZiniTevi on Firestick, alongside an in-depth overview of the app.
What is ZiniTevi?
ZiniTevi is an on-demand streaming app that offers a wide variety of movies, TV shows, and premium web series. The streaming library is regularly updated with new content.
Similar to other third-party streaming apps, ZiniTevi has web scrapers built-in, which automatically searches for streamable links for a particular content that is publically available. Quality varies from 480p SD to all the way to 1080p Full HD resolution. The movie and TV show database is also fetched from IMDb, including high-quality posters, descriptions, ratings, and synopsis.
What makes ZiniTevi unique in the market of third-party streaming apps is its professional user interface. In general, the app is available for a wide range of devices. It has an exclusive interface for Fire TV devices, which has the same UI design language as the Fire TV home screen. ZiniTevi is natively compatible with the Fire TV Voice Remote, making it easier to navigate from one section to another section of the app.
ZiniTevi does have support for closed captioning. It does also have Trakt.tv integration, which is an excellent feature for those who use Trakt to sync up watchlists across other streaming services and media centers.
ZiniTevi Features
ZiniTevi features a massive streaming library of blockbuster movies and popular TV shows from premium networks.
Content that is available on-demand can be streamed in up to 1080p Full HD resolution.
The ZiniTevi app has a clear, simple, and visually appealing 10-foot user interface. It is also compatible with the Firestick remote, which offers more natural navigation.
You can link your Trakt account with ZiniTevi. Favorites and Watchlist are accessible as well.
ZiniTevi doesn't ask users to pay for a subscription. Instead, the developers monetize the app with static in-app advertisements.
How to Install ZiniTevi on Firestick?
Attention FireStick Users – Read Before You Continue
When you stream online content on your devices, your personal information such as IP address and location gets monitored by third-party trackers. Even Currently, your IP is visible to everyone. You are also at risk of getting sued by media companies for streaming copyrighted content for free. I strongly recommend you to use a good VPN to hide your identity.
Using a VPN, you can encrypt your internet connection to get rid of prying eyes from stealing your personal information and monitor your private activities.
I personally use IPVanish VPN on my all Streaming device. MY experience with IPVanish VPN has been great because of its fast VPN servers and reliable encryption methods for keeping your data secure on the web. IPVanish also offers a 30-day money-back guarantee so you can ask for a refund if you don't like the service. We have special offers for our readers. Click here to Get 46% Off On IPVanish VPN.
ZiniTevi is a third-party streaming app. Hence, it is not officially available in the Amazon Appstore for Fire TV devices. ZiniTevi's official GitHub page is the only source that provides the latest version of the app. You can install ZiniTevi on your Firestick by sideloading the ZiniTevi APK file. If you haven't sideloaded an app on Firestick yet, the following steps will show you how to do it.
Step #1: Toggle On Sideloading on Firestick
The first thing you have to do is to toggle on APK sideloading on Firestick. Despite Fire OS's locked app environment, it is possible to install third-party apps on Fire TV devices similar to how you install APK files on other Android devices.
Note that the ZiniTevi app is a malware-free app, and it won't cause any security issues on your Firestick.
First of all, navigate to the category bar above the Fire TV home screen and highlight the Settings
Next, keep scrolling to the right in the Settings menu until you find My Fire TV / Device from the options. Click it to proceed to the Device
Now scroll down and select Developer options on the Device page.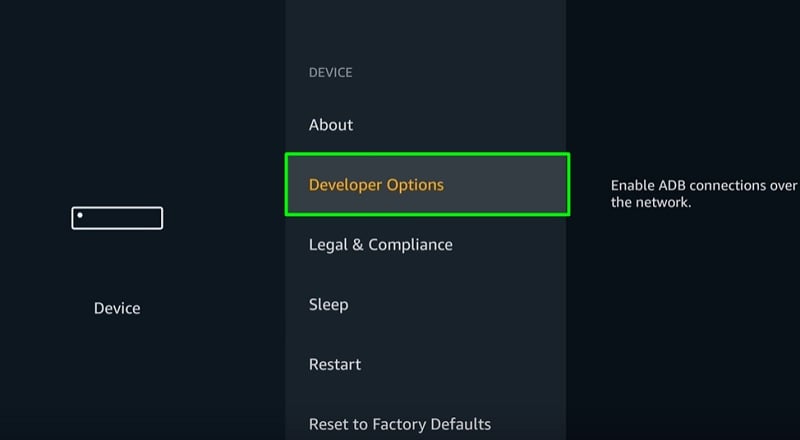 Select Apps from Unknown Sources, and toggle it ON. A disclaimer will appear related to the security threats associated with sideloading apps from unknown sources.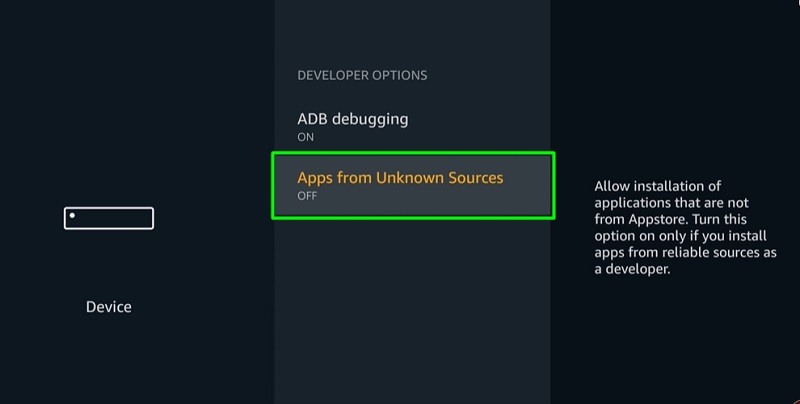 Click Turn On to close the disclaimer and save the changes.
APK sideloading is now enabled on your Firestick device. On your Firestick remote, press the Home button to return to the Fire TV home screen so that you can follow the next set of sub-steps below.
Step #2: Install Downloader on Firestick from Amazon Appstore
Downloader is one of the most popular apps in the Amazon Appstore. It gives Firestick users the option to download all types of files on their devices since official web browsers have discontinued the functionality. We will use Downloader to download and install the ZiniTevi APK on Firestick.
Highlight the magnifying glass icon next to the category bar above the Fire TV home screen. It will expand the Search.
Next, use the on-screen keyboard or your voice to search for the Downloader app. You will have to choose Downloader from the search results that show up at the bottom of the search field.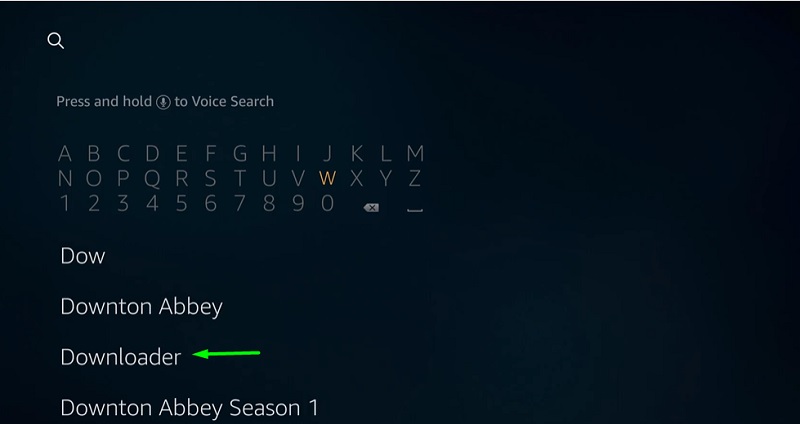 Scroll down the following page to Apps & Games list, then highlight and click the Downloader
Finally, click Get / Download and wait for Downloader to finish downloading. It shouldn't take more than a minute for the app to get installed.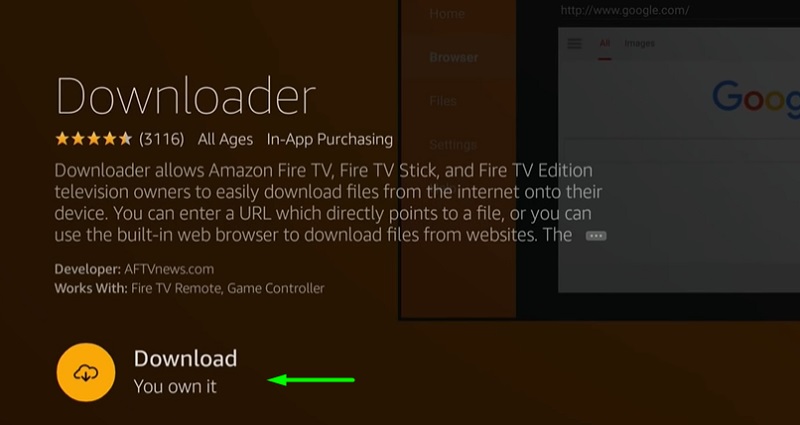 Click Open to launch Downloader once it is successfully installed on your Firestick.
Step #3: Download & Install ZiniTevi APK on Firestick
If it's your first time launching the Downloader app, then click Allow to give it permissions to access the Firestick's internal storage.
Click OK to close the Downloader app version changelog.
From Downloader's default Home page, click the URL bar and enter the following link:

https://bit.ly/3bXVY4D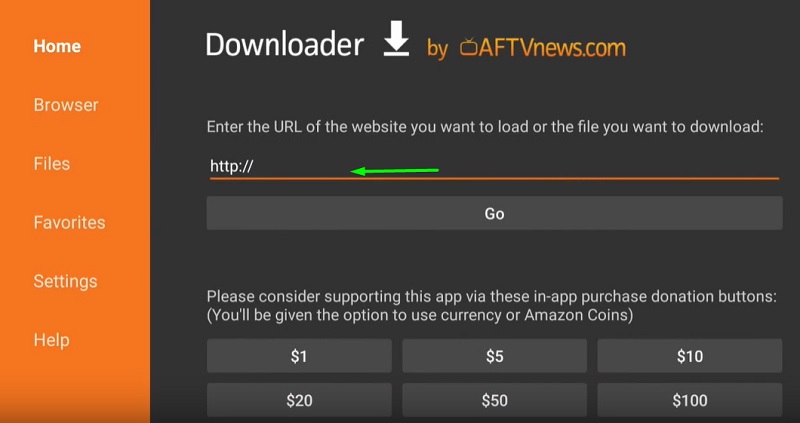 Click Go once you carefully type the link in the field. The Downloader app should begin to download the ZiniTevi APK file on its own.
Once the file finishes downloading, Fire OS's APK installer will pop-up on the screen. Click Install to sideload ZiniTevi on Firestick.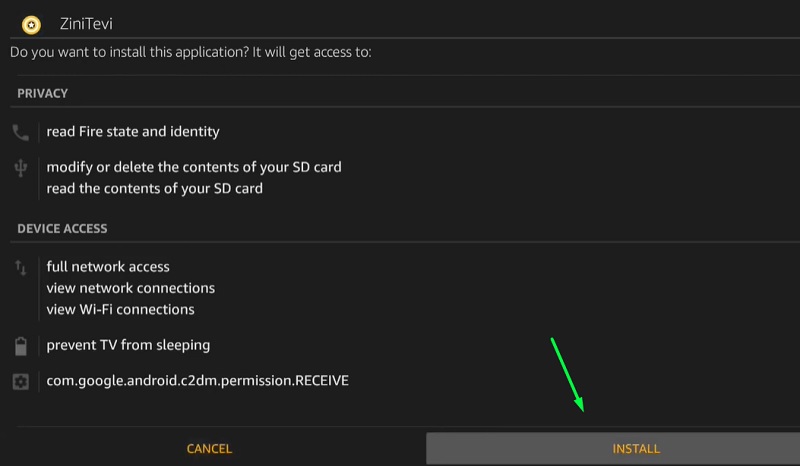 In a minute, you should see the "App Installed" message in the installer. Click Done to go back to the Downloader window.
Now that you have sideloaded ZiniTevi on Firestick, click Delete to delete the ZiniTevi APK file. It frees up a few megabytes of space on Firestick's internal storage.
Upon returning to the Fire TV home screen, navigate down to the Your Apps & Channels section, scroll right and click See All. From the list of the installed apps, you can find and launch ZiniTevi on your Firestick.
To move ZiniTevi in the first row of Your Apps & Channels section, highlight the app and press the Options button on your Firestick remote. Then click Move and drag the app to the first row. You can now access ZiniTevi directly from your Fire TV home screen.
ZiniTevi App on Firestick: A Quick Overview
ZiniTevi will require access to your Firestick's storage, as it needs to download subtitles when you enable closed captioning. Click Allow to proceed. You will also be asked to visit ZiniTevi's Twitter page to leave feedback. You can click Cancel to close the dialog box.
As we have previously mentioned, ZiniTevi's user interface is very similar to the Fire TV home screen. The category bar on top of the app lets you quickly switch between Home, Watched, Favorites, Genres, and Downloads page. You will also find the Search option on the left.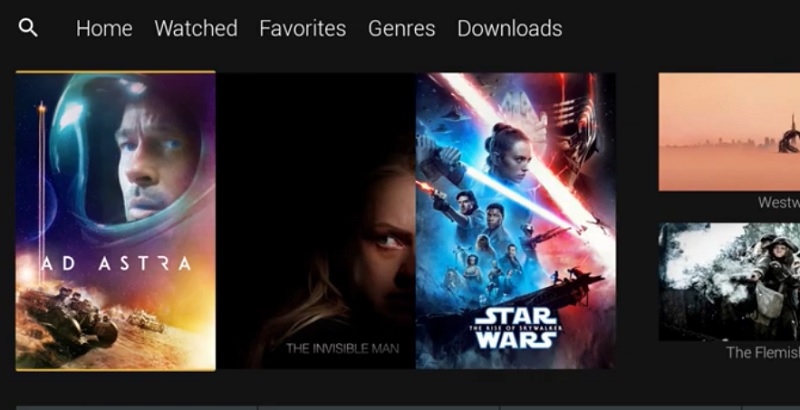 Whenever you launch ZiniTevi, you will be redirected to the Home page by default. It has a few sub-categories, which consists of small lists of popular and trending movies/TV shows. You can also choose between Walt Disney Pictures, Sony Pictures, Warner Bros. Entertainment, and Columbia Pictures in case you are looking for a specific movie from the network. The Genres page lets you select from several genres for movies or TV shows.
When a select a movie/TV show, select and click the star icon to add it to your list of favorites. You can quickly access it from the Favorites page. The Watched page keeps track of the content that you have already watched via the app.
To enable subtitles, click the rectangular subtitles icon in the on-screen playback controls, then toggle the slider next to On/Off. You will also get the option to select a subtitle file from the list, as well as a toggle to enable/disable text background.
Clicking the S icon in the playback controls expands a list of alternative streamable sources. You can select your preferred stream quality from the list, and it will auto-switch to the source you have selected.
Unfortunately, ZiniTevi doesn't allow users to select an external media player, unlike other popular third-party streaming apps. It also doesn't have Real-Debrid integration.
Also, Check:
Final Words
ZiniTevi's on-demand streaming library and modern UI design make it one of the best third-party streaming apps available for Firestick. Until you switch to a legitimate streaming service for content consumption, you can follow our guide to install ZiniTevi on Firestick and enjoy watching binge-watching your favorite movies and TV shows.