In this Step-by-Step tutorial, we will learn how to Install Plex on Firestick and Fire TV Devices and cover everything you need to know about Plex to get started. The instructions provided here also work on amazon firestick 4k & Fire Tv Cube.
If you have a personal collection of high-quality ripped Blu-ray media files, then playing it directly on your Fire TV device is not possible. As each Blu-ray files are closer to ~60 GB, it can't be stored on a Fire TV device because of storage constraints. Although it is possible to add external storage to a Firestick with an adapter, transferring the media file from your PC to a flash drive takes too long. To eliminate the transfer speeds, you might have to invest in an expensive flash drive or a hefty external storage solution.
How about we stick with what we have right now? If you use a Firestick, then it means you have a Wi-Fi router with an internet connection. Assuming that your PC or laptop is connected to the router via an Ethernet cable, it can communicate with your Firestick device over the LAN protocol. You can not only transfer files wirelessly but also stream media files from your PC to Firestick.
Plex is a digital media client-server software that uses the LAN protocol to let users stream personally stored media files (Movies, TV show episodes, images) wirelessly from an appointed server. If you have a decent internet connection, you might as well stream over-the-air from anywhere in the world. It is more of a simplified version of Kodi and supports a wide range of devices.
Plex has also recently launched its subscription-free ad-based streaming service that offers thousands of movies and TV shows from WB, MGM, Lionsgate, Legendary Entertainment, and many more.
One of the best things about Plex is its interface. It is intuitive and user-friendly. Plex also downloads artworks and descriptions automatically for your personal content as well as sort TV episodes under a single group with proper episode labels and synopsis.
There are more features to discuss, but it is enough to convince you to install and use Plex for content consumption. So, continue reading this guide to learn how you can install Plex on Firestick and set up a Plex server.
How to Install Plex on Firestick
Attention FireStick Users – Read Before You Continue
When you stream online content on your devices, your personal information such as IP address and location gets monitored by third-party trackers. Even Currently, your IP is visible to everyone. You are also at risk of getting sued by media companies for streaming copyrighted content for free. I strongly recommend you to use a good VPN to hide your identity.
Using a VPN, you can encrypt your internet connection to get rid of prying eyes from stealing your personal information and monitor your private activities.
I personally use IPVanish VPN on my all Streaming device. MY experience with IPVanish VPN has been great because of its fast VPN servers and reliable encryption methods for keeping your data secure on the web. IPVanish also offers a 30-day money-back guarantee so you can ask for a refund if you don't like the service. We have special offers for our readers. Click here to Get 46% Off On IPVanish VPN.
Plex can be installed on Firestick from the Amazon App Store. Here's how:
From the Fire TV home screen, move to the Search option (indicated by a magnifying glass icon) in the top-left corner.
Search for Plex using the on-screen keyboard or hold the voice button on your Firestick remote and say "Plex app." Select Plex from the search suggestions.
Select the Plex app once again under the Apps & Games
Then click the Download/Get button just below the app description, and wait for Plex to get downloaded and installed on your Firestick.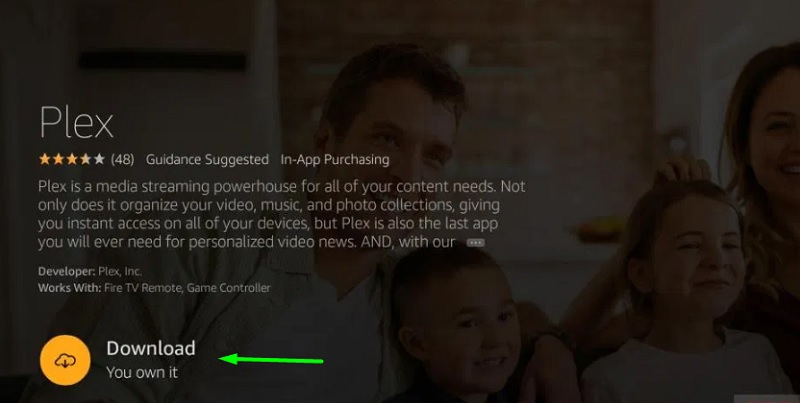 Once it is done, you can either click Open or head over to Your Apps & Channels section on the Fire TV home screen to launch Plex.
How to Set up Plex on Firestick
Before we initiate the Plex setup process on Firestick, it is necessary to have a Plex account for access to its services. Simply follow the guide below.
Visit plex.tv from a web browser on your smartphone or PC.

Click the Sign-Up button above. You can either sign up with Google or use the normal account creation method to sign up for Plex.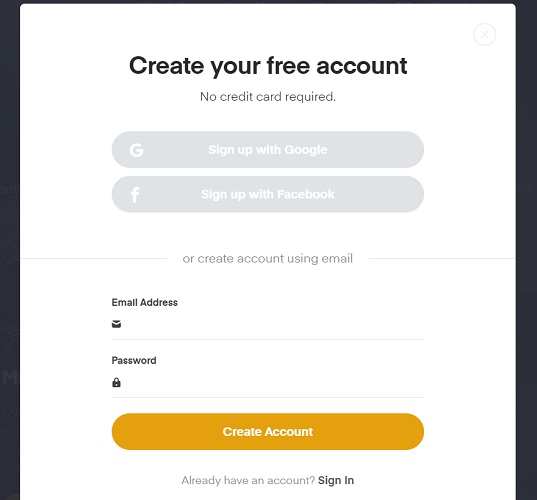 Once you sign up, you will be asked to get a Plex Pass subscription which adds a couple of exclusive features, including Live TV & DVR, mobile sync, and music identification. You can choose to continue without Plex Pass.
Now that we have created a Plex account, let's move on to the setup process on Fire TV Stick.
Start with launching the Plex app on firestick
Proceed with Sign In. A unique code will show up on the screen.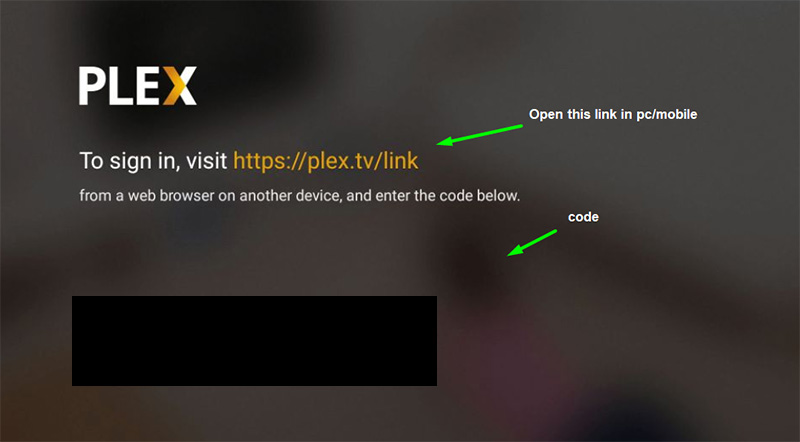 Go to

plex.tv/link

from your smartphone or PC, sign in to your Plex account, and enter the unique 4-character code displayed on your TV.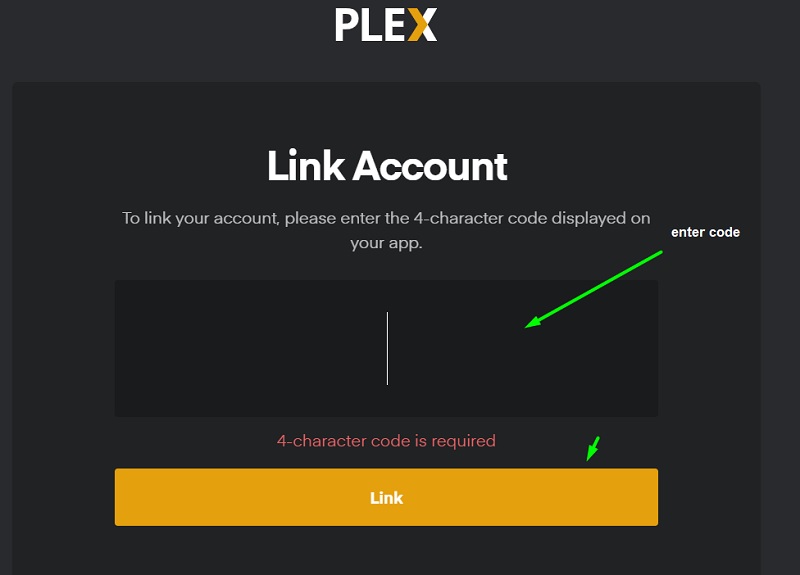 Click Link after you enter the code. You should see the "Account Linked" message on the browser page. Now back to the Plex app on Firestick.
You will be asked to get a Plex Pass subscription once again. Click Not Now if you want to continue using the free Plex services.
On the following screen, you will encounter the "No Servers Found" message, as we haven't set up the Plex server yet. Leave it as it as and follow the next section in this guide to set up the Plex Server on your PC.
How to Setup Plex Server
The Plex app we have installed on Firestick is the client software. Now we need to install the server software on PC to use it as a NAS (Network-attached Storage) interface. Simply follow the steps below.
Open a new tab on your web browser and go to https://www.plex.tv/media-server-downloads/
Select the operating system you are currently using. For reference, Windows users have to select Windows from the drop-down menu.
Click the Download button to download the Plex Media Server installer.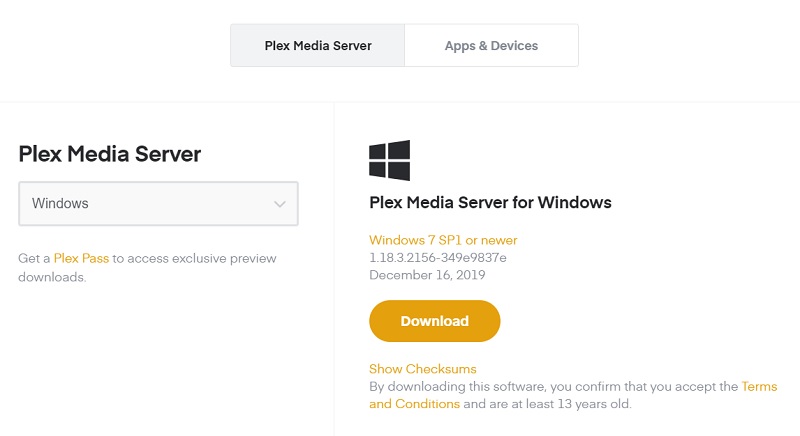 Open the downloaded file and click the Install Once it successfully installs on your PC, clicks Launch. You can also launch it from your desktop.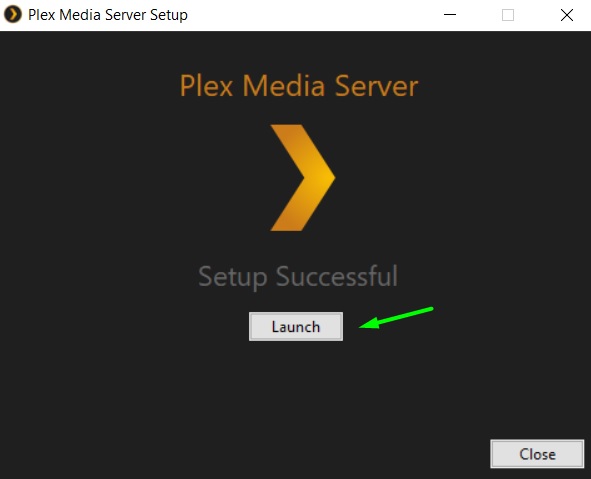 Your default web browser should automatically load up the Plex Media Server setup page. Make sure you are signed in to your Plex account.
Click Got It! to skip the introduction.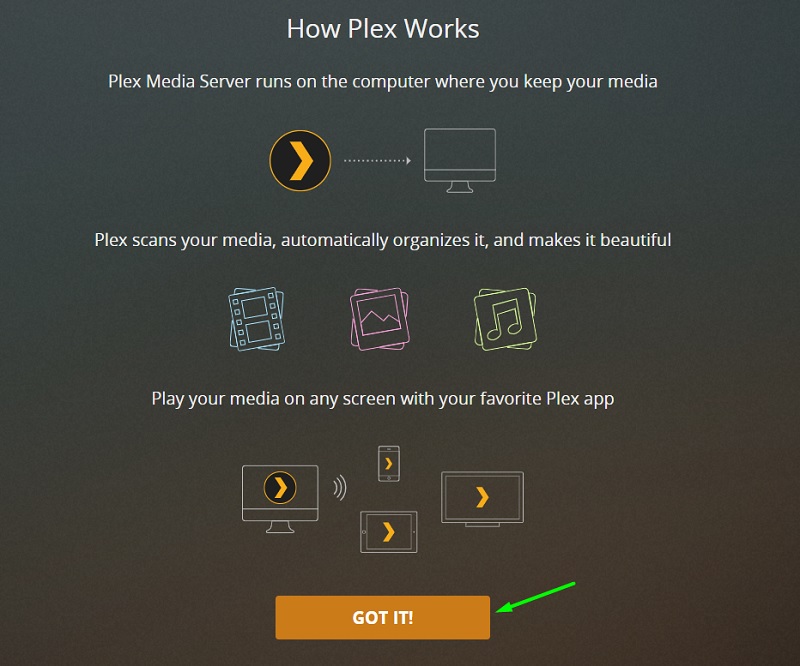 Enter a name for your Plex server for later identification. If you want to access your server over-the-air from another Plex client, then tick the check next to Allow me to access my media outside my home. Plex will auto-configure your network. Click Next to continue.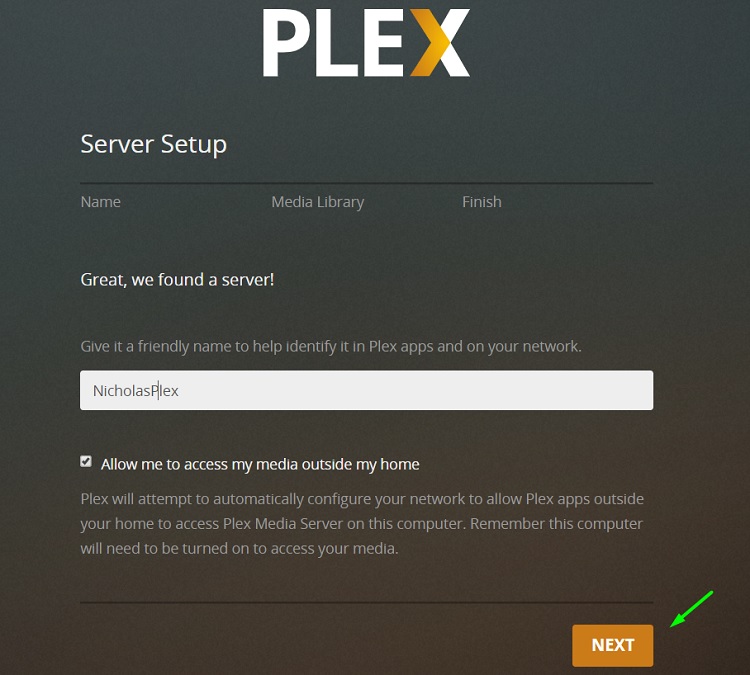 As you go through the setup process, you will have to appoint media sources for your Plex library. You can add a drive or folder from your PC or add movies / TV shows individually. Click Next when you are all done.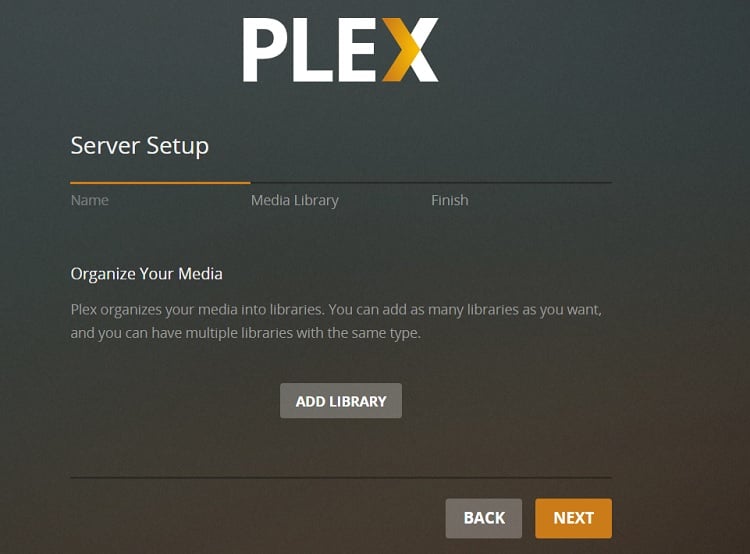 Finally, click Done to finish the setup process.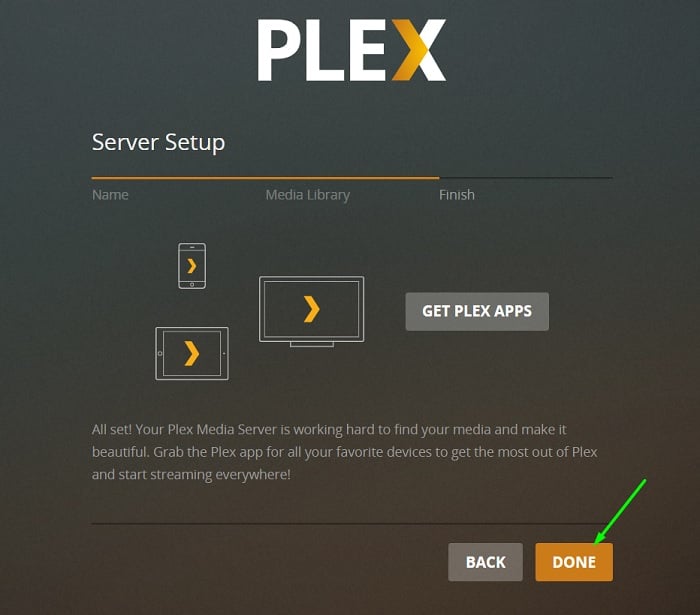 How to Use Plex on Firestick
After you have set up the Plex client on Firestick and the Plex Media Server on your PC, it is time to use Plex for streaming your personal content over a wireless connection.
Launch the Plex Media Server app on your PC if not already.
Open the Plex app on Firestick and let it scan for your server over your local area network. Make sure your PC and Firestick is connected to the router either over Wi-Fi or Ethernet connection.
Once it detects your server, you will be redirected to the Plex home screen.
Note: When streaming your personal content, your PC should remain turned on as it is being used as the media source.
Here is some basic information to help you familiarize with the Plex app:
On the Home tab, you will see your personal content library and recommended streams. Highlighting the Library option above will show all of your movies / TV shows collection.
You can use the Search function to search for a movie / TV show from your collection. The Search function is located on the top-left corner of the app, indicated by a magnifying glass icon.
From the sidebar, you can access your server-related settings and other sections of the app, including Home, Movies, Movies & TV (On Plex), Web Shows, News, Podcasts, TIDAL, and more.
From the Movies & TV section, you get access to Plex's own content library of free movies and TV shows, which we have previously talked about. The TIDAL section gives you access to high-definition music but it requires you to pay for a Plex Pass subscription.
Clicking on a movie or TV show from your Plex library will bring up a page. The page contains the Play option, which you can click to begin streaming. If you want to select subtitles* or change the audio stream (if the media file has multiple audio tracks), then click Settings to do it.
From the same page, you can read the movie description, view ratings from Rotten Tomatoes or Metacritic, read reviews, check out the list of related movies, and get access to the soundtrack of the Movie / TV show from TIDAL (requires Plex Pass).
Note: You can adjust the subtitle size from the settings menu of the Plex app.
Fix Streaming Issues on Plex
If you are facing buffering and slowdowns while streaming 4K or 1080p content from your local media server, then check out the common fixes below.
Restart your router. If you are on a Wi-Fi connection, then check if the Wi-Fi signals are strong on your Firestick. You can also try changing your Wi-Fi channel frequency from 2.4ghz to 5ghz or vice-versa from your router settings to fix the streaming issues.
From the Plex app on your Firestick, click the profile icon on the sidebar, then click Settings. Scroll down to the Video Quality section, click Home streaming, and select a preset of bitrate and resolution from the list. Reducing video quality might fix the buffering issues.
You can also turn on the Adjust automatically option to let Plex dynamically change the bitrate and resolution of the content you are streaming. However, this might result in a poor stream quality for most of the time.
Note: Streaming 4K HDR content requires the Firestick 4K device and an HDR-compatible TV.
Related Articles
Final Words
In this guide, we have provided detailed information on how to install Plex on Firestick. We have also covered the necessary steps to set up the Plex client app and the media server to help you stream content from your personal collection.
Other than the setup process, it is very easy to use Plex. You can simply start the media server on your PC and get wireless access to your content library through the Plex client app on your Firestick.