In this tutorial, you will learn how to update firestick to its latest version in simple steps. There are many apps which are not working with the old version or having an issue with streaming. But updating firestick will increase your firestick performance and give you smooth streaming. Let's dive into the guide of Firestick Update in different ways.
If you don't have a smart TV, you need not bother buying one. The Amazon Firestick can literally transform your TV by providing it with smart TV like features. Moreover, it is quite cheap as well. It has quite a lot of free content to go with it. Amazon fire stick supports a wide range of streaming services like Netflix, YouTube, Amazon Prime, etc. It has support for a wide range of third party applications. One of the main reasons behind the popularity of the Amazon fire stick is the wide range of customization features available on it.
You can also download apps like Kodi, which provides.free streaming. Amazon Firestick, however, is not limited to video streaming alone. You can play video games, mirror it to a PC or a smartphone, listen to music, etc. Unlike any other app, without proper updation, even Firestick will not work as intended. Therefore, in this article, we will be providing you with different methods, step by step guide about How to Update Firestick in 2 Minutes.
Why Should You Update Amazon Firestick?
Technology keeps evolving and either we keep pace with it or get left behind. The Amazon Firestick like the other apps has to be updated to the latest version to work properly. If you have not installed the latest firestick updates, you might experience problems while streaming. Updating firestick also brings other benefits like,
The overall performance will improve significantly.
It will remove many of the bugs and other issues found in the previous versions.
By updating to the latest version, you will not miss out on the new features implemented.
You can stream without any issues
To improve any security issues with the previous version.
When To Update Firestick?
When you open the Firestick after a long gap.
If you feel the performance and security of the Firestick are lagging behind.
If you experience frequent crashes or streaming problems.
When there are updates available and your device is not updated.
Attention FireStick Users – Read Before You Continue
When you stream online content on your devices, your personal information such as IP address and location gets monitored by third-party trackers. Even Currently, your IP is visible to everyone. You are also at risk of getting sued by media companies for streaming copyrighted content for free. I strongly recommend you to use a good VPN to hide your identity.
Using a VPN, you can encrypt your internet connection to get rid of prying eyes from stealing your personal information and monitor your private activities.
I personally use IPVanish VPN on my all Streaming device. MY experience with IPVanish VPN has been great because of its fast VPN servers and reliable encryption methods for keeping your data secure on the web. IPVanish also offers a 30-day money-back guarantee so you can ask for a refund if you don't like the service. We have special offers for our readers. Click here to Get 46% Off On IPVanish VPN.
How To Update Firestick to Latest Version (2020)
Normally, the Amazon Firestick updates itself whenever an internet connection is available. However, for some strange reason, the automatic update does not work, you can update it manually. To Update Your Firestick, you should follow the steps below.
In the Firestick home screen, choose the settings option.
In the settings page, click on the My fire TV option.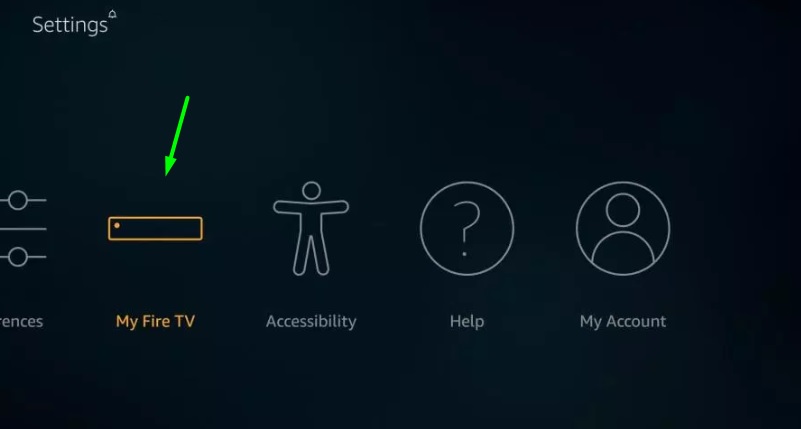 From My, Fire TV choose the about option.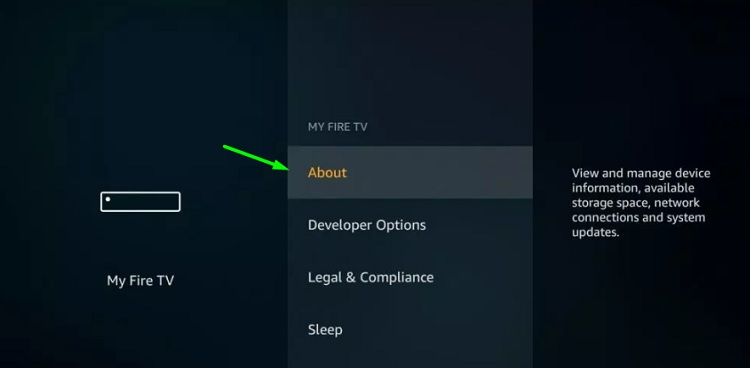 This page has all the details about your Amazon Firestick device. You can find information regarding the storage capacity, software version, and the update checker. You can find the current version of the device from here as well.
Now, you should tap on the"Check for System Update" option.
In case any updates are available, they will be downloaded automatically. A fire stick update usually takes around 30 minutes to complete.
One important thing you should note is that the update can be performed only on the corresponding device. They cannot be transferred externally.
How to Update Firestick 4K
If you own the 4k firestick and looking for the new firestick update OR to its latest version then below steps might help you to update your Fire TV Stick. (Process is similar to Normal Firestick)
Go to the Settings option in the Fire TV menu.
Click on the Device option and then choose About. If the Device option is not available, then choose System.
Your firestick software version will be displayed on the side.
Now you should tap on the Check for System Update option to see if there is any firestick software update that can be downloaded.
When the update is downloaded, click on the Install System Update option.
Firestick Update With Alexa Voice Remote [New Method]
The Alexa voice remote is quite fascinating indeed. Using your voice, you can make a substitute for the remote.
The latest version of Firestick with the Alexa Voice Remote is the Fire OS 5.2.6.7 (623529620).
Visit the settings option from the main menu.
You should tap on the Device option and then select the about button. If the Device option is not available, choose the System option instead.
Next, click the Check for System Update button. Updates, if available will be automatically downloaded.
Install the downloaded updates.
Problems While Updating Amazon Firestick
You might experience problems while performing the update of firestick. Here, we have listed some of the most common issues you might face.
Update Window Freezes – You should reboot your Amazon fire stick device, by disconnecting the power cable. After ten seconds plug the power cord back in. This will solve the problem.
Error Message saying Update Not Successful – Make sure that your device has internet connectivity. Try removing the power and plugging it back in.
Fire Stick Not Installing Automatic Updates – Check whether there are any problems with the Internet connection. You can also update the device manually by going to the About Option.
PRO Tip: If there is a problem with your Wi-Fi, you can connect directly using an Ethernet Cable. In case you still experience problems, you can always reset your device.
FAQ:
Final Verdict
In this article, we have provided you with all the information regarding how to Update Amazon Firestick under 2 minutes. The process is quite simple and straightforward. If you have any queries regarding the content of the article, feel free to contact us.