In this article, I will show you how to watch Mikey Garcia vs Jessie Vargas on FireStick & Kodi through DAZN. You can also apply the same instruction on other fire tv devices including firestick 4k and Fire TV Cube.
The fight between Mikey Garcia and Jessie Vargas is finally on the horizon. It is one of the most anticipated professional boxing matches of this year. The match is due for 29th February, taking place at the Ford Center at The Star in Frisco, Texas.
After losing the fight for IBF welterweight title against Errol Spence Jr. last year in Texas, Garcia (39-1, 30KOs) is once again returning to win the WBC Diamond Belt with a stronger punch. This is going to be his first fight after his contract with Matchroom Boxing USA.
On the other side of the ring, 30-year-old Jessie Vargas (29-2-2, 11KOs) is making a return after stopping Humberto Soto via TKO at The Forum, California last year. The fight against Garcia will be Vargas' first professional boxing fight in Texas.
In a press interview, Vargas considered the fight to be a 'big fight for fans,' and a great showdown between 'two warriors.' Garcia, on the other hand, embraced his loss against Spence and asked his fans to have faith and see him as a true contender at welterweight.
Boxing fans are excited to see if Mikey Garcia, the four-division world champion, can successfully emerge victory over the former WBO welterweight champ, Jessie Vargas.
Where to Watch Mikey Garcia vs. Jessie Vargas?
Attention FireStick Users – Read Before You Continue
When you stream online content on your devices, your personal information such as IP address and location gets monitored by third-party trackers. Even Currently, your IP is visible to everyone. You are also at risk of getting sued by media companies for streaming copyrighted content for free. I strongly recommend you to use a good VPN to hide your identity.
Using a VPN, you can encrypt your internet connection to get rid of prying eyes from stealing your personal information and monitor your private activities.
I personally use IPVanish VPN on my all Streaming device. MY experience with IPVanish VPN has been great because of its fast VPN servers and reliable encryption methods for keeping your data secure on the web. IPVanish also offers a 30-day money-back guarantee so you can ask for a refund if you don't like the service. We have special offers for our readers. Click here to Get 46% Off On IPVanish VPN.
The fight between Mikey Garcia and Jessie Vargas will be exclusively broadcasted on DAZN, the ultimate sports-centric streaming platform. This is a result of DAZN's deal with Matchroom Boxing USA for exclusive broadcasting rights in 2018.
Fortunately, fans won't have to pay a hefty price for the event since DAZN is a subscription-based service. Monthly payments of $19.99 ($20 CAD) or a yearly fee of $99.99 ($150 CAD) will give you access to the Garcia vs. Vargas fight, along with several other exclusive sports events and DAZN's on-demand original programming.
DAZN is currently available in a couple of countries, including the US, Canada, Germany, Italy, Spain, Austria, Switzerland, Brazil, and Japan. In the United Kingdom, fans can tune in to the fight via Sky Sports. However, an active cable TV subscription will be required.
How to Watch Mikey Garcia vs Jessie Vargas on Firestick?
Before we get into details, the first thing we have to do is to sign up for a DAZN subscription. Here's how:
Open a new tab in the web browser and head over to dazn.com.
Choose between Annual or Monthly plan, then click on Start Your Free Trial.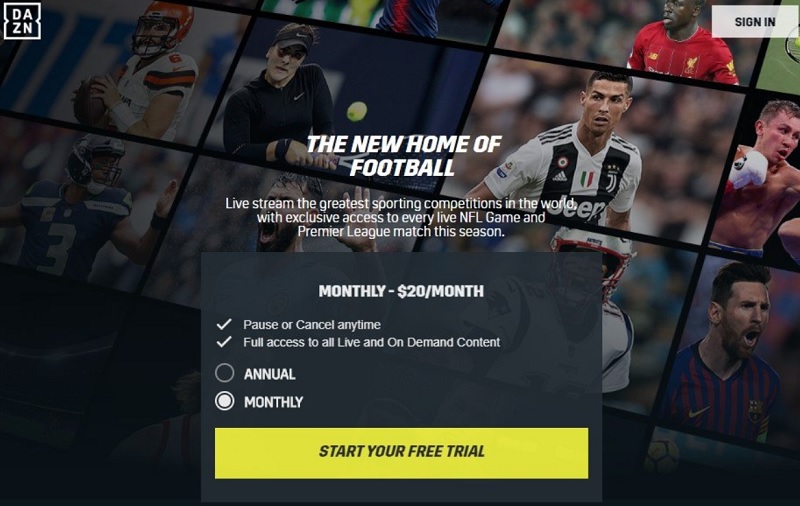 Enter your name, email address, and create a secure password for your DAZN account. After filling up the form, click Continue.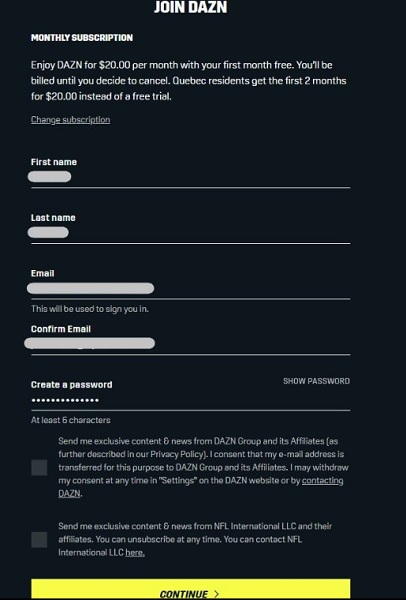 Now select your payment method and type in your billing information for verification.
Since DAZN gives new users a 30-day free trial, you will be charged for the subscription after your trial period expires.
Now that you have a DAZN account with a subscription, you can download the official DAZN app from the Amazon App Store. If you aren't familiar with the installation process, then follow the steps below.
Select the magnifying glass icon above the Fire TV home screen.
Now search for "DAZN" using the keyboard below the search bar.
Next, choose DAZN App from the instant search keywords.
After that, click the DAZN logo under the Apps & Games section on the following page.
Click Get to download the DAZN app. It may take a minute or two for the installation to finish up.
After a successful installation, click Open to launch the DAZN app on your Firestick, then you can sign in to your DAZN account.
You will now have full access over DAZN's collection of sports content, and you can stream Mikey Garcia vs Jessie Vargas fight live on Firestick without any problems.
Read – How to Watch DAZN From Anywhere in the World
How to Watch Mikey Garcia vs. Jessie Vargas Outside the US?
If you are outside DAZN's serviceable area, you won't be able to access the fight between Mikey Garcia and Jessie Vargas directly.
A VPN service lets you bypass the geo-restrictions. It not only masks your real IP address but also secures your network with strong encryption algorithms. When connected to a VPN service, web trackers and geolocators won't be able to track your real location. Instead, the VPN server's location will be your virtual location until you manually disconnect from the VPN server.
Wherever you are, you can simply connect to a VPN server in the United States or Canada using a trusted VPN client to get past DAZN's geo-restrictions, and stream Garcia vs Jessie Vargas without interruptions.
IPVanish, The Best VPN For FireStick
IPVanish VPN is one of the most secure and fastest VPN in the industry. If you do not enjoy the service of the IPVanish VPN, you can ask for a refund as there is a 30-day money-back guarantee.
Garcia vs. Vargas Fight Card
Welterweight – Mikey Garcia vs Jessie Vargas
WBC flyweight – Julio Cesar Martinez vs Jay Harris
WBA Jr. bantamweight – Kal Yafai vs Roman Gonzalez
Heavyweight – Joseph Parker vs Shawndell Winters
Flyweight – Jesse Rodriguez vs Marcos Sustaita
Jr. middleweight – Leo Ruiz Acevado vs Dennis Knifechief
Jr. middleweight – Israil Madrimov vs Charlie Navarro
Super middleweight – Alexis Espino vs Delvecchio Savage
Super middleweight – Diego Pacheco vs Oscar Riojas
Final Words
To catch up with Mikey Garcia fighting Jessie Vargas live, be sure to tune in to DAZN's live broadcast before 11:00 pm (ET) on the 29th of this month. The undercard will begin at 6:00 pm (ET), with the main card fights scheduled for 8:00 pm (ET).
In this guide, we have given all the info you need to watch Mikey Garcia vs Jessie Vargas on Firestick. Although many people consider Vargas to be the underdog, only time will tell who dominates the welterweight category.