In this article, we are going to talk about how to Install and use Sling TV on Firestick. The guides not only work for Firestick but also the Fire TV Cube and Fire TV Edition Smart TVs.
Cable TV is now obsolete, thanks to its online subscription-based counterparts. These online services are not only much cheaper and reliable but also pack a ton of features compared to cable TV. Paying over $100 every month for the channels you don't even watch is totally unjustified. If you want to halve your monthly entertainment expenses, then opting for online live TV service is the right move.
One of the most budget-oriented online TV services in this competitive market is Sling TV. At a subscription price as low as $30, you get up to 47 channels which you may actually watch regularly. If you want additional channels, then you have the option to choose from several extras, including international, sports, kids, news, and many more.
To learn more about Sling TV, carry on reading this article. It also contains the installation and setup process of Sling TV for Amazon Firestick.
What is Sling TV?
Sling TV is an OTT (Over-the-top) online live TV service. It is owned by Dish Network, a well-known cable TV operator in the US. Sling TV offers 100+ live TV channels including extras and excluding international ones. It does also offer thousands of on-demand movies and TV shows.
Whether it is entertainment, news, sports, infographic, kids, or comedy, Sling TV has almost all the popular channels related to these genres. The top-tier package only costs $45/month, which is less than half of an entry-level cable TV package. We will talk more about the packages in another section later in this article.
Sling TV is available for a wide range of devices, including Android, iOS, Windows, Xbox One, Apple TV, Roku, Smart TV with Tizen (Samsung) and webOS (LG), and Amazon's Fire TV.
Features
Sling TV offers a vast selection of American, Latin, and international channels in SD/HD quality as well as a sizeable collection of on-demand content.
International channels are available in 18 different languages, including Hindi, Tamil, Urdu, Cantonese, Arabic, Brazilian, French, Greek, Italian and more.
It has affordable subscription plans with no long-term contracts.
The Sling TV app supports Chromecast-compatible devices.
You can record 10 hours of live TV for free using Cloud DVR. For an extra $5/month, it is upgradable to 50 hours.
Use VPN to Watch Sling TV from Anywhere
If you live outside the US, then you won't be able to access Sling TV because of its geo-restriction. Fortunately, you can use a VPN service to unblock Sling TV by connecting to a server located in the US.
A VPN also hides your IP address and safeguards your sensitive information so that you can enjoy live TV without the fear of being monitored all the time.
IPVanish, The Best VPN For FireStick
IPVanish VPN is one of the most secure and fastest VPN in the industry. If you do not enjoy the service of the IPVanish VPN, you can ask for a refund as there is a 30-day money-back guarantee.
Guide to Install Sling TV on Firestick
Sling TV is officially available on the Amazon App Store for Fire TV devices. Firestick owners can easily install it on their devices and watch live TV using the Sling TV app. Here's how to do it:
Move over to the tabs section above the Fire TV home screen to select the magnifying glass icon at the left corner.
Enter "Sling TV" in the search menu using the on-screen keyboard.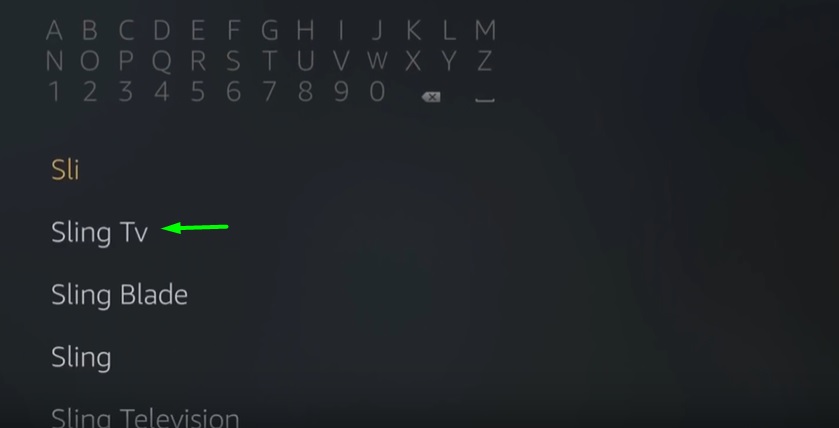 Select Sling TV from the search suggestions below, then click the Sling Television logo under the Apps & Games section.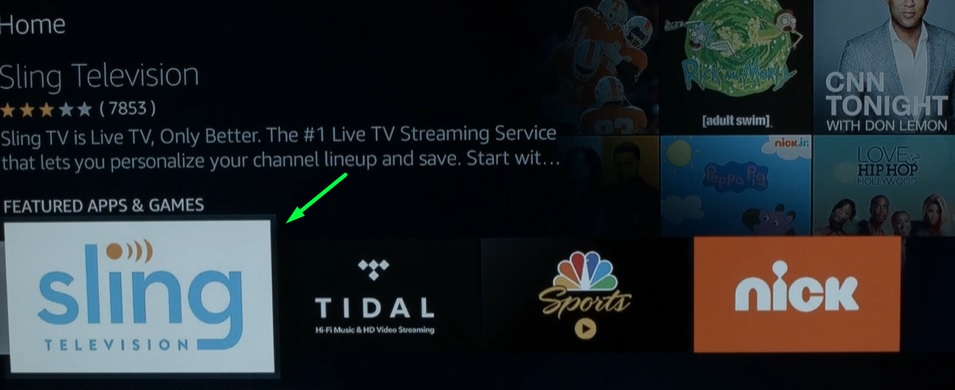 Click Get / Download on the next page. It should take a few minutes to finish up the download and installation process.
Click Open to launch Sling TV on your Firestick.
Alternatively, Sling TV can be launched from Your Apps & Channels section on the Fire TV home screen.
Sign Up for Sling TV
To get access to Sling TV on FireStick, users have to sign up for an account. You can either sign up from the Sling TV website or the official app. Check out the instructions below for both instances.
Sling TV Packages
There are three Sling TV packages to choose from – Sling Orange, Sling Blue, and Sling Orange & Blue. Both of the Sling Orange and Sling Blue is $30/month. However, each of the packages come with a different set of channels. The Sling Orange & Blue package includes all the channels at a price of $45/month.
Sling Extras are optional packages and can be combined with any of the three packages mentioned above. Some of the notable examples include International, Kids Extra, News Extra, Comedy Extra, Hollywood Extra, and Sports Extra. Except for Sports Extra which is $10/month, all of the packages start from $5/month.
Sign Up from Sling TV Website
Open a web browser on your smartphone or PC and visit sling.com.
Click Start Watching Now above the webpage.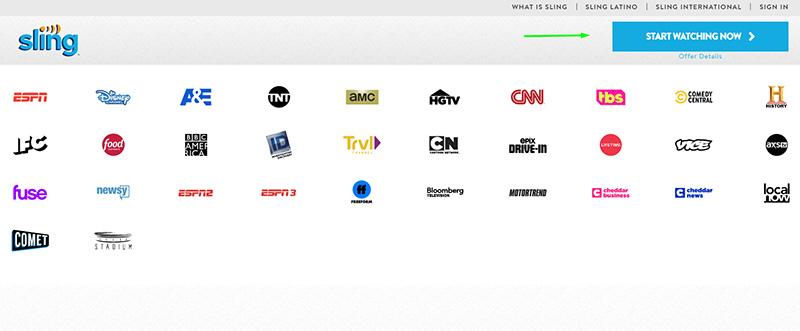 Next, enter your Email address and password in the respective fields, then click Register.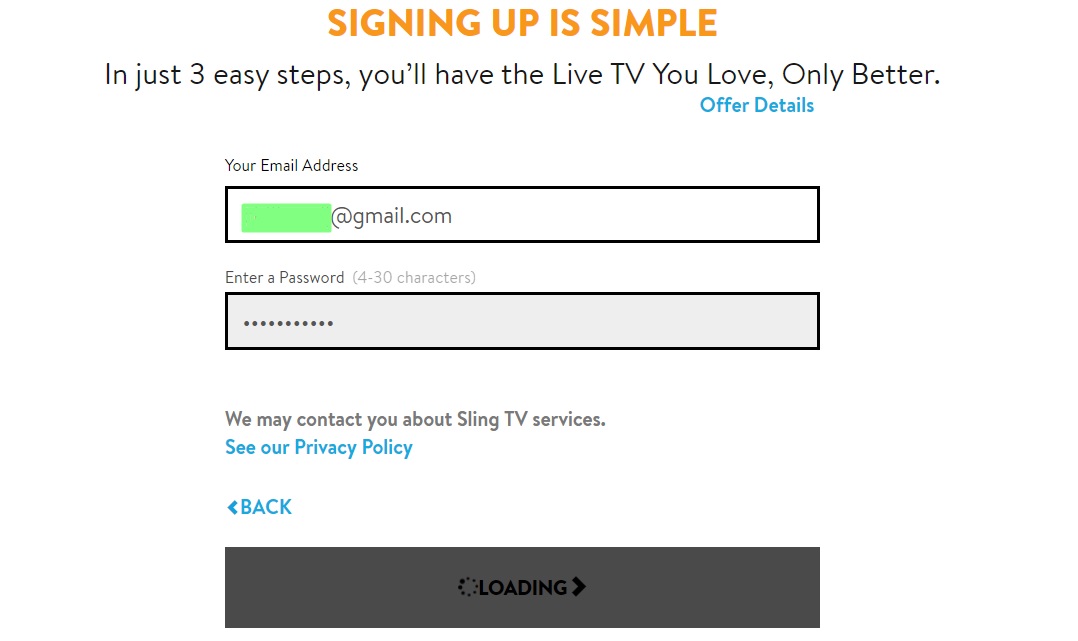 You can now pick up a subscription plan and complete the payment.
After verifying your email address, you will be able to login to your Sling TV account.
Sign Up from Sling TV App
Note: Make sure you have updated payment information in your Amazon account which you are using for your firestick.
Launch the Sling TV on Firestick. If you haven't installed it yet, check out the installation guide from above.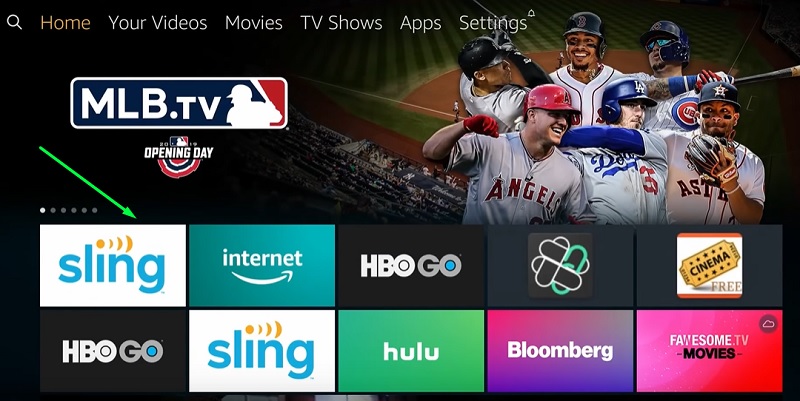 Click the button below the screen that says, "Watch Now 7 Days Free."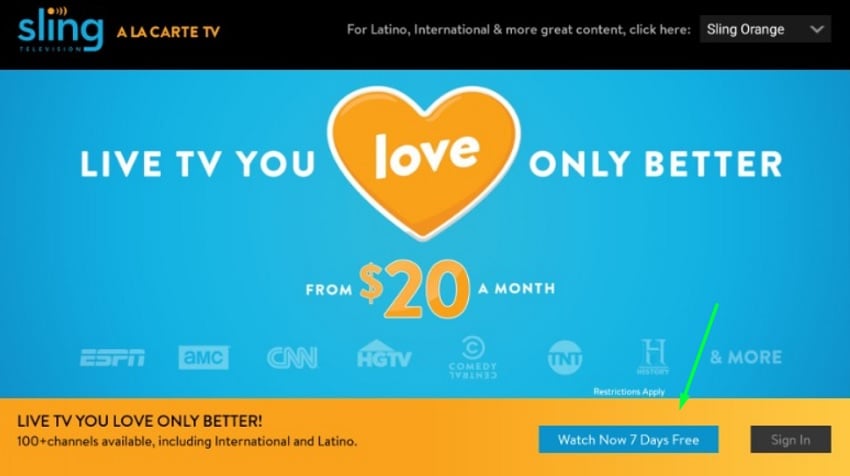 Select your preferred Sling TV package, then click Continue.
Choose Extras on the following screen to add up additional channels with the standard Sling package. Click Continue to proceed.
Type in your email and password to sign up for an account, then enter your billing information to finish up the payment.
It is recommended to sign up from the website, as it takes a lot of time and patience to enter critical information in the app using the Firestick remote.
How to Use Sling TV on FireStick
When you launch Sling TV on firestick for the first time, a welcome screen should appear, asking you to sign up for Sling TV or sign in to your existing account. In case you have followed the instructions for sign up from the app, then it is already known to you. For those who signed up from the website, check out the steps below.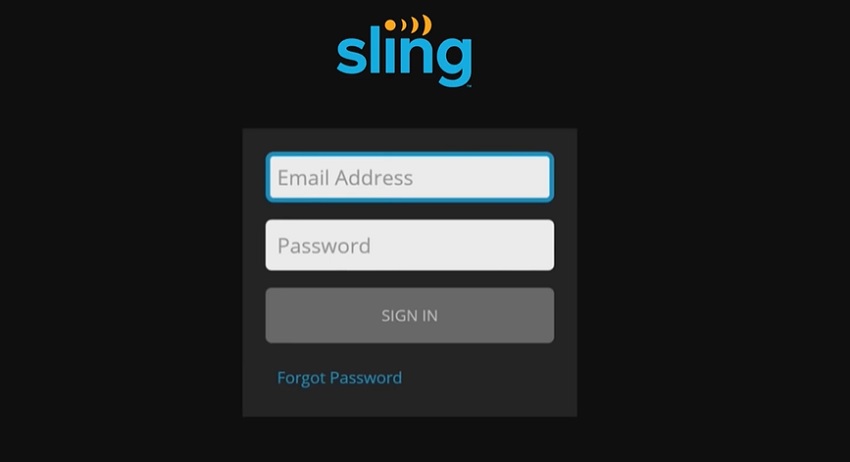 Enter your account credentials in the fields, then click Sign In.
Upon successful login, you will be redirected to the home screen of Sling TV. There are four tabs above the home screen: My TV, On Now, Guide, and Sports.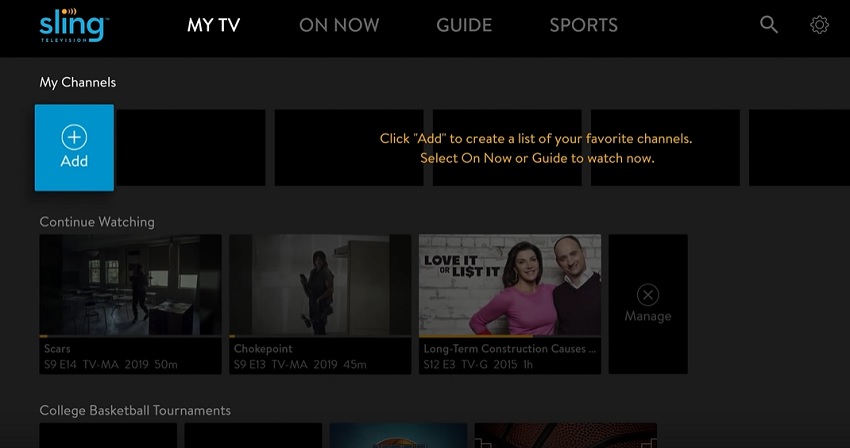 From the 'My TV' tab, you get access to featured shows, recommendations, and your favorite channels. You can click Add under My Channels to add your preferred TV channels for quick access.
Go to the On Now tab to see the list of shows airing live on different TV channels. The shows and events are separated in different genres to make it easier to find your favorite shows.
The Guide tab is self-explanatory. It is basically a program guide that covers the recent and upcoming programs of all the channels included in your subscription.
If you spend most of the time watching sports channels, then Sling TV got you covered. The dedicated Sports tab sorts all the sports channels in an organized manner.
The hand lens and gear icon on the top-right corner give you access to the search and settings menu respectively.
Fix Sling TV Buffering and Errors
If you are facing buffering and error messages while trying to stream a channel on Sling TV, try out these common fixes below.
Make sure your Firestick is connected to a strong Wi-Fi network. If you have a 10mbps internet connection (or higher), then open www.speedtest.net in the Silk browser app on your Firestick to check your internet speed. If you are getting less than 5mbps, then it might be a case of weak Wi-Fi signals. Try to place your router to the Firestick as close as possible to fix the problem. A quick router restart might also solve the buffering issues.
If you are encountering a blank screen instead of the live stream, start by clearing the app cache, and app data if possible. After that, reboot your Firestick and launch the Sling TV app to see if the problem is resolved.
In case you are still receiving the errors, then reinstalling the Sling TV app might be the only choice left to you. For further help, contact the Sling TV support.
Related
Conclusion
In this article, we have extensively discussed Sling TV, its features, and subscription plans. Firestick users can follow the installation and sign-up guide to get the Sling TV app on Firestick and enjoy live TV online at wallet-friendly prices. We have also provided a simplified guide to introduce users to the basics of the Sling TV app.