In this guide, we will show you how to install, set up and watch FuboTV on firestick. The guide provided below will also work on all amazon fire devices including 2nd generation firestick, fire tv, firestick 4k & Fire TV Cube.
FuboTV is an over-the-top paid streaming service that offers a vast library of movies, TV shows, live TV channels to its subscribers. The app is compatible with popular streaming platforms, including Amazon Firestick.
In case you own a Firestick for online content consumption, It's time you ditch your expensive cable TV subscription and switch to FuboTV, which will make your big-screen viewing experience more delightful. If you want to learn more about FuboTV, its features, and the installation process, continue reading this article on how to install FuboTV on Firestick.
FuboTV Overview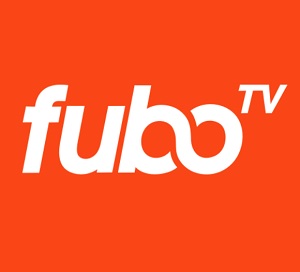 FuboTV hosts more than 140+ live TV channels, with a big focus on sports and news channels. You get access to more than 75+ sports and news channels among the popular ones. Video-on-demand service is also available. This includes catch-ups for popular TV shows and a huge collection of movies.
FuboTV also has a cloud DVR functionality that lets you record TV shows and save it to watch later. The FuboTV app is compatible with platforms such as Android, iOS, AppleTV, Samsung Smart TV, Roku, Chromecast and of course, Amazon FireTV Stick. Now let's take a look at the list of FuboTV features below.
Features of FuboTV
FuboTV has 100+ live entertainment, infographics, and news channels. This includes popular channels such as FOX, CBS, AMC, FX, A&E, BBC America, CNBC, National Geographic, Nat Geo Wild, CNN, FOX News, CBSN and more.
FuboTV also has 75+ channels dedicated to sports including MLB, NBA TV, NFL Network, NBCSN, CBS Sports, FS1, TVG and more. You can watch NASCAR, NHL, MMA, boxing, tennis, golf too. FuboTV offers full coverage of special events such as the Super Bowl, Olympics, UFC, MLB World Series, FIFA World Cup, Stanley Cup, EPL, PGA Tour, Ligue 1 in high-definition quality.
You can stream a wide variety of popular top-rated movies and TV shows for no extra cost.
The FuboTV app on firestick provides a consistent and smooth user experience. The TV-guide is simple and user-friendly, with the option to browse shows by date. You can mark your favorite channels for quick access and the remote shortcuts are very useful.
If you own an HDR10-compatible 4K TV and 4K-capable streaming hardware, you can watch some sports events in 4K Ultra HD The service is still in BETA, so you may encounter some issues.
You can watch FuboTV on firestick 4k, Android phone and tablet, Apple iPhone and iPad, Android TV, Apple TV, Chromecast, Roku and PC. The multi-platform support ensures that you can watch your favorite content anywhere you want.
The Cloud DVR feature gives you the ability to record 30 hours of your favorite TV shows and live events. The recorded shows are accessible across multiple devices too. You can pay an extra $2.50/month to upgrade to 500 hours of DVR storage.
You can get a free trial for 7 days and cancel anytime you want. If you want a monthly subscription, you have three packages to choose from.
FuboTV Review: A Closer Look
There is no doubt that fuboTV is America's one of the most popular OTT internet television service. But some people might be skeptical about the claims, and we are going to unfold it to them with a closer inspection of fuboTV's offerings to its subscribers.
Subscription Packages
Right off the bat, we should start with the fuboTV packages. There are three main packages: fubo Standard, fubo Family, and fubo Ultra. Check out the table below to learn what they offer. We won't include the list of channels since the availability of channels depends on your region. Visit fubo.tv/welcome/channels for the list of channels included in every package.
| | | |
| --- | --- | --- |
| Packages | Price (Monthly) | What you get |
| Fubo Standard | $54.99 | 64 channels, 30 hours of Cloud DVR storage, 2 simultaneous streams |
| Fubo Family | $59.99 ($̶7̶0̶.̶9̶7̶) | 64 channels, 500 hours of Cloud DVR storage, 3 simultaneous streams |
| Fubo Ultra | $74.99 ($̶9̶8̶.̶9̶4̶) | 129 channels with fubo Extra (37 extra channels), Sports Plus (9 channels), Showtime (9 channels w/ on-demand content), 500 hours of Cloud DVR storage, 3 simultaneous streams |
Note: Fubo Extra and Sports Plus can also be added to the Standard and Family package for $5.99/month and $8.99/month respectively.
We also find a couple of premium and channel add-ons. For example:
Showtime ($11/mo): 9 exclusive Showtime channels and access to Showtime's on-demand library.
AMC Premiere ($4.99/mo): TV shows, originals, and uncut movies.
Sports Plus ($10.99/mo): NFL RedZone, Tyc Sports, Stadium, and other regional sports channels.
Fubo Extra ($5.99/mo): 37 additional entertainment, news, sports, and cooking channels.
As you can notice, even the basic subscription package is really expensive when compared to YouTube TV, Sling TV, and Hulu Live TV. With add-ons, it gets even costlier. fuboTV is definitely on the premium side in terms of subscription.
Note: New users get a 1-week free trial so that the subscription can be canceled in case of dissatisfaction.
How to Install FuboTV on Firestick
You can easily install FuboTV on Firestick via the official Amazon App Store. Here's how to do it:
To get started, make sure you are connected to a stable Wi-Fi network with internet access.
Head over to the top section of FireTV home screen, and select the Search option to the left.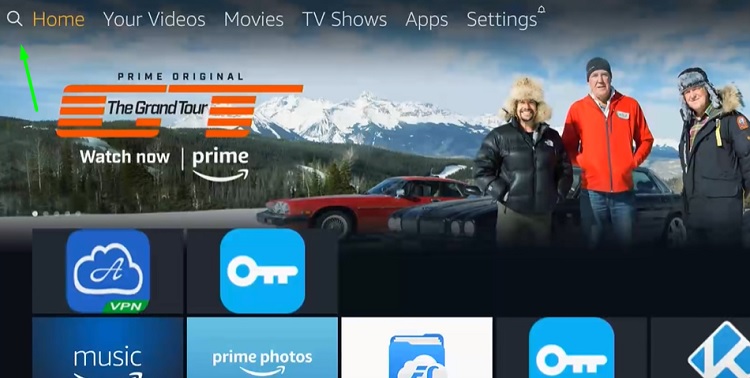 Type "Fubo" in the search bar using the digital keyboard.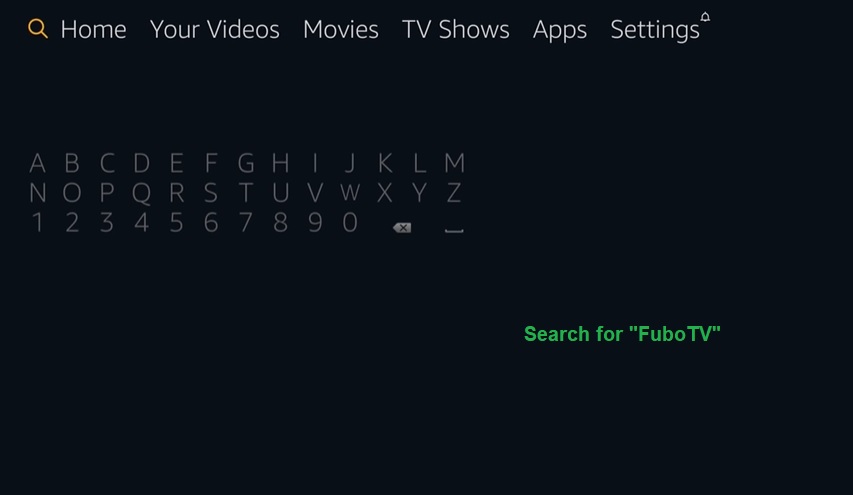 From the search results, click on "FuboTV App" and select FuboTV from the Apps & Games section.
On the FuboTV download page, click Get or Download to download the install the FuboTV app on your Firestick.
Select Open to launch the FuboTV app once the installation finishes. The next time you want to launch the app, go to the Apps & Games section on the home screen and choose FuboTV.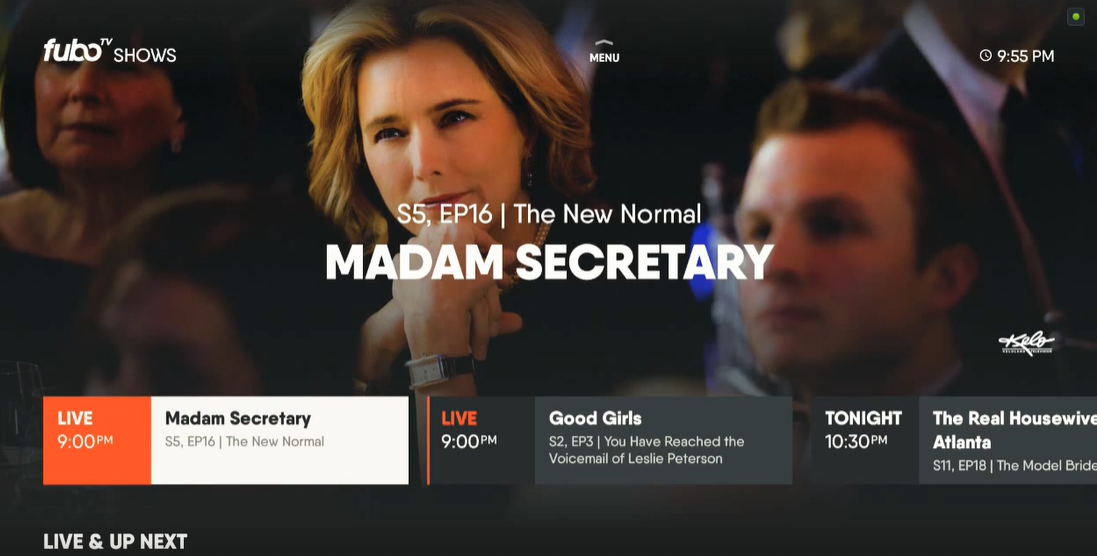 Before you install FuboTV on Firestick, go to fubo.tv and sign up for an account. You have to log in with the same account on the FuboTV app for the first time. After you log in, you can enjoy your favorite live channels, TV shows and movies on your Firestick.
Click Here to Get 7 days Free Trial of Fubo TV
Fubo TV Stream Quality
Coming to the stream quality, there is no doubt that fuboTV delivers exceptional clarity and details. In 4K, supported channels look crystal clear on an Ultra-HD television. Even in 1080p, channels look as great as you would expect. Channels are broadcasted in 60 fps too.
Although you won't notice any buffering whatsoever, it pretty much depends on your internet connection. A 10mbps connection is necessary for streaming at 1080p, while 25mbps is the minimum requirement for 4K. Audio is also decent, though we noticed some minor audio sync issues with some channels.
Cloud DVR Recording
Cloud DVR recording is a welcoming addition. Despite the 30 hours of storage on the fubo Standard package, you can upgrade it to 500 hours with the Cloud DVR Plus ($9.99/month) add-on. However, it has its limitations. You can't record in 4K, and it is locked at 1080p.
User Interface
The user interface looks excellent, with a focus on accessibility and straightforward navigation. The TV guide shows you a list view of all the channels, with a side-view of currently broadcasted shows and upcoming ones. You can click an upcoming broadcast to set it for Cloud DVR recording. The search function works most of the time, but the engine needs more improvement. You also get rewind and pause controls for live TV streams, which is pretty basic in digital streaming services.
One thing that is absent on fuboTV is parental controls. On the other hand, Sling TV, YouTube TV, and Hulu Live TV do offer robust parental controls.
FAQ
Q:) What devices support fuboTV?
A:) Android smartphones, Android tablets, iPhone, iPad, Apple TV, Amazon Fire TV, Roku, Chromecast
Q:) How many devices can you have on fuboTV?
A:) FuboTV allows two devices at the same time
Wrapping Up
FuboTV is an affordable online streaming platform and a worthy replacement for costly and basic cable TV connections. If you watch a variety of sports events on a regular basis, FuboTV is recommended for you as there is no shortage of live sports channels. If you want to install FuboTV on Firestick, follow the steps as instructed above in this article.
Ignoring the expensive subscription plans, fuboTV is undoubtedly one of the best live TV streaming services for cord-cutters. Just like other platforms, it does have its own set of inconsistencies. But, fuboTV's 4K streaming and the vast selection of sports channels outshine its shortcomings. We hope to see more improvements to fuboTV's service in the near future.
Still, have a doubt? Feel free to comment below!