Nowadays, the latest smartphone devices come with big and bright displays while maintaining portability and battery life. It is now possible for us to stream and enjoy movies and TV shows, or even YouTube in virtually anywhere and anytime. But when you are at home, you would rather watch your favorite content on your big-screen TV instead of the smaller one on your smartphone. If you have an Apple device, you probably know about AirPlay. Even though the service is proprietary, you can actually use AirPlay on Firestick to mirror your smartphone display on your TV. In this guide, I will show you how to use AirPlay to FireStick.
What is AirPlay?
AirPlay is a first-party wireless streaming protocol used by Apple products, including iPhone, iPad, iPod touch, Apple TV, and Mac devices. Similar to Miracast on most smart TVs, Android, and Windows devices, it lets you share audio, video, photos, and live streaming the screen from one device to another AirPlay-compatible device.
Unlike Miracast, AirPlay is much better in terms of delivering high-quality audio and video feed. A Chromecast is relatively better than AirPlay, but having an Apple device leaves users with no choice.
However, Apple has partnered with multiple popular television manufacturers including Samsung, LG, Sony, and Vizio to integrate AirPlay with the new-gen smart TVs. You can also cast content from Apple Music on an AirPlay-compatible TV or speaker.
To know more about AirPlay, you can go through the list of features below.
Features of AirPlay on FireStick
Unlike standard screen mirroring, AirPlay adjusts the aspect ratio to 16:9 instead of projecting your device's narrower ratio, letting users enjoy the content as intended.
AirPlay continuously sends unprocessed video and audio data in the form of metadata packets to prevent video artifacts, color banding, buffering, audio distortion, and deterioration in quality.
It takes a single-click to start using AirPlay on Firestick.
With AirPlay, you can play, pause, rewind, fast-forward, adjust the volume on your TV from your Apple device.
How to Install AirPlay on Firestick?
As I mentioned in the beginning, Apple's AirPlay is exclusive to the Apple eco-system only. Amazon's Fire TV devices are neither certified nor allowed by Apple to use its AirPlay protocol. However, Apple allows third-party device manufacturers to integrate AirPlay to firestick devices.
This means you can download an app called AirScreen on your Firestick, that utilizes the AirPlay API and lets you use AirPlay with an Android device. The app is currently available on the Amazon App Store. Here's how to install it:
Navigate to the tabs section of the Fire TV homepage, and pick the Search function at the left corner indicated by a hand lens icon.
Type "AirScreen" in the search field using the digital keyboard.
Choose AirScreen from the search results, then select AirScreen under the Apps & Games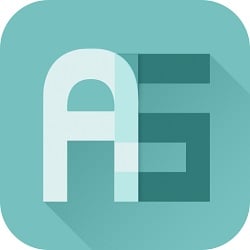 After that, click Get below the app description to download the AirScreen app on your Firestick. It will take a couple of minutes to install.
Once the installation is done, tap Open to launch AirScreen.
Related – Firestick Mirroring: How to Cast Android / iPhone / Mac to Firestick
How to Use AirScreen on Fire TV Stick?
After installing AirScreen on your Firestick device, you can easily connect your Apple iOS device to Firestick via the app. If you need help setting it up, you can follow the instructions below.
At first, make sure your Firestick and iOS device is connected to the same Wi-Fi network.
Launch the AirScreen app on your Firestick. The app will automatically initiate scanning for your device. You will see your Firestick device name, connected Wi-Fi network, and App ID at the upper-left corner of your TV screen.
After that, open the Control Center on your iOS device by swiping down from the top-right corner of the screen.
Choose Screen Mirroring from the options, then tap on the name of your Firestick.
After a few seconds, you should see your iOS device's screen on your TV.
Also, Check – How to Cast to Firestick/Fire TV Using Android & iPhone/iPad
FAQ
How to stop AirPlay mirroring on Firestick?
Answer: To stop mirroring your device screen, open Control Center on your iOS device, select Screen Mirroring and tap Stop Mirroring.
Why is it showing a blank screen when I try to stream content from apps like Netflix?
Answer: Most streaming services including Netflix, Amazon Prime Video, Hulu comes with DRM encryption to protect copyrighted content and prevent piracy. The AirPlay protocol does not support mirroring copyrighted content over a wireless connection.
Conclusion
In this guide, we have briefly discussed AirPlay and its features, including a working method to help you use AirPlay on Firestick. I have personally tested it myself and use it on a daily basis to enjoy content on my TV. You can also try it out yourself by following the precise step-by-step instructions listed here.