In this article, I will talk about everything you need to know about Hulu & Hulu Live TV. Check out this guide and set up a Hulu on FireStick within a few minutes.
A lot of us spend our weekends hanging out with friends or family. However, all you want is to chill out on your sofa and binge-watch some series, we totally respect that.
There has been a recent surge in the sales of Amazon's Firestick as well. It was being sold for only $22.99 as a part of the lightning deals. A lot of people didn't want to miss out on the hefty discount and purchased it as a replacement for cable TV connection. Since cable TV services have become so expensive, people can now at least binge-watch movies and TV shows on Firestick instead.
To watch movies and TV shows on-demand, Firestick users will need to get a subscription to a streaming service. If you are searching for an affordable solution, note that there aren't many of them in the market. However, the Disney-owned OTT streaming service Hulu might be an excellent choice for cord-cutters on budget.
You have probably heard of Hulu before, mainly for its award-winning originals. Fortunately, the Hulu app is available for Fire TV devices. Those who are new to the Fire TV ecosystem can follow this guide to watch Hulu on Firestick.
What is Hulu?
Hulu is an American subscription-based VoD service. With over 30 million active subscribers, it is competing with the streaming giant Netflix and Prime Video. Hulu's streaming library is comparable to the likenesses of Netflix, as it offers a wide variety of movies, TV shows, as well as documentaries and original series.
Hulu has signed long-term partnerships with several television networks, including ABC, A&E, AMC, Bravo, BBC America, CBS, STARZ, Discovery, National Geographic, E!, Epix, Freeform, NBC, FOX, FX, HBO, TBS, Cinemax, Showtime, MTV, Lifetime, Comedy Central, Cartoon Network, Nickelodeon, Adult Swim, SyFy, HGTV, TNT, History, Tastemade, Food Network, and parent-company Disney.
It gives them access to thousands of hours worth of entertainment, documentary, crime, drama, thriller, fiction, mystery, comedy, fantasy, sitcom, reality, lifestyle, cooking, and animated content.
With Hulu on Firestick, you can watch popular TV shows, such as Grey's Anatomy, Outlander, Westworld, Chernobyl, The Masked Singer, The Resident, The Outsider, Brooklyn Nine-Nine, Preacher, Killing Eve, Rick & Morty, and dozens more. A few of these shows are locked under their premium network subscription, which you have to pay for separately.
Hulu's original programming includes The Handmaid's Tale, Catch-22, Harlots, Veronica Mars, Wu-Tang: An American Saga, Looking for Alaska, Castle Rock, The Accident, Shrill, Marvel's Runaways, Little Fires Everywhere, etc. Some of these shows have won multiple awards and are a must-watch. Additionally, you can also stream the latest blockbuster movies from Hulu's massive movie collection.
You get everything with Hulu's starting subscription plan of $5.99/month, which is ad-supported. You can remove ads by paying $11.99/month for the Hulu (No Ads) plan. There aren't any contracts associated with the plans, and new users get the first month of subscription for free.
Features of Hulu
Hulu's on-demand streaming library offers thousands of high-quality movies and TV shows.
Hulu content can be streamed in up to 4K Ultra HD resolution. (Firestick 4K and a 4K TV required)
You can create up to six personalized Hulu profiles, each with their own set of recommendations and watch list.
The tab-styled interface layout offers exceptional navigation and accessibility.
Monthly subscription plans start from only $5.99, which is cheaper than any other on-demand streaming services in the US.
How to Watch Hulu Outside the US
If you are living Outside the US then Make sure you use a VPN before you install Hulu for firestick. Hulu is quite a popular streaming service provider and has made a good name for itself in the relative market. However, the company hasn't been able to expand its service globally unlike its competitors. As of now, the Hulu service is available exclusively in the US only, users residing in other regions may not be able to access the service or watch its content.
Based on sources, the service is limited to the US only because of various licensing and broadcasting issues. Therefore, you cannot access the Hulu website or watch its content if you're not from the US.
However, you can still overcome this restriction by using an IPVanish VPN on whatever device you're using. Users without spoofing their location to the US will not be able to access Hulu. So, make sure you have the VPN enabled before trying to access the Hulu website or its content.
Guide to Sign Up for a Hulu Account
Before you get to the installation process of the Hulu app on Firestick, you need to purchase a Hulu subscription first. Existing Hulu subscribers can skip this set of instructions. Those who haven't gotten a Hulu subscription yet can follow the steps below.
First, go to hulu.com from a web browser on your mobile or computer.
Click Start Your Free Trial button on top of the webpage.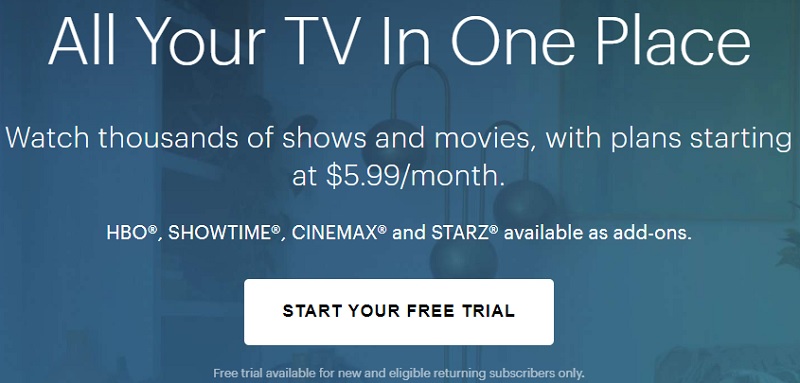 Now choose the Hulu subscription plan you want to pay for, and click Select to proceed with it.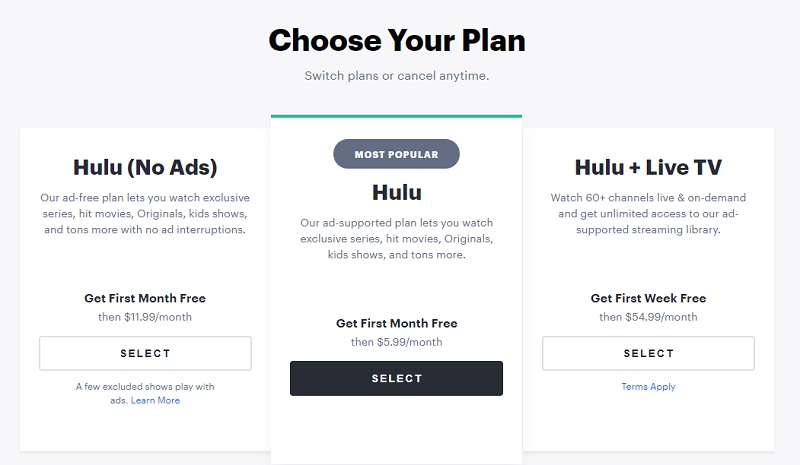 Next, enter your name, email address, and other personal information in the required fields in the account creation form. Use a strong six-digit password to keep your Hulu account secured, then click Continue.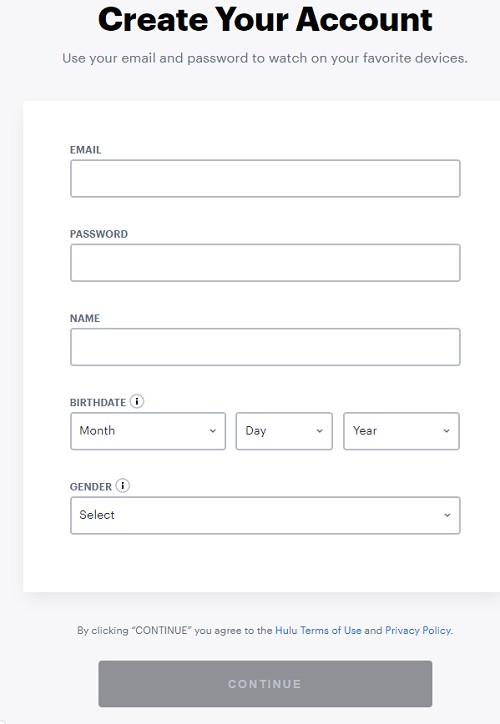 Now review your subscription plan, then select your payment method. You can proceed with either credit card or PayPal account, enter your billing info, and click Submit or Continue.
After you verify your payment method, your Hulu subscription purchase will be successfully linked to your new Hulu account. Since you get the first month of subscription for free, you won't be charged until your subscription reaches its expiration period.
You can also cancel your subscription anytime, in case you are not satisfied with Hulu's offerings.
How To Install Hulu On Firestick
Attention FireStick Users – Read Before You Continue
When you stream online content on your devices, your personal information such as IP address and location gets monitored by third-party trackers. Even Currently, your IP is visible to everyone. You are also at risk of getting sued by media companies for streaming copyrighted content for free. I strongly recommend you to use a good VPN to hide your identity.
Using a VPN, you can encrypt your internet connection to get rid of prying eyes from stealing your personal information and monitor your private activities.
I personally use IPVanish VPN on my all Streaming device. MY experience with IPVanish VPN has been great because of its fast VPN servers and reliable encryption methods for keeping your data secure on the web. IPVanish also offers a 30-day money-back guarantee so you can ask for a refund if you don't like the service. We have special offers for our readers. Click here to Get 46% Off On IPVanish VPN.
Hulu's official streaming app is compatible with a wide range of modern streaming devices, including Firestick and other Fire TV devices. You can install the Hulu app from the Amazon Appstore. Here's how:
First, select the Search option from the top of the Fire TV home screen. A magnifying lens icon indicates the option.
Next, enter "Hulu" in the search bar, either using the on-screen keyboard or voice input. Select Hulu from the instant search keywords that appear at the bottom of the screen.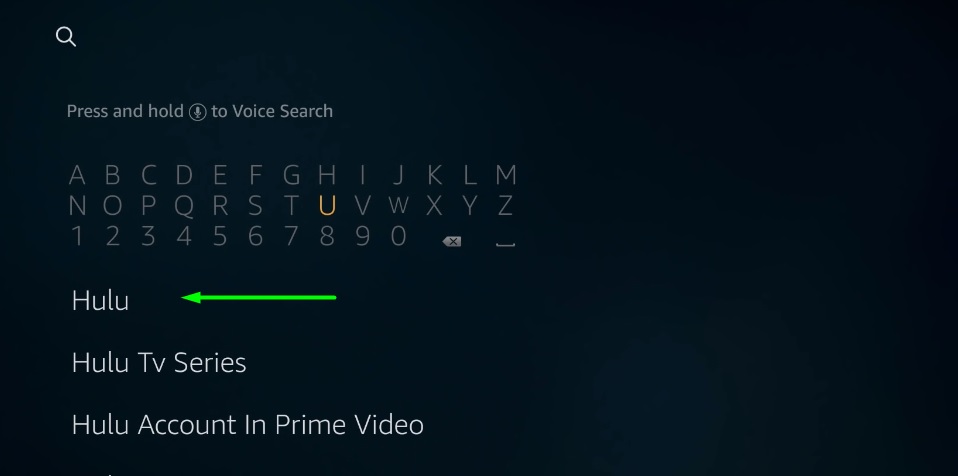 Once the results are loaded, select the "Hulu" App from the result to open its page.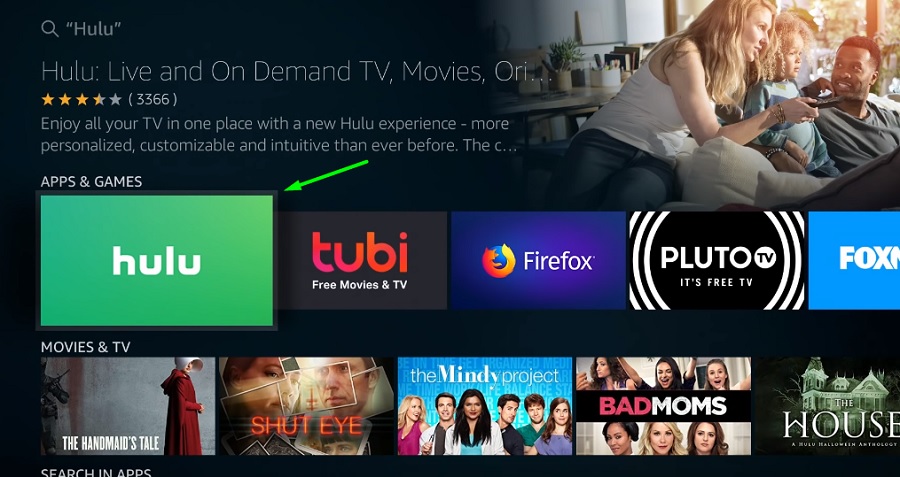 Navigate to the Apps & Games section on the search results page, then click the Hulu app icon.
Click Get / Download and wait for the Hulu app to get installed on Firestick. It shouldn't take more than a minute or two.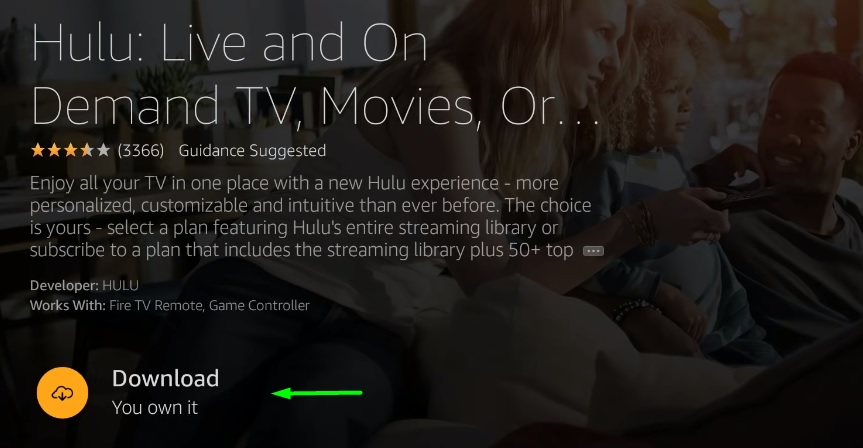 Within a few seconds, the Hulu App would be installed on your Firestick device successfully.
After Hulu is installed on Firestick, you can access it from Your Apps & Channels section on the Fire TV home screen. If it doesn't show up under the section, then scroll right to the See All option and click it. It will expand the list of all the apps you have installed on your Firestick, where you will also find the Hulu app and launch it.
How to Activate Hulu on Firestick
Once you have a Hulu subscription and the Hulu app installed on Firestick, you can initiate activating your Hulu account, which we have also covered step-by-step in this section of the guide.
Launch the Hulu app on your Firestick. You will be greeted with a welcome screen.
Click the Log In option, then select Activate on a computer. The app will generate an activation code for account authorization.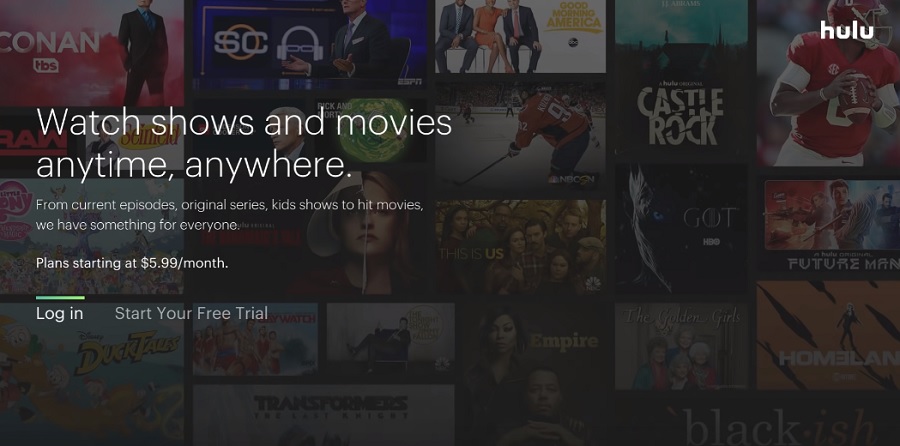 Now head to hulu.com/activate from another device, enter the activation code, and follow the on-screen instructions to complete the activation process. Make sure to enter the code within 30 seconds, since it generates a new one after that.
After you activate your device, Hulu will send you an email regarding the succession of the activation process. Alternatively, you can proceed with the login on this device option on the welcome screen, enter your Hulu credentials, and click Log In.
Now that you have signed in to the Hulu app, you can stream unlimited content from Hulu's streaming library on your television using Firestick.
How to Watch Hulu Live TV on Firestick
Hulu's OTT live TV streaming service is also very popular in the United States. With more than 3.5 million active Hulu Live TV users, it is currently one of the best online live TV providers.
You can watch Hulu Live TV from the same Hulu app on Firestick. However, you will need to get a Hulu + Live TV subscription, which costs $54.99/month. Visit hulu.com/live-tv to learn more about Hulu Live TV's offerings, including 65+ channels, 50 hours of free cloud DVR storage, and two simultaneous screens. You will also get a week's worth of free trial, which is more than enough to try out the service.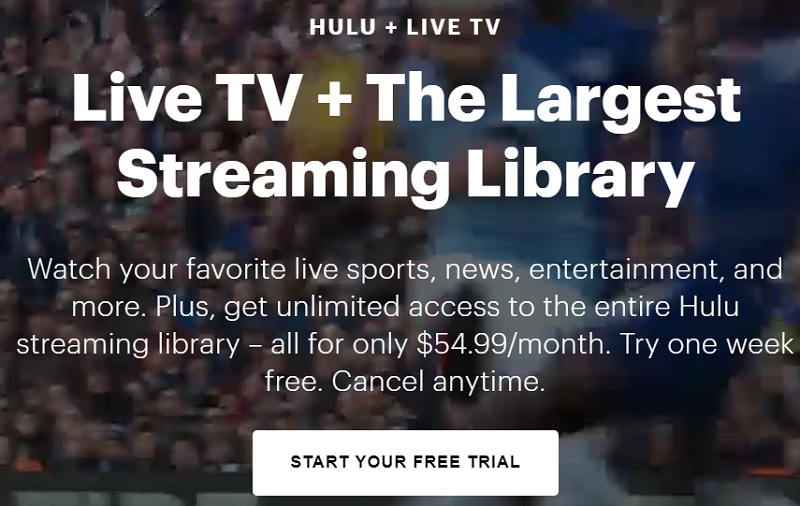 A Quick Tour of Hulu App on Firestick
Upon logging in to your Hulu account, you will be asked to create your personalized Hulu profile. Click + New Profile, choose three or more categories and genres that you like to watch, then add some of your favorite movies and TV shows.
If you have a Hulu + Live TV subscription, then Hulu will prompt you to select your favorite television networks, channels, and your favorite sports teams, so that you never miss out on live broadcastings.
After that, you can set your profile name and click Create Profile to save your personalized Hulu profile. In case you are creating a specialized Hulu profile for your kids, then enable Kids Mode too.
The latest version of the Hulu app has a simpler user interface for quick access to different sections of the app, which are Home, Browse, Live TV, My Stuff, Search, and Account.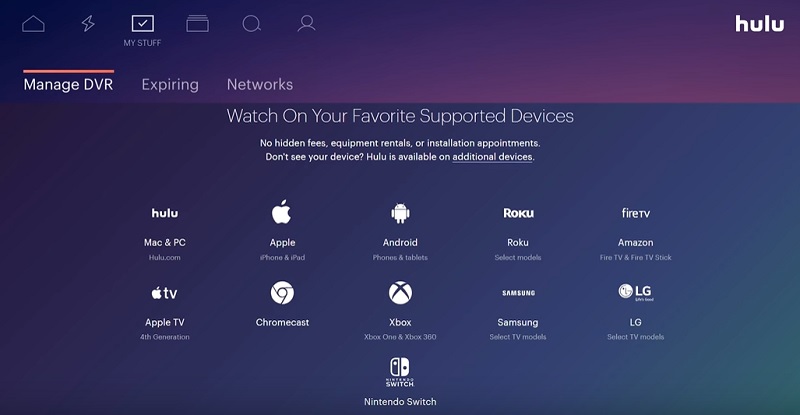 Every time you log in to Hulu, Home will open up by default. Here you will find several other categories and collections, which are relevant to your watch history. The Keep Watching section lets you quickly resume movies and TV shows right from where you left it off last time. The Hulu Picks section gives you recommendations. Hulu + Live TV subscribers can also quickly access their favorite channels from the My Channels section in Home.
My Stuff keeps your DVR recordings, and on-demand shows that you have added in the My Stuff section stored in a single place. If you are looking for something specific to watch, you can go to the Search section to find it. You can search by actor/actress, year, and category as well. This also includes live TV programming.
In case you want to browse the channel guide, then Live TV is the way to go. The Browse menu lets you search for content by networks, categories, and genres.
Final Words
Hulu is an excellent medium for binge-watching award-winning movies and TV shows online. Hulu's live TV service is also flawless, and it can be considered as a permanent replacement for cable TV connection.
This guide covers almost every piece of information you need to watch Hulu on Firestick. The installation and activation instructions are up to date and are guaranteed to work with other Fire TV devices as well, which includes but not limited to Fire TV box, Fire TV Cube, Fire TV Edition smart TVs, and soundbars.