Britbox is a digital over-the-air video subscription platform created by ITV plc and BBC Studios. With a focus on delivering British movies and TV shows, Britbox offers its service in the United States, Canada, and the United Kingdom. If you want to get access to the best British TV series and films, then you can get a Britbox subscription and enjoy it on your streaming device. However, Britbox doesn't have an app officially available for Fire TV devices. Firestick owners cannot directly access the service, but there's a workaround. In this guide, we will tell you everything about Britbox and help you access Britbox on Firestick device.
What is Britbox?
As the name suggests, Britbox is a video streaming platform with a library mainly based on British content. It offers both the latest original programs and archives of classic TV series and films. The service is accessible on both BBC iPlayer and ITV Hub. As it is a relatively new service, Britbox is currently trying to offer its content to other broadcasting networks such as Channel 4 and NBCUniversal.
From Mystery to Drama to Comedy, Britbox has TV shows for every genre. You can watch shows like Shetland, Hetty Wainthropp Investigates, Inspector Morse, The Adventures of Sherlock Holmes, Maigret, Vera, and more. You can also watch 27 full seasons of BBC's Classic Doctor Who on Britbox.
Britbox also provides special documentaries such as 24 Hours in Police Custody, This Farming Life, A History of Ancient Britain, Coast, Supermarket Secrets, and dozens more. You will find a decent collection of British movies too on Britbox.
I have got many messages related to the availability of britbox on Amazon Fire TV. And, I am sure many users have the same question "Can I get Britbox on Fire TV Stick or FireStick 4k? Yes, there is a way, you can get a britbox on your fire tv device legally.
How to Access Britbox on FireStick or Fire TV?
There is no official Britbox app for Firestick. You can probably try sideloading the Android app on your Fire TV device, but the process is quite complicated and it won't work anyway because of issues with DRM keys and services.
However, there's an official workaround for accessing Britbox content on your Firestick, and that's Amazon Prime Video. Britbox has long ago partnered with Amazon to bring its vast collection of British content on Amazon's Prime Video platform.
However, in order to get a Britbox subscription, you have to sign up for Prime membership, as the ability to subscribe to Amazon Channels is currently exclusive to Prime members. Amazon Channels is a collection of various services like Britbox, providing on-demand content. For US residents, Britbox is available on Amazon Video capable devices and platforms.
You can get a Prime subscription for $12.99/month and the Britbox subscription for $6.99/month only. If you are signing up for Prime membership for the first time, you will get a 30-day free trial for it. Britbox provides a 7-day free trial, and you can cancel both of the services anytime. You can click here to sign up for the services.
Note that canceling your Prime subscription will block you from accessing Britbox content on Prime Video even if you have the Britbox subscription.
How to Get Britbox on Firestick?
Attention FireStick Users – Read Before You Continue
When you stream online content on your devices, your personal information such as IP address and location gets monitored by third-party trackers. Even Currently, your IP is visible to everyone. You are also at risk of getting sued by media companies for streaming copyrighted content for free. I strongly recommend you to use a good VPN to hide your identity.
Using a VPN, you can encrypt your internet connection to get rid of prying eyes from stealing your personal information and monitor your private activities.
I personally use IPVanish VPN on my all Streaming device. MY experience with IPVanish VPN has been great because of its fast VPN servers and reliable encryption methods for keeping your data secure on the web. IPVanish also offers a 30-day money-back guarantee so you can ask for a refund if you don't like the service. We have special offers for our readers. Click here to Get 46% Off On IPVanish VPN.
Now that you know Britbox content is accessible via Prime Video and signed up for the required services, watching Britbox on Firestick is pretty straightforward. Here's how:
From the Fire TV home screen, launch the Prime Video app under Your Apps & Channels section. (If you can't find the app then follow this tutorial)
Now scroll down until you find the Prime Video Channels
Scroll to the right and tap on Britbox.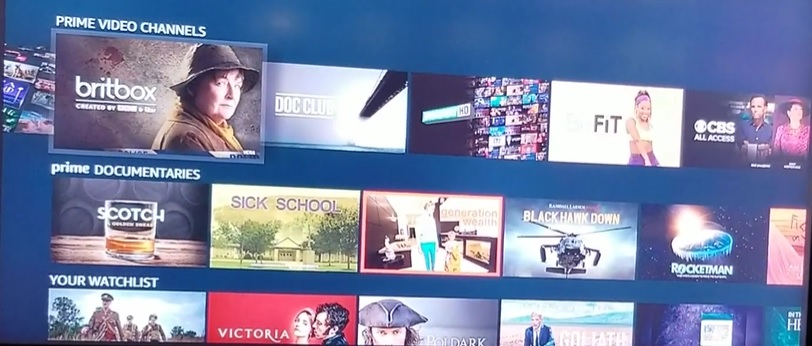 On the next page, you will find all the Britbox content categorized in different sections. To play your preferred content, tap it and select Play with Prime Video.
Note: Britbox on Prime Video currently offers all the movies and TV shows, but you might miss some episodes, and it's a known issue from Amazon's side. There is no ETA on when Amazon will fix it.
Bad News for Existing Britbox Users
If you are a long-time Britbox subscriber and have recently purchased a Firestick, then we have a piece of bad news for you. Unfortunately, it is impossible to merge your existing britbox.com subscription with Britbox on Prime Video. You have to sign up on Prime Video separately for accessing Amazon channels.
But if you want to watch Britbox on PC or smartphone, then you can sign in through the web version or the Prime Video app and access your Britbox subscription.
Wrapping Up
In this guide, we have showcased Britbox and provided substantial details to help you watch Britbox on Firestick. You can follow this guide to enjoy Britbox on your TV without the need for a cable TV subscription. Simply Sign up for Prime Video and Britbox.