In this guide, I will show you how to setup Surfshark VPN on Firestick. This same process also works on any Amazon Fire TV devices, including FireStick 4K and Fire TV Cube.
There is no shortage of VPN in the market. VPNs have assumed a lot of significance nowadays. With the amount of pirated software downloaded and online streaming we are doing, it is always necessary to have a layer of safety. VPNs modify the IP address which prevents others from tracking us on the net.
Amazon firestick is one of the most popular streaming devices used for streaming HBO, Netflix, amazon prime video, Hulu, Hotstar and tons of movies and tv shows apps. There are many apps providing geo-restricted content but you can bypass it by installing a VPN on your firestick. However, most of the good VPNs charge fees which could prove to be let down for many of us. Consequently, people are hesitant towards buying VPNs and choosing inferior quality freeware VPNs which in no way comes close to replicating the functionality of a premium VPN.
This is where Surfshark enters the picture. Surfshark is packed to the brim with features while offering incredible value for the money. The two-year plan will only cost you 48 dollars. However, most people are unaware of its quality, which could possibly be due to the recent launch of the software. In this article, I will show you step by step instructions to install Surfshark on firestick along with I will clear all your doubts and questions regarding Surfshark. Let's get started.
Features of Surfshark VPN
Camouflage mode – Most of the available VPNs are quite secure but they might not be able to hide you from your ISP. However, Surfshark assures you that by using this mode, even your ISP will be unable to track your movements.
No limit in connectivity – Using a single account, you can connect to an unlimited number of devices. This might be the only VPN with such a feature.
It is supported on a wide range of platforms like Windows, Mac, Android, iOS, etc. It also has extensions for browsers.
Kill-switch – Kill switch is used when your VPN connections fail. At this moment, you are exposed and can be tracked. The use of a kill switch terminates your internet connection altogether, keeping you secure. However, this feature is currently available only in the Desktop and iOS versions.
Whitelist – This gives permission for certain apps to overcome the VPN connection.
It can remove almost all the content locks.
It unblocks Netflix and permits torrenting at high speeds.
It is highly secure.
Surfshark offers more than 800 plus servers in 50 plus countries.
How to Install Surfshark on Firestick
Surfshark VPN app is available on the Amazon app store which fortunately makes the installation procedure much less tedious.
Tap on the search bar in your Amazon Firestick.
Type in "Surfshark" and click search.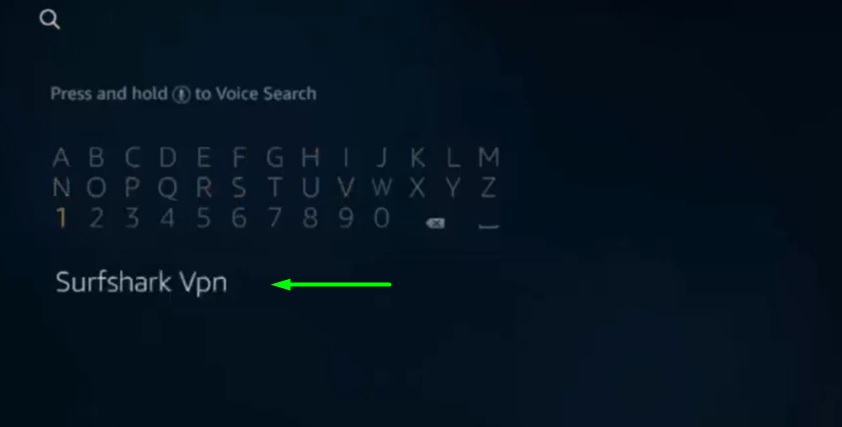 From the results displayed on the screen, click on the Surfshark application. Normally, this will be the first result.
Hit the 'Get/Download' button to download the app.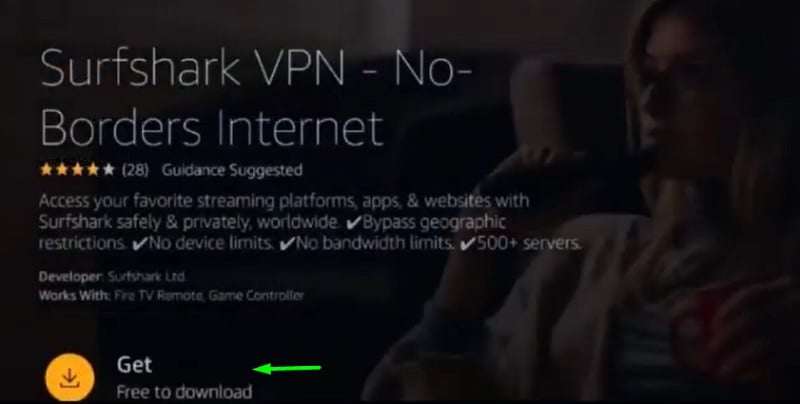 After the download is completed, the installation will follow automatically.
Hit open to start the application.
Now, either you need to sign-in with your credentials or by scanning the QR code displayed on the screen.
Now, you can start using the Surfshark VPN on Firestick device.
How to Use Surfshark VPN on Firestick
Well, now that we have successfully installed Surfshark, let us move to the important part, the set up of the app. You need to configure the app to enable it to work with maximum efficiency. We will show you precisely what you need to do.
After signing in to Surfshark, you need to select any server from the United States of America. It could be from Miami or Phoenix. It just needs to be an American server.
A prompt will be displayed on the screen, asking for permission to set up a VPN connection.
That is it. Now you can enjoy and surf the internet.
Does Surfshark VPN Work with Netflix?
There have been many instances where users have complained that Netflix was inaccessible using their VPN. However, this is not the case with Surfshark. We have tested many different servers and found out that there was no problem in any of them. Moreover, Amazon Video and BBC iPlayer also work perfectly fine with Surfshark VPN. However, Overall, the VPN is very good for streaming with high-speeds.
Is Surfshark good for torrenting?
Well, you would be glad to know that Surfshark is a great choice for torrenting. To experience the best speeds, we recommend that you pick a server from one of the US, UK or Netherlands. Surfshark supports torrenting clients like uTorrent and BitTorrent as well. The app is quite secure, and you can be assured that there won't be any DNS leaks.
Conclusion
We hope that you enjoyed this article on Surfshark. It is without a doubt, the best budget VPN available currently. Moreover, it is completely safe and easy to use as well. So, go ahead and give it a shot. If you have any queries or need assistance regarding the content, do contact us.