In this article, I will explain how to turn off Firestick or Fire TV. The guide provided below will also work on Firestick 4k & Fire TV Cube.
Amazon Firestick is one of the best devices for online video streaming purposes. It runs on a custom version of Android, which ensures compatibility with a wide range of popular live TV and on-demand streaming apps.
Suppose you want to turn off your television after a long binge-watch session. You either press the Power button on your TV remote or flip the power outlet switch. However, the Firestick connected to your TV is still being powered. It should be simple to turn off the Firestick as well, right?
Oddly enough, an integrated Power button is entirely absent from both the Firestick device and the Fire TV Voice Remote. Although the All-New Alexa Voice Remote for Fire TV does have a dedicated Power button and Volume controls, they only communicate with your TV over a hybrid IR transmission.
Amazon does offer a solution to this issue. When you are not using your Firestick, the processor switches to an idle power state after 20 minutes. In simple words, the Firestick automatically goes to sleep mode and limits power consumption to a few watts.
In case you wish to manually turn off your Firestick, then continue reading this guide to learn more.
How to Turn Off Firestick or Fire TV?
There are a few ways you can turn off your Firestick, or put your device in a sleep state manually. Check them out below one by one.
#1. Turn Off Firestick from the Quick Access Menu
This is the most common way to turn off your Firestick. However, note that you are just toggling the sleep mode manually, and it doesn't power off your Firestick entirely.
Press and hold the Home button on your Fire TV Voice Remote for a few seconds until the Quick Access Menu shows up on your TV.
Highlight and click the Sleep option situated in the Quick Access menu.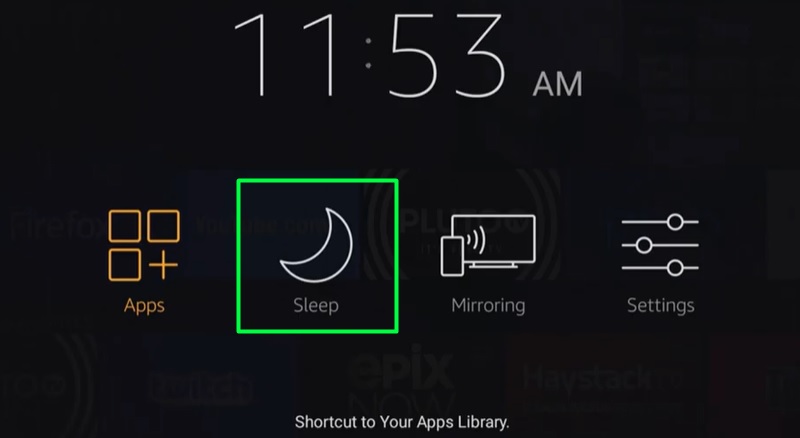 Your Firestick will instantly go to sleep, and the whole will turn black. You can press any button on your Fire TV Voice Remote to wake up Firestick from the sleep state.
#2. Turn Off Firestick from Fire TV Settings
In case you can't open up the Quick Access Menu, you can follow the steps below to turn off Firestick. Once again, it should be noted that the Firestick will stay in an idle state.
Navigate to the top section of the Fire TV home screen to highlight the Settings
Scroll all the way to the My Fire TV / Device option in the Settings menu.
Finally, click Sleep in the My Fire TV settings menu.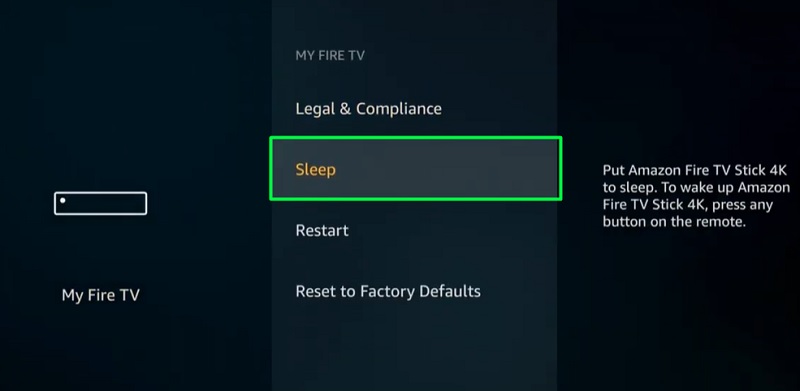 Similar to the previous method, your Firestick will go to sleep once you click the option. Pressing any key on your Fire TV Voice Remote will wake up your Firestick.
#3. Disconnect Firestick's Power Adapter
The only apparent way to power off your Firestick is to disconnect the power adapter of Firestick from the outlet. Since Firestick doesn't have a battery built-in, it will lose power as soon as you unplug it from the power source.
The next time your power on your Firestick, it will take a minute to boot into the Fire OS as it was not being powered.
Related:
Powering Off
This guide covers a few ways to turn off the Amazon Firestick. If you regularly encounter voltage fluctuations in your house, it's recommended to disconnect the Firestick from the power source when you are done watching. Else, it's totally safe to keep the Firestick in sleep mode when you are not using it.