Amazon Fire TV Stick Keeps Buffering, What to Do? This article will provide step-by-step instructions for 7 different ways to Stop Buffering on FireStick. If you are Constantly facing amazon fire stick buffering issues then you should definitely try the fixes mentioned below.
Amazon's Firestick is one of the most versatile streaming devices in the market. Whether you are looking for an upgrade for your TV or cut your cable TV connection – You can do it by directly connecting the Firestick to your TV. You can enjoy not only HD+ content popular streaming services such as Netflix, Amazon Prime Video, Hulu, HBO Now but also sideload your preferred third-party video streaming app. You can also watch live TV with FuboTV, Sling TV, PlayStation Vue, and more.
However, the reason behind Firestick's affordable price is its low-end hardware. And unlike any other low-end device, it is prone to lags and stutters. Though to Amazon's credit, they have optimized Fire OS for various Fire TV devices to ensure maximum performance and stability. Still, we have noticed some common Firestick buffering issues on a regular basis. Follow this article till the end to fix stop fire tv stick from buffering.
How To Stop FireStick Buffering Guide
Attention FireStick Users – Read Before You Continue
When you stream online content on your devices, your personal information such as IP address and location gets monitored by third-party trackers. Even Currently, your IP is visible to everyone. You are also at risk of getting sued by media companies for streaming copyrighted content for free. I strongly recommend you to use a good VPN to hide your identity.
Using a VPN, you can encrypt your internet connection to get rid of prying eyes from stealing your personal information and monitor your private activities.
I personally use IPVanish VPN on my all Streaming device. MY experience with IPVanish VPN has been great because of its fast VPN servers and reliable encryption methods for keeping your data secure on the web. IPVanish also offers a 30-day money-back guarantee so you can ask for a refund if you don't like the service. We have special offers for our readers. Click here to Get 46% Off On IPVanish VPN.
The buffering on FireStick can be fixed in multiple ways. In this guide, we have listed some possible fixes you can try to stop buffering on firestick. Without any further delay, let us go through the fixes below.
#1. Restart Your Firestick
"Have you tried turning it off and on again?" Restarting your device is possibly one of the most common fixes you can try. Sometimes the SoC (System-on-chip) on Firestick can't draw enough power because of abnormalities in continuous power cycles. So it downclocks itself for stability. You can restart your Firestick to reset the power cycle and make the SoC run to its default clocks. Here's how you can restart your Firestick:
Go to the Settings tab from Fire TV home screen.
Scroll right and choose Device or My Fire TV.
Select Restart from the options.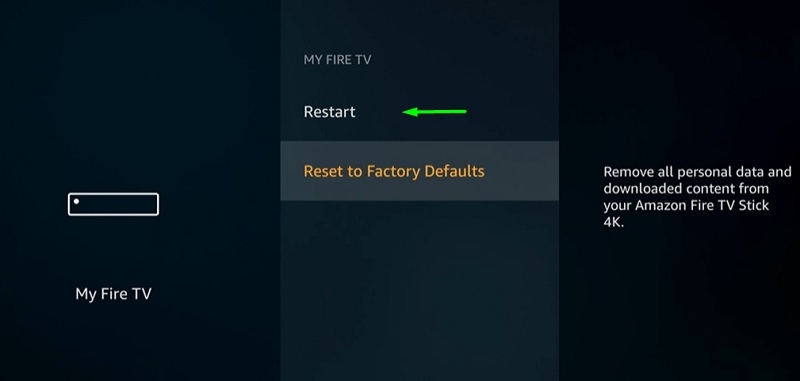 Again, tap the Restart button to restart your Firestick.
The Firestick will start rebooting itself. It might take 2-3 minutes to load the OS and Fire TV home screen properly.
#2. Check Your Internet Connection
If restarting your device doesn't fix the buffering on firestick, it might be a problem related to your internet connection. There are several things you have to check to confirm the stability of your internet connection.
First, open a browser app like Chrome, Silk, Firefox, or Puffin Browser on your Fire TV device. Head over to fast.com and check how much speed you're getting. Fast is actually an accurate speed test for Netflix, so expect a lower speed than what your internet service provider advertised.
If you get over 30mbps, you can smoothly stream 4K content. 7-10mbps is fine for 1080p content, and for streaming in 720p you need around 3-5mbps. If you are getting less bandwidth than the bare minimum, then follow the fixes below.
#2.1 Reboot your Router
If you run your network router 24/7, the small memory of your router might get overloaded with incoming data packets and throttle your internet speed. You can fix the issue by rebooting your router from the router configuration page. For most devices, it can be accessed from 192.168.1.1 or 192.168.0.1 URL. Or you can just unplug the wall adapter and replug it to restart your router. This is a common fix for internet issues.
#2.2 Select between 2.4ghz or 5ghz Wi-Fi
If you have a dual-band router, you might want to connect your Firestick to the 5ghz network. However, if you don't have your router and the device in the same room, the 5ghz Wi-Fi signal might get weak because of interferences like furniture and walls. Unless you are watching 4K content on Firestick, you can stick with 2.4ghz Wi-Fi since it provides more coverage thanks to the broader signal wavelength.
You can select between 2.4/5ghz from your router configuration menu. Once done, simply go to Settings > Network on your Firestick and choose your preferred Wi-Fi network.
#2.3 Use an Ethernet Adapter for Firestick
Amazon sells a 10/100mbps Ethernet adapter for Firestick in case you can't connect it via Wi-Fi. Simply plug it into the Firestick's MicroUSB port and connect the wall adapter's cable to the Ethernet adapter. Finally, get an RJ45 cable, connect one end to the adapter, and the other end to your router for internet access. This is not the most cost-effective solution to fix your fire tv buffering issues, but it might fix your issues with weak Wi-Fi signals.
#3. Disable Auto-Updates
If you are facing buffering, frame drops and stutters while streaming your favorite content, it can be a case of apps updating in the background. App updates are prioritized to use most of your internet bandwidth and hardware resources. Follow the steps below to disable Automatic Updates on your Firestick:
Head over to the Settings page from the Fire TV home screen.
Choose Applications from the list of settings.
Select Appstore under the Applications section.
Tap Automatic Updates and turn it OFF.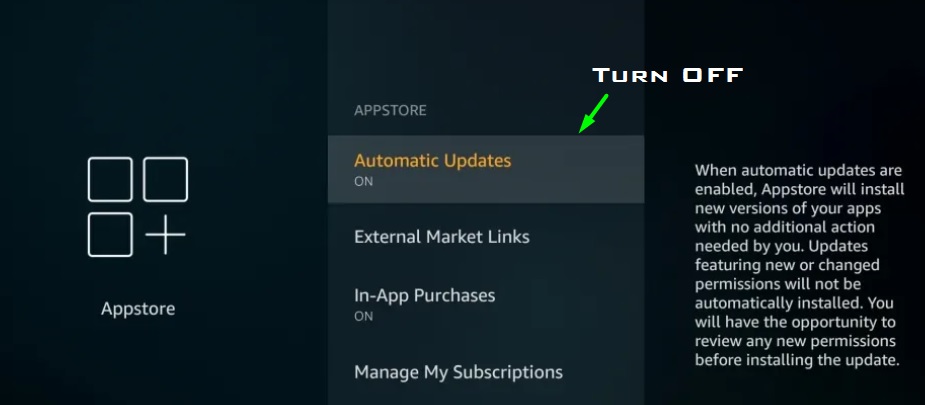 This will disable your app updates. Some video streaming services need to update to the latest version for further usage. So make sure you manually go to the Amazon App Store and check for app updates regularly.
#4. Disable App Usage Data Collection
Amazon collects your information on the frequency and usage of installed apps on your Firestick by default. It runs a background service to collect your data continuously. If you are still facing constantly buffering on FireStick, disabling app usage data collection might help you. Here's how to do it:
Return to the Settings page and choose Preferences.
Select Privacy Settings in the Preferences menu.
Turn Off 'Collect App Usage Data.'
#5. Uninstall Applications
As the Firestick only comes with less than 5GB of usable storage space out of 8GB, installing too many applications on it might impact the performance heavily. This includes issues like buffering, unresponsive navigation, frequent freezes, and crashes. You can uninstall the apps that you don't use very often. To uninstall apps:
Open the Settings menu and choose Applications.
Select Manage Installed Applications.
Now select the app you want to uninstall.
Tap Uninstall to remove the app from your Firestick.
Repeat the steps in case you want to uninstall other apps.
How to Uninstall Apps on FireStick
#6. Clean Up Storage & RAM Using Clean Master
It is possible that your video stream is buffering on Firestick because of low memory. The 1GB of RAM on the standard Firestick doesn't take much time to fill up with multiple background processes and services. The installed apps can dump a lot of residual junk files and static cache over time.
However, you can sideload the Clean Master app on your Firestick to close unnecessary background services and clean junk files/cache. After sideloading, you can simply open the app and let it scan your device. You can then click Boost to clean up your storage and RAM on Firestick.
How to Use Clean Master on Fire TV Stick
#7. Factory Reset your Firestick
If the fixes above didn't help your buffering issues, then you can do nothing but a factory reset your Firestick. Note that this will remove all data, installed and sideloaded apps from your device.
Navigate to the Settings menu and choose My Fire TV or Device from the options.
Select Reset to Factory Defaults. If you have a parental PIN set up, enter the PIN to continue.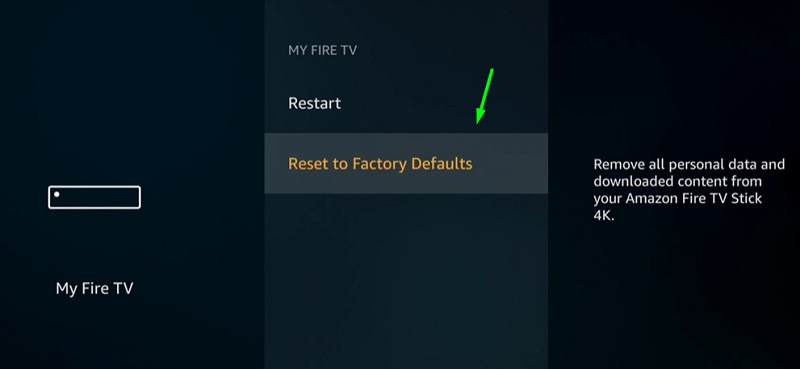 Finally, hit the Reset button to factory reset your Firestick.
After you factory reset your device, follow the on-screen instructions to log in to your Amazon account and set up your Firestick correctly.
Note: Do not turn off your device until your device is completely reset. Otherwise, you won't be able to boot into the OS next time.
FAQ
I am not getting the advertised internet speeds. What should I do?
It might be an issue related to ISP throttling. Immediately contact your ISP and fill a complaint about throttling your internet connection. You can also use a VPN to avoid throttling.
The stream is buffering for a particular video streaming service only. How do I fix it?
Check if the service is down on www.isitdownrightnow.com. If it is the case, then you can do nothing but wait until the servers are online again.
Should I contact Amazon for help?
If the buffering still occurs, contact Amazon to solve the issue.
Conclusion
In this guide, we have shown you have some possible fixes for the FireStick Buffering. Even though it is quite infuriating and time-consuming, you can follow the instructions above to troubleshoot the problem without any hassle.