In this guide, I'll show you a step-by-step method to install VLC Media Player on Firestick. The method demonstrated here also works on firestick 4k, Fire TV and Fire TV Cube.
VLC Media Player is undoubtedly the most popular media player software across a wide range of devices. Kicked off as an academic project in 1996, it soon became the media player that we now know, thanks to its contributors from around the world.
It supports all the major video and audio formats and enforces several streaming protocols for IPTV. The VLC media player has made quite a reputation among streaming enthusiasts because of its exceptional modularity and hardware compatibility. Whether it is a low-powered chipset or a powerful processor, the hardware decoder used by VLC can scale on a vast range of hardware. Entry-level streaming devices like Amazon's Firestick can deliver smooth and stutter-free HQ video playback with VLC. In case you want to play a corrupted video or audio file, VLC can also do it.
VLC for Fire App is available on the Amazon App Store for Fire TV devices. The Fire TV port of VLC is packed with as many features as its counterparts on other platforms. It has a built-in file browser, which you can use to play files from your PC over Wi-Fi or LAN. In case a video file has multi-track audio and subtitles, you get to choose your preferred audio track and subtitle too. You can change things like aspect ratio, brightness, volume directly from the app itself during video playback.
VLC for Fire also comes with a redesigned interface for simpler navigation with the Fire TV remote. The Play/Pause, Fast Forward, and Rewind buttons work as intended.
If you want to learn more about VLC Media Player, then take a look at the list of features below. You will also find step by step process to download & Install VLC on Firestick.
Related – Top 4 Best Media Player For Firestick & Fire TV
Features of VLC on Firestick
VLC for Fire TV can play all types of video formats, including MP4, MKV, WEBM, AVI, AVC, XVID, and many more.
You can also listen to audio files in several formats. Some of the formats include MP3, AC3, WMA, FLAC, Vorbis, DTS, and more.
VLC also has embedded subtitle support and it is compatible with DVD, TXT, VTT, SubRip, WebVTT, etc.
With VLC, you can playback video files up to 4K resolution with multi-channel lossless audio. (4K playback is only available on Firestick 4K)
It has advanced playback controls and media tools, such as equalizer, audio passthrough control, audio-video adjustments, and synchronization offsets.
It supports both hardware and software decoding.
The app is open-source and free to download. In-app advertisements are totally absent.
How to Download & Install VLC For Firestick
To install the VLC Media Player on Firestick, follow the steps below.
Go to the Search menu from the Fire TV home screen. It is indicated by a magnifying glass icon next to the Home tab above.
Use the on-screen keyboard to type in "VLC." Several search suggestions should show up below.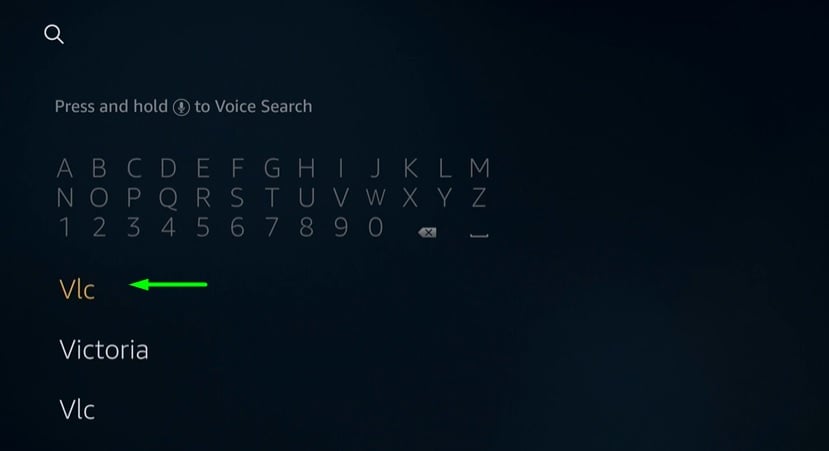 Select VLC for Fire from the suggestions, then click VLC's famous traffic cone logo under Apps & Games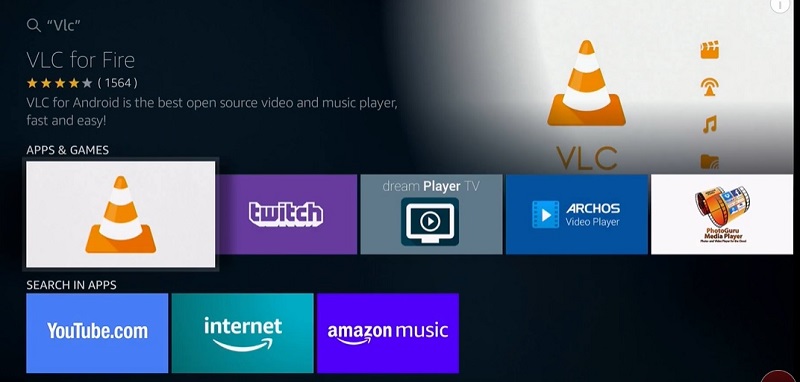 On the download page, click Get / Download under the app description. It should start downloading shortly.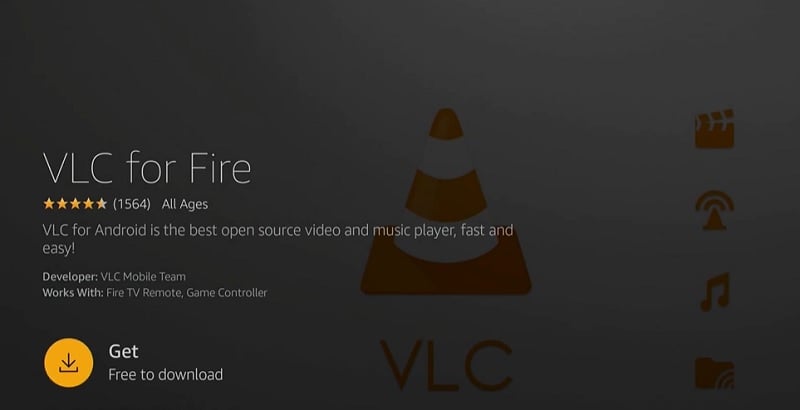 Once it finishes installing, click Open to launch the app.
How to Use VLC Media Player on Firestick (Brief Tour)
Launching VLC for the first time will require users to click Allow to grant the app storage permissions. After that, you should see the default home screen of the app.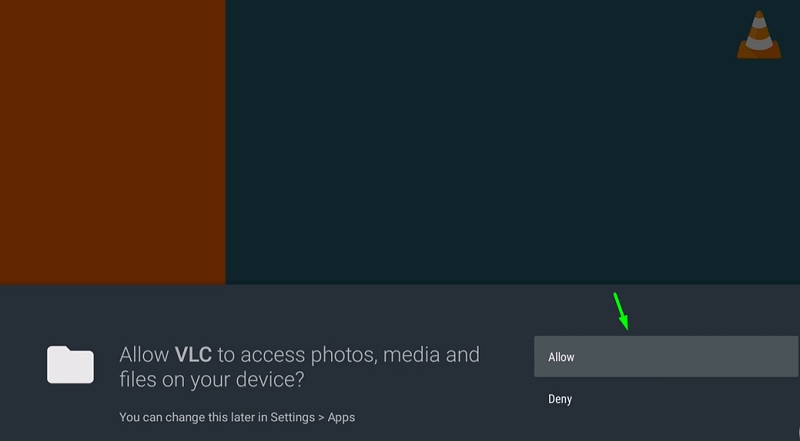 The home screen mostly consists of tile-based categories on the right. The quick access menu on the left includes Video, Audio, Browsing, and Other.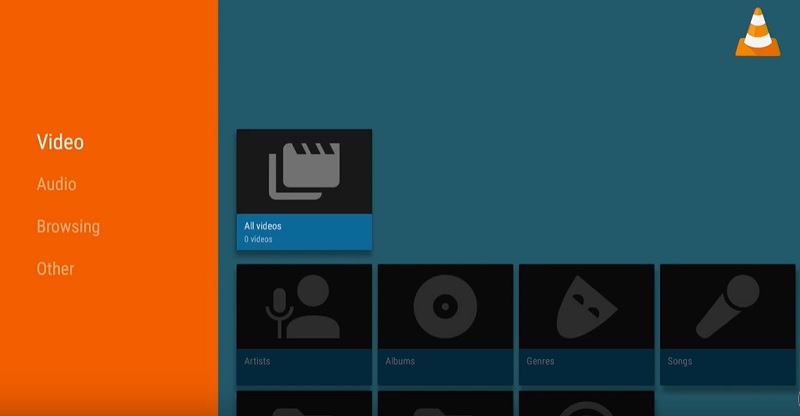 There is only one "All videos" tile in the Video section, and it sometimes shows the recently played files. The Audio section is separated into four different categories: Artists, Albums, Genres, and Tracks.
From the Browsing section, we can select a media file to play from either Internal memory or Local Network. You can also put a network address in the Stream option to start a live stream.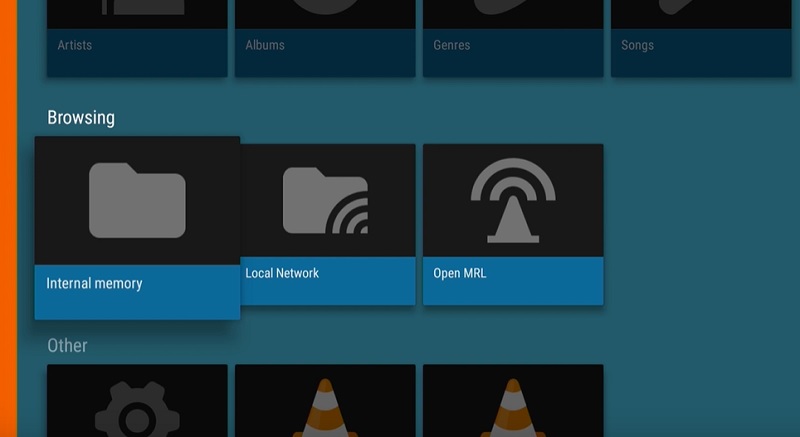 The Other section basically includes the Settings option and information about the app.
You get access to both and advanced options from Settings. Selecting directories to include in the media library or enabling auto-rescan on startup can be done from under the Media library settings. You can change hardware acceleration mode from the Video settings. We recommend leaving it to Automatic.
Under the Extra settings section in the Settings menu, we find more settings related to Video, Audio, Subtitles, and Interface. From here, you can do more refined tweaks based on your preferences. Things like audio passthrough and output settings are found in Audio. From Subtitles, you can change subtitle size, color, add a background, and more.
If you want to clear your playback history or do a quick app restart, go to Advanced under the Extra settings section in the Settings menu.
While playing a video file, the floating playback controls window offers Play/Pause and Rewind/Forward functionality, with an aspect ratio toggle and a quick access menu for changing audio tracks and subtitles
Related
Final Words
In this article, we have showcased VLC Player for Firestick and briefly discussed its features. The included installation guide and app overview should be enough to help you install and use the VLC on firestick. In case you are encountering any issues, feel free to leave your queries in the comments. We will come back to you with a fix as soon as possible.