In this tutorial, I will show you step by step process to install and watch fox sports on firestick. The instructions provided here will also be applied for other fire tv devices including firestick 4k and fire tv cube.
FOX Sports is going to celebrate its 25th anniversary this year, and it has seen many changes in the past few years. Currently, they broadcast Major League Baseball (MLB), National Football League (NFL), NASCAR, NCAA football, WWE, XFL, and many more sports events.
The 54th Super Bowl will be broadcasted on FOX Sports this year, and it has already been kicked off with the Super Bowl LIV Media Night. The game is scheduled for 2nd February, San Francisco 49ers vs. Kansas City Chefs.
NFL fans can watch this year's Super Bowl event in 4K resolution with HDR. It is upconverted from a 1080p footage, but the overall picture quality will be exceptional on an Ultra HD television.
FOX Sports will also let cord-cutters to stream the game for free. They have also chosen the Fire TV platform as the preferred 4K streaming experience. If you have a Firestick, you can follow this guide to watch FOX Sports on it.
Use VPN to Watch FOX Sports Outside US
Since FOX Sports is bound to geo-restrictions, Firestick users outside the US won't be able to stream games from the FOX Sports app.
Fortunately, there is no proxy server blocking, unlike Netflix. You can take advantage of a VPN service, which lets you virtually change countries by connecting to a VPN server hosted in a different country.
Users outside the US can easily connect to a US-based VPN server and enjoy streaming sports content from the FOX Sports app on Firestick.
IPVanish, The Best VPN For FireStick
IPVanish VPN is one of the most secure and fastest VPN in the industry. If you do not enjoy the service of the IPVanish VPN, you can ask for a refund as there is a 30-day money-back guarantee.
How to Install FOX Sports on Firestick
The FOX Sports app can be downloaded from the Amazon App Store. In case you are new to the Fire TV platform, take a look at the step-by-step instructions below.
Use your Firestick remote to select the Search option (magnifying glass icon) above the Fire TV home screen.
Enter "FOX Sports" on the Search page using the virtual keyboard, and select FOX Sports from the suggestions.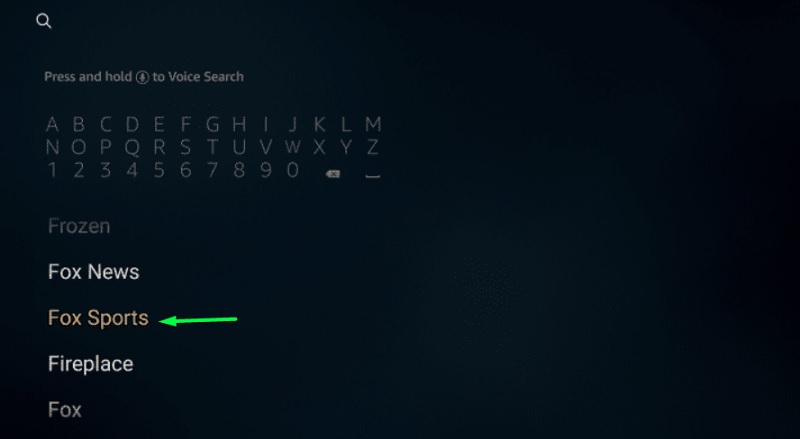 On the results page, click the FOX Sports app logo in the Apps & Games
Click Get/Download under the app description, and have patience until the installation finishes up.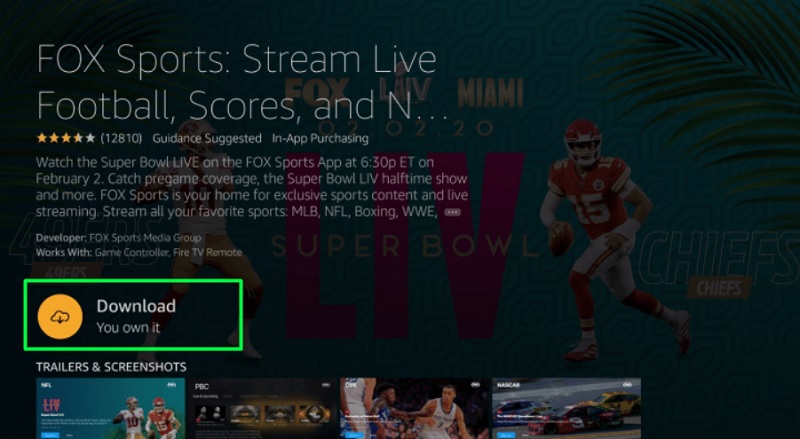 The FOX Sports app can be launched from Your Apps & Channels section on the Fire TV home screen. Alternatively, just hold the Home button on your Firestick remote for a few seconds and select Apps from the shortcuts menu. The FOX Sports app should be listed on the page, along with other installed apps on your Firestick.
Sign Up for a FOX Sports Profile
FOX Sports requires users to sign up for a FOX Sports profile. Here's how you can do it:
From a web browser on your PC or mobile device, then enter this link in the URL bar: https://www.foxsports.com/ (make sure you use a VPN if you live outside of USA)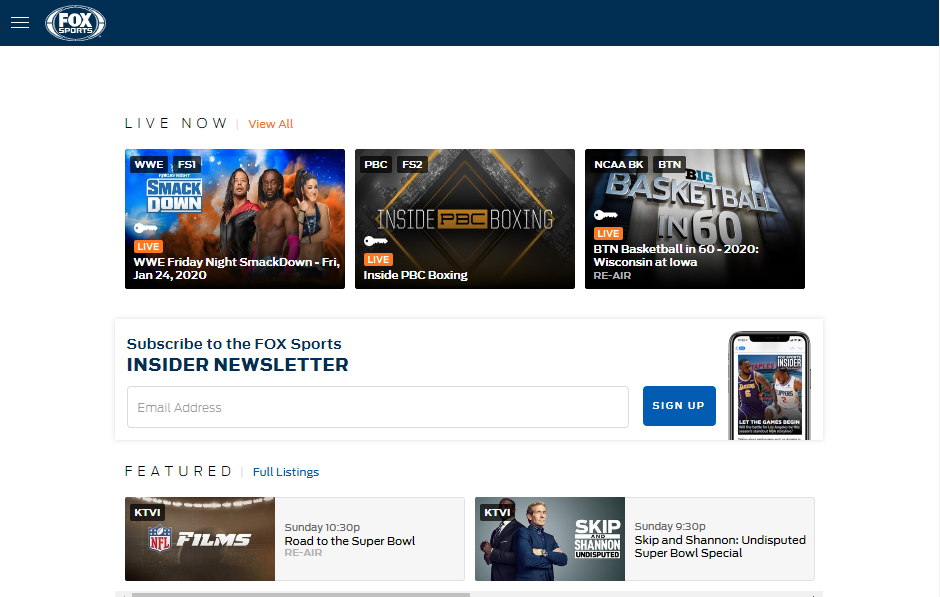 Click the three-lined Hamburger option at the top left corner, and click Sign In.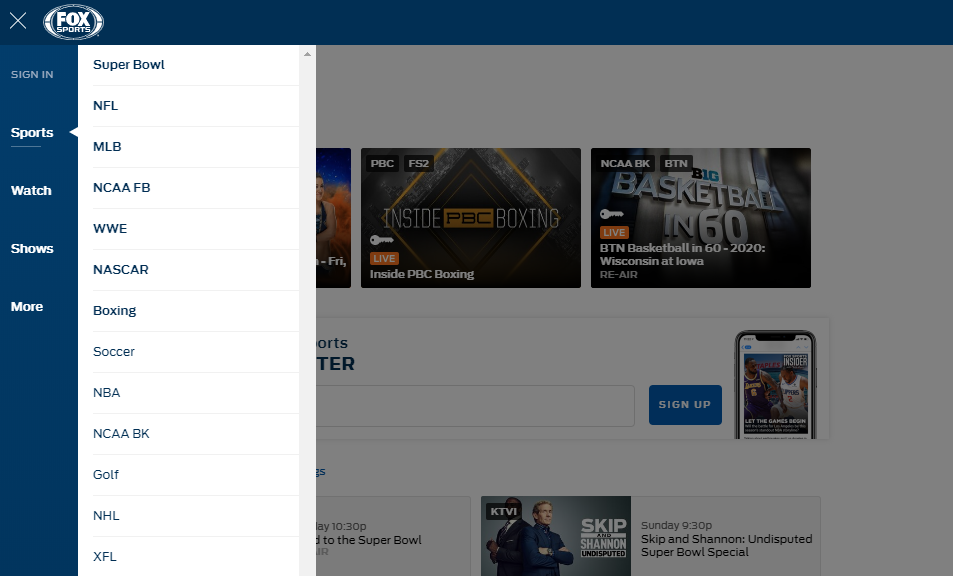 Now click the Sign Up option, and enter your name, email address, and a secure password in the respective fields. Click Sign Up once you are done.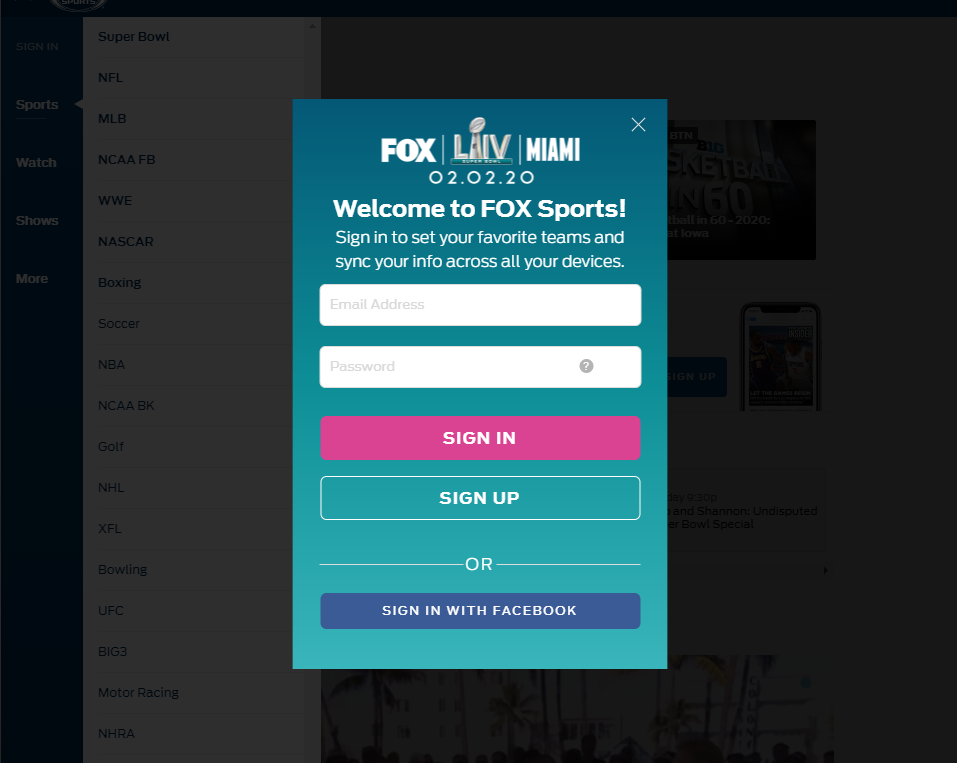 You will be asked to personalize your profile. Simply select your favorite team, and click Next above the pop-up window. You will be asked once again to choose your favorite sports, as well as rival teams. Click Done once you go through everything.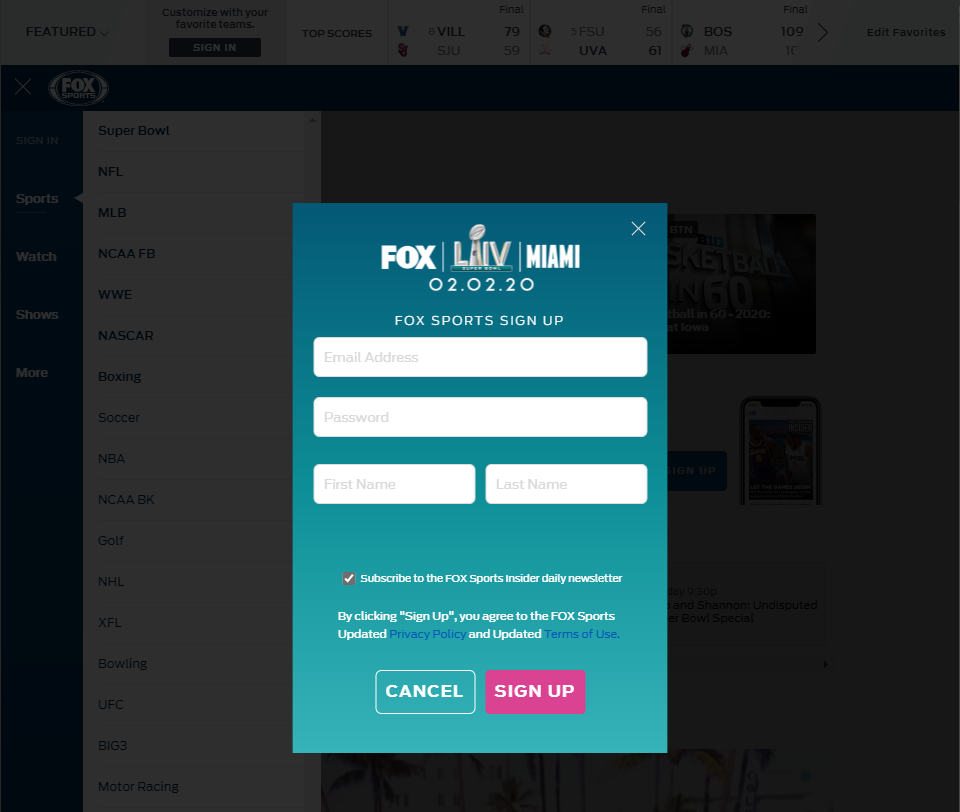 Check your email inbox for Fox Sports. You will be sent a verification email. Click the Verify Email button to verify your FOX Sports profile.
Sign In to the FOX Sports App
Now that you have signed up for a FOX Sports profile, follow the steps below to sign in to the FOX Sports app on Firestick.
Launch the FOX Sports
Click the Sign In option, and enter the email address and password that you have used for your profile.
Click OK to agree to FOX Sports' Terms of Use and Privacy Policy.
You will now get redirected to the home screen of the FOX Sports app.
How to Use Fox Sports App on FireStick
The FOX Sports app is broken down into four main pages: Home, TV Schedule, Search, and Settings. You can switch between them by highlighting the tabs above.
On the Home page, you will see recommendations, ongoing and upcoming sports events, and sports-centric shows. The TV Schedule is exactly what it says, a schedule for shows and events on the FOX Sports channels.
In case you want to search for something, go to the Search page and type whatever you are looking for.
On the Settings page, there isn't anything worth tweaking. If you want to sign out from your FOX Sports profile, then you will find the option here.
Related – How to Watch Live Sports on FireStick
Final Words
In this guide, you will find simplified instructions on how to watch Fox Sports on Firestick. The installation and the sign-in process will also apply to other Fire TV devices.
On a side note, it should be noted that the Super Bowl 4K stream only works with the Firestick 4K, connected to an Ultra-HD television. Amazon Fire TV Edition 4K Smart TVs will work too. If your television has HDR support, then the stream will playback in HDR automatically.