In this article, I will show you how to Install Sapphire Secure IPTV on FireStick. This guide will surely work with other Amazon Fire TV devices, including the original Fire TV box, Fire TV Cube, and Fire TV Edition smart TVs.
Digital subscription-based live TV streaming services are already dominating the US market. Now that cable TV is out of the way, it's easier for new OTT live and on-demand services to expand its services. However, streaming services that already have rolled out nationwide and even worldwide are increasing their subscription fees every year due to the rapid growth seen in the cord-cutting community.
Although there are many fragmented IPTV services available for users, they are considered to be unreliable at its best. However, an IPTV service named Sapphire Secure aims to change that mindset by providing exceptional service at an affordable price.
Since Sapphire Secure has its own Android app, it's possible to stream live TV channels in HD on Android TV boxes, as well as Fire TV devices such as the popular Firestick.
If you want to try it out on your Firestick, we have prepared this in-depth guide to install Sapphire Secure IPTV on Firestick, and how to use it for watching live TV channels.
What is Sapphire Secure IPTV?
Sapphire Secure IPTV is a relatively new IPTV service that has more than 4000 live TV channels to offer. Channels from the United States, Canada, United Kingdom, and several other European, Middle Eastern, and Asian countries are found in the channel catalog.
Additional channels from premium entertainment and sports network, such as HBO, Showtime, NBA TV, and FOX Soccer Plus are also included in the subscription. Whether you reside in a blackout area or not, you will have access to almost all the regional channels, since there are no restrictions. The same applies to pay-per-view events, which you can either watch for free or pay a small fee to unlock it.
Sapphire Secure IPTV does refresh the EPG (Electronic Program Guide) regularly, which is a rare addition. You do also get your personal M3U URL with the subscription in case you want to use another IPTV app for streaming. There aren't any regional restrictions, and it works perfectly fine when connected to a VPN server.
The official Sapphire Secure IPTV app does have a lot of features. The multi-screen feature lets you watch four channels simultaneously. It has native support for EPG too. The dedicated favorites section is also a welcoming addition, and so is the compatibility with the Fire TV Voice Remote. You can use an external media player for stream playback as well.
Sapphire Secure IPTV's monthly subscription plans start from only $5, and there are no contracts associated with the subscription. If you run into problems regarding your subscription, you can contact the IPTV service through their Telegram support page.
Sapphire Secure IPTV Features
Sapphire Secure IPTV offers 4000+ popular live TV channels to its subscribers.
Users get access to the latest pay-per-view events and exclusive sports leagues without paying an extra fee.
It has no regional restrictions, and it doesn't block VPN proxy.
The Sapphire Secure IPTV app natively supports EPG and external players. The Firestick remote also works flawlessly.
It delivers exceptional customer support at affordable subscription prices.
How to Get a Sapphire Secure IPTV Subscription?
Attention FireStick Users – Read Before You Continue
When you stream online content on your devices, your personal information such as IP address and location gets monitored by third-party trackers. Even Currently, your IP is visible to everyone. You are also at risk of getting sued by media companies for streaming copyrighted content for free. I strongly recommend you to use a good VPN to hide your identity.
Using a VPN, you can encrypt your internet connection to get rid of prying eyes from stealing your personal information and monitor your private activities.
I personally use IPVanish VPN on my all Streaming device. MY experience with IPVanish VPN has been great because of its fast VPN servers and reliable encryption methods for keeping your data secure on the web. IPVanish also offers a 30-day money-back guarantee so you can ask for a refund if you don't like the service. We have special offers for our readers. Click here to Get 46% Off On IPVanish VPN.
Similar to many third-party IPTV services, Sapphire Secure doesn't have its official website to avoid legal issues. They currently offer three base plans, which are Silver, Gold, and Platinum respectively. They all offer the same channel catalog and features. But, the number of simultaneous streams is different. There are Plus variants of those plans too. The main difference between the base and Plus plans is the availability of adult content.
Silver: $5/month, one device
Gold: $8/month, three devices
Platinum: $10/month, five devices
If you are interested in purchasing a Sapphire Secure IPTV subscription, you can follow the steps below.
First, open up a modern web browser on your smartphone or PC, and go to this link: https://sapphiresecure.net/cart.php
Next, click Order Now below the plan you prefer to pay for.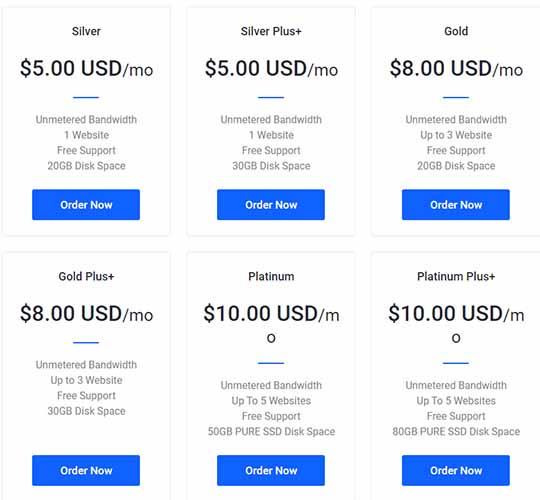 Review your order summary and click Continue.
Scroll down the next page, and click Create a New account. You will be asked to enter your personal information, such as name, email address, and phone number. In a similar manner, fill up the billing address form, and enter a secure password for your account.
Note: This account won't be used as your IPTV login credentials. It is intended to renewing your IPTV subscription for the upcoming months only.
After that, you can opt to pay with either your debit/credit card or cryptocurrency options. Once you select your preferred payment method, tick the box next to "I have read and agree to the Terms of Service" and click Checkout.
Once you successfully place your order for the Sapphire Secure IPTV subscription, you will receive an email from the IPTV service in a few minutes or so. It should contain a set of login credentials, which you can use to log in to the Sapphire Secure IPTV app. You will also get a link to Sapphire Secure IPTV's Telegram support chat, in case you encounter problems in the future.
If you don't receive the email, make sure to check your spam folder as well.
Install Sapphire Secure IPTV App on Firestick
Now that you have a Sapphire Secure IPTV subscription, it's time to show you the installation process of the Sapphire Secure IPTV app on Firestick. Since the app isn't available in the Amazon Appstore, you have to sideload the APK file instead. Here's how to do it:
Step #1: Enable Apps from Unknown Sources
First, let us start by enabling the installation of third-party apps on Firestick. Although security risks are associated with sideloading, we guarantee you that the Sapphire Secure IPTV app is safe to install.
Switch to the Settings tab from the Fire TV home screen.
Move towards the end of the Fire TV Settings menu to select My Fire TV / Device
Next, highlight and click Developer options in the list.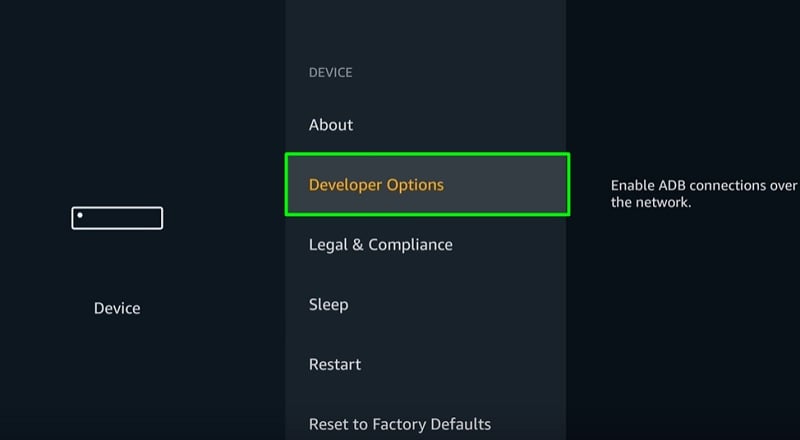 Select Apps from Unknown Sources and enable the function. You will be shown a warning message about the risks of sideloading. Click Turn On to close the message.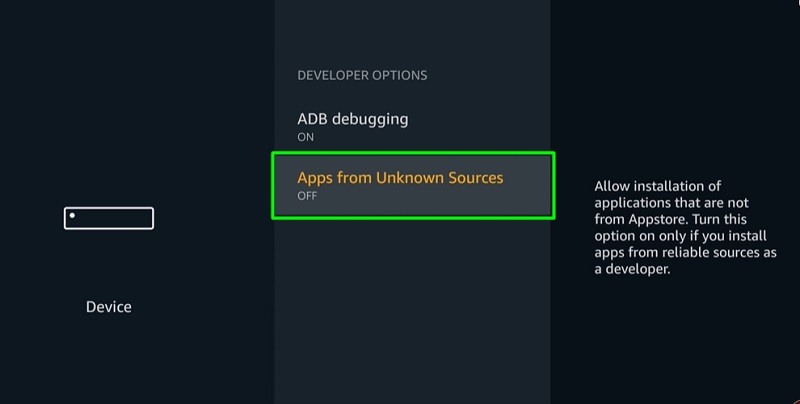 Sideloading is now enabled on Firestick. Now press the Home button on your Fire TV Voice Remote to return to the home screen, and proceed to follow the next set of instructions.
Step #2: Install the Downloader App
Downloader is one of the most popular first-party apps for Firestick. It allows a user to download a file from any webpage they want. As Amazon's Silk Browser lacks this functionality, we will need to install the Downloader app for downloading the Sapphire Secure IPTV APK on firestick.
Move up to the top-left corner of the Fire TV home screen and highlight the hand lens icon. It will bring up the Search menu.
Now use the on-screen keyboard and search for the Downloader app, then choose Downloader from the search suggestions.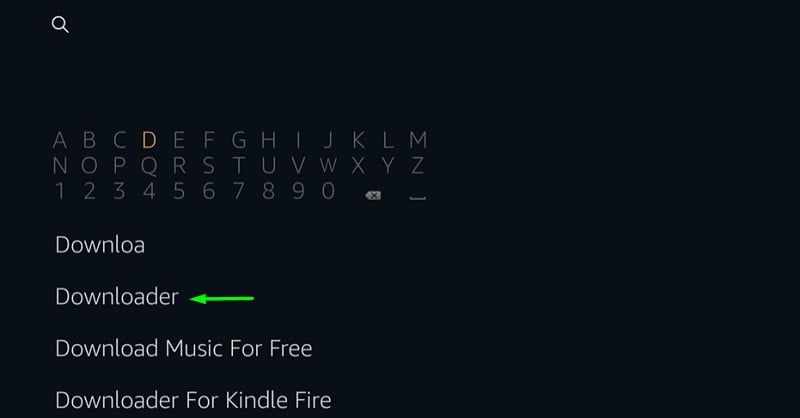 After that, on the next page, click the Downloader app icon once again found under the Apps & Games.
Next, click Get / Download and wait for the app installation to finish up. It will take a minute or so.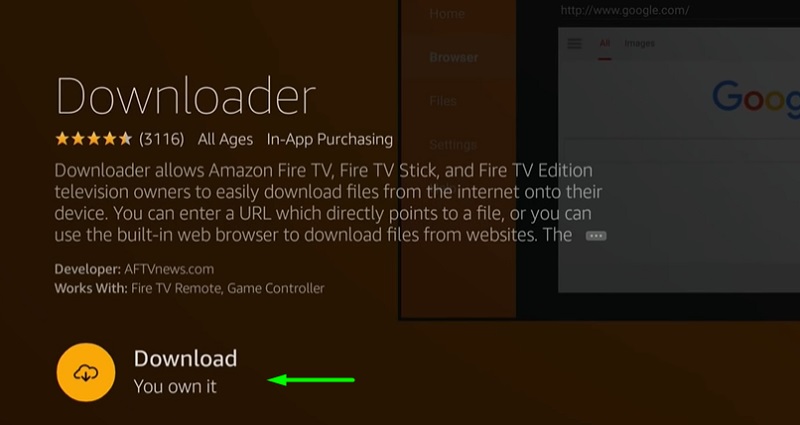 Click Open once Downloader is installed on your Firestick.
Step #3: Download & Sideload Sapphire Secure IPTV APK
Upon launching the Downloader app, you will be asked to grant storage permissions. Click Allow to continue.
Click OK to dismiss the changelog.
Highlight the URL bar on the Home page of the Downloader, and enter the following download link: https://bit.ly/2V15GNQ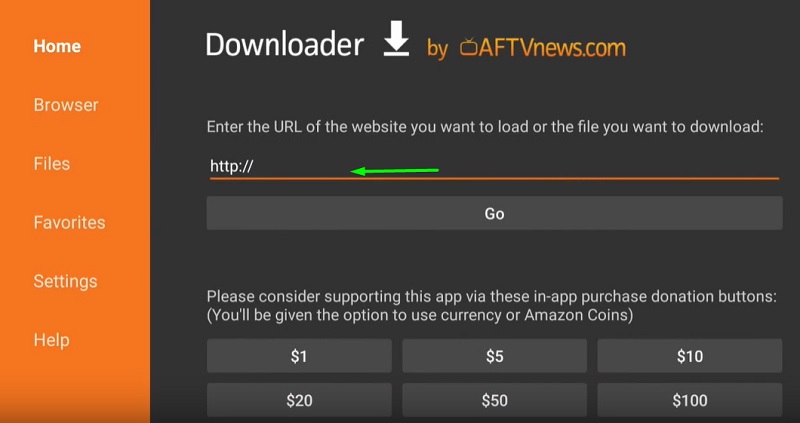 Click Go start downloading the Sapphire Secure IPTV APK file. Don't press any button until the download ends.
The Android APK installer should automatically pop-up after the APK file finishes downloading. Click Install to sideload it on your Firestick.
Once the installer shows you the "App Installed" message, click Done to close the pop-up installer window. You can now click Delete in the Downloader app to remove the Sapphire Secure APK file and free up the device's internal storage.
How to Setup Sapphire Secure IPTV on Firestick?
You have now installed the Sapphire Secure IPTV app on your Firestick device. You can now use your IPTV subscription to log in to the app. In this section, we will show you how to do it.
First, scroll down to Your Apps & Channels section on the Fire TV home screen, then search for the Sapphire Secure IPTV app. If you don't see in the list, then scroll all the way to the right of the section and click See All. You can now find and launch Sapphire Secure in the list of the apps you have installed on your Firestick.
The first thing you will see after launching the app is the login screen. Enter a name in the top field, then fill up the rest of the form with the username and password Sapphire Secure has provided you in the email.
Click Add User, then select the profile you have created on the following page.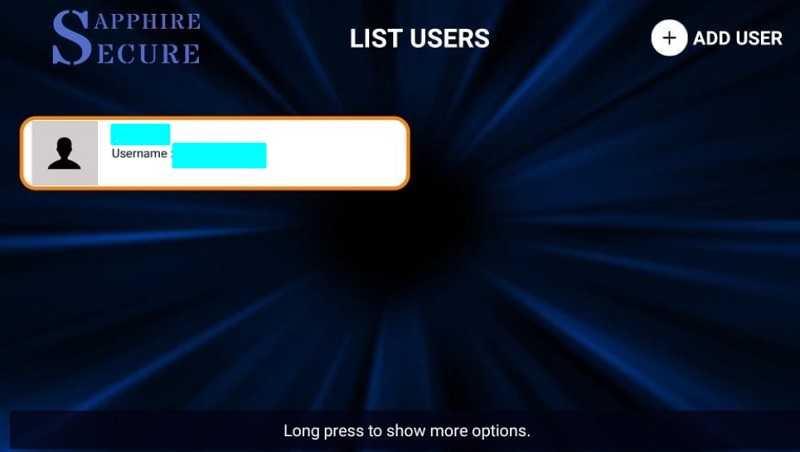 The first boot to the home screen of the app may take several minutes depending on your internet connection as it downloads the EPG, list of channels, and logo/artworks.
After the app completes its first boot, you will be sent directly to Sapphire Secure IPTV's home screen.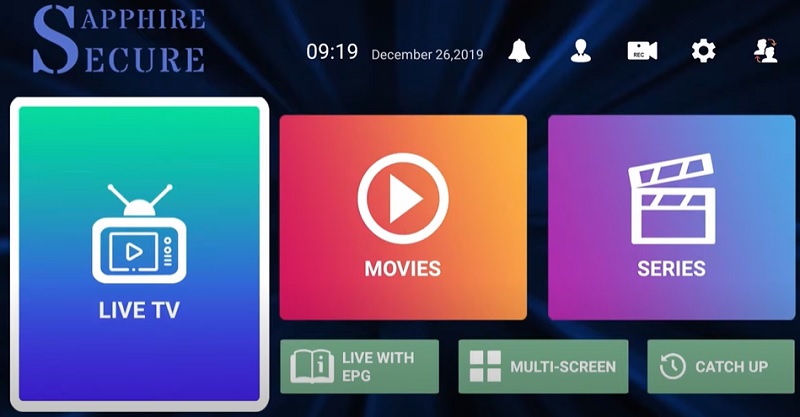 How to Use Sapphire Secure IPTV on Firestick?
The Sapphire Secure IPTV app has a simple layout for easier user navigation. Although the app automatically downloads the EPG during the first boot, we recommend you to click the Install EPG option on the home screen to do it manually.
After it finishes updating the EPG, you can click the Live TV option. It should show up several channel categories, which include – FAVOURITES, US – Entertainment, US – Sports, US – Movies, US – News, US – Kids, ESPN Plus, Fox Sports Regionals, Main Events / PPV, NBC Sports Regionals, and many more. There's a magnifying glass icon on the top-right corner of the screen, which you can click to search for the channel you want to watch.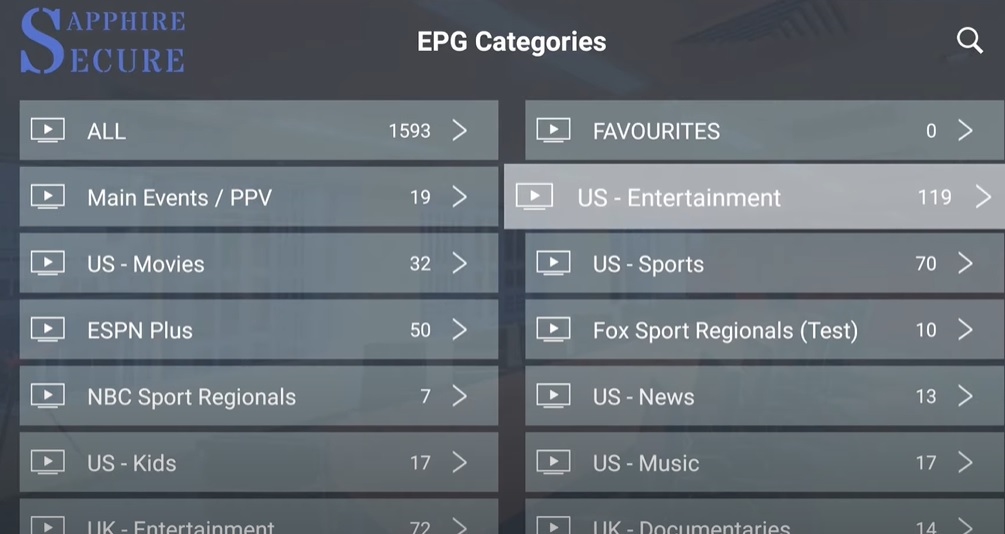 Note that the Movies and Series option on Sapphire Secure's home screen doesn't do anything, as the service doesn't offer on-demand content. The Catch-Up section does offer broadcasted content, but the library is pretty limited.
Mark Channels as Favorites
Sapphire Secure gives you the option to mark the channels that you prefer to watch as favorites. You can follow the steps below to learn how.
Highlight a channel from the channel guide, then hold the Select button on your Fire TV Voice Remote.
A drop-down menu should show up under the channel. Click Add to Favorite option to add the channel in your favorites folder.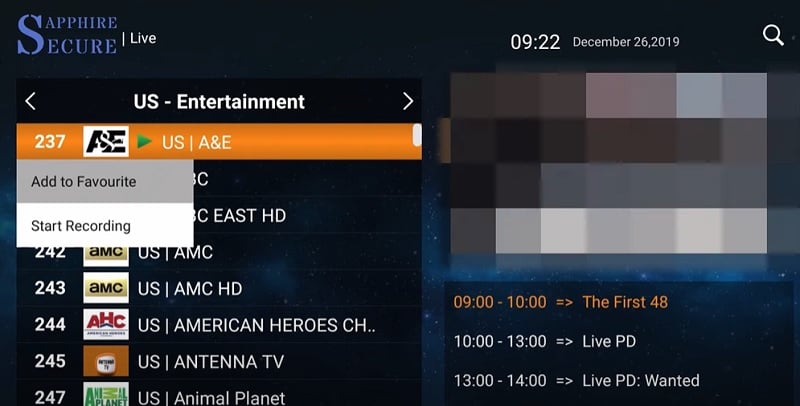 You can now quickly access the channel from the FAVOURITES category in the Live TV section of the app.
Use the Multi-Screen Feature
The Multi-screen feature lets you watch up to four channels at the same time. Here's how:
Select and click the Multi-Screen option on Sapphire Secure's home screen.
Now highlight and click one of the four boxes on the screen, and select the channel you want to playback on that particular box.
Note: The Multi-screen works only when you have more than one simultaneous screen offered in your selected IPTV plan.
Use MX Player with Sapphire Secure IPTV
The Sapphire Secure IPTV app comes with support for external players. If you have MX Player installed on your Firestick, you can use it to stream live TV channels instead of using the built-in player.
Select the cogwheel icon at the top-right section of the app. It will open up Sapphire Secure's Settings
Go down and select the External Players
Next, click the (+) Add Player option, then select MX Player from the list.
Click Add again to confirm your choice.
You can now choose a channel from the channel guide, then select MX Player from the drop-down menu. It will launch automatically and start streaming the channel.
Use Sapphire Secure IPTV with Other IPTV Apps on Firestick
Although the official Sapphire Secure IPTV app is recommended for streaming IPTV channels, some may prefer to use the IPTV Smarters Pro or GSE Smart IPTV app instead. In such instances, you can use the M3U URL provided by Sapphire Secure. Simply follow the steps below to find it.
Visit https://sapphiresecure.net/clientarea.php from another device, and sign in to your Sapphire Secure personal account using the email address and password you have previously used in the sign-up process.
Now expand the Services tab on top of the webpage and click My Services.
Click Active next to your active IPTV subscription plan, then click Login Details.
You can now scroll down the following page to find your M3U URL, and use it with your preferred IPTV app on Firestick.
Related
Finishing Up
Sapphire Secure IPTV is undoubtedly one of the best IPTV services in the market. You get access to thousands of popular live TV channels for less than a fraction of the cost of cable TV services. Channels can be streamed in up to 1080i quality, which is a rare find even on premium live TV streaming services.
In this guide, we have extensively discussed the Sapphire Secure IPTV service, as well as walk you through the Sapphire Secure IPTV app installation and activation process on Firestick. For your ease, we have also shown you different functions of the app.
If you find this guide helpful, let us know in the comments below. It encourages us to cover the latest IPTV services for Firestick users during such times.