In this walkthrough, I will show you how to watch NASCAR on firestick and Roku. The guide provided here also works for firestick 4k, fire tv & Fire Tv Cube.
Despite the declining viewership in the United States, car racing has never been this popular among sports fans in recent years. The acceptance of car racing in popular culture, such as movies and games are fueling the popularity of race events among teenagers and adults.
NASCAR (National Association for Stock Car Auto Racing) operates the biggest stock car racing events in the US, which are NASCAR Cup Series, Xfinity Series, and the Gander RV & Outdoors Truck Series.
Now that the 2020 NASCAR season has officially begun, recent cord-cutters might want to tune in to the race events without a cable connection.
For our readers, we have prepared a guide to watch live NASCAR on Firestick and Roku devices.
Where to Watch NASCAR Live Stream Without Cable?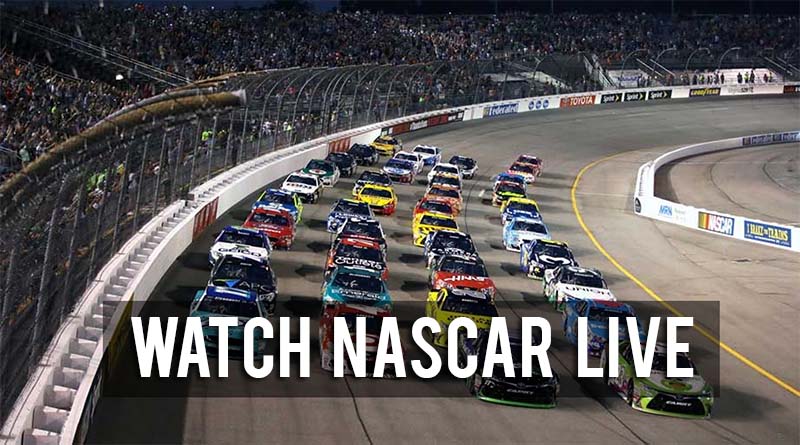 NASCAR is currently broadcasted on several American channels, which are FS1, FS2, FOX, NBC, NBC Sports (NBCS), and NBCSN. The current NASCAR Cup Series is exclusively broadcasted on FOX.
OTT internet television services that offer these channels will also air the Daytona 500 race event live. The subscription-based services don't require users to have an active cable TV connection, and they are free of any sort of predatory contracts.
How to Watch NASCAR on Firestick?
Attention FireStick Users – Read Before You Continue
When you stream online content on your devices, your personal information such as IP address and location gets monitored by third-party trackers. Even Currently, your IP is visible to everyone. You are also at risk of getting sued by media companies for streaming copyrighted content for free. I strongly recommend you to use a good VPN to hide your identity.
Using a VPN, you can encrypt your internet connection to get rid of prying eyes from stealing your personal information and monitor your private activities.
I personally use IPVanish VPN on my all Streaming device. MY experience with IPVanish VPN has been great because of its fast VPN servers and reliable encryption methods for keeping your data secure on the web. IPVanish also offers a 30-day money-back guarantee so you can ask for a refund if you don't like the service. We have special offers for our readers. Click here to Get 46% Off On IPVanish VPN.
The Amazon App Store on Firestick offers almost all the popular OTT live TV streaming services. Here we will discuss some of them extensively and help you watch live NASCAR live stream on Firestick.
Note: The availability of specific channels are subject to blackouts in select markets and regional restrictions.
Watch Nascar Live on FOX Sports
Since FOX Sports is the official broadcaster of NASCAR, you can watch NASCAR events live via the FOX Sports app. Go to foxsports.com to sign up for a FOX profile. You can sign in with your cable TV or internet television provider to get access to the high-definition live NASCAR stream.
How to Setup Fox Sports On FireStick
Nascar is Streaming on NBC Sports
The NBC Sports app lets users stream the NBC Sports and NBC Sports Gold channel live. You can stream the NASCAR Cup Series races that are broadcasted on NBC and NBC Sports, as well as the NASCAR Xfinity Series races.
Similar to the FOX Sports, you will have to sign in with a cable TV or online live TV provider. The NBC Sports app does have closed captioning, which is an excellent feature for seniors who watch sports in your house.
How to Install NBC on FireStick
Watch NASCAR on FuboTV
On its launch, fuboTV was a sports-centric service. It soon started to offers other channels as well, but it still covers a lot of sports events.
FOX, FOX Sports, CNBC, and NBCSN are included in the base fubo Standard plan ($54.99/month), giving you full access to NASCAR race events. Other than that, you can also expect to watch archived NASCAR races on-demand, as well as live NFL, NBA, MLB, and NCAA games (and more) on fuboTV.
30 hours of free cloud DVR storage is a bonus, and you can upgrade it to 500 hours with the Cloud DVR Plus ($9.99/month) add-on. This gives you enough time to schedule DVR recording for multiple NASCAR events and watch them later without waiting for the reair.
A single fuboTV subscription will let you stream NASCAR and other sports events on two devices simultaneously, and you can add the third device by paying for the Family Share ($5.99/month) add-on.
Visit fubo.tv to learn more about fuboTV's channel lineup and plans. Since new subscribers don't get billed until 7 days of usage, you have enough time to try out the service and cancel your fuboTV subscription if you don't like the service.
How to Watch Fubo TV on FireStick
Use Sling TV to Stream NASCAR on FireStick
One of the most affordable streaming services in the United States is Sling. The Sling Blue plan includes FOX, NBC, NBC Sports, NBCSN, and FS1, which pretty much covers all the NASCAR events that you can watch. Sling Blue only costs $30/month, which is an exceptional deal for NASCAR lovers.
Sling also gives users 10 hours of cloud DVR storage for free. The Cloud DVR Plus ($5/month) Sling Extra add-on bumps it up to 50 hours, which is enough for recording live NASCAR events. You can also stream live TV channels from Sling on up to three devices (varies from plans) at the same time.
In case you want more sports coverage, you can get the Sling Orange & Blue ($45/month) plan for the ESPN channels. Head over to sling.com to sign up for a Sling account. You will get a $10 discount on your first month of subscription too.
Learn How to Setup Sling TV On FireStick
NASCAR on Hulu Live TV
Hulu Live TV is also an excellent choice for streaming NASCAR events on Firestick. For $54.99/month, you get 60+ live TV channels, including FOX, NBC, FS1, and NBCSN.
Hulu also provides two simultaneous screens at once, along with 50 hours of Cloud DVR storage for recording TV shows and sports events. You also get access to Hulu's on-demand streaming library, where you will find plenty of NASCAR-centric movies and documentaries.
How to Watch Hulu on FireStick
How to Watch NASCAR Live Stream Outside of US
As you can guess, these live TV streaming services are exclusive to the United States. For NASCAR viewers outside the US, these services won't work at all because of the strictly applied geo-restrictions.
Although the geo-restrictions have improved over time, it can still be bypassed using a VPN service. A VPN lets you change your IP address, which is one of the things that a geo-blocking system identifies and restricts you from accessing the services.
Since a VPN virtually changes your IP address, the system thinks that you are in a whitelisted location and allows you to access the service. Whether you are living in another country or outside the North American region, you can use a VPN to connect to a United States server and get to stream NASCAR on live TV streaming services.
IPVanish, The Best VPN For FireStick
IPVanish VPN is one of the most secure and fastest VPN in the industry. If you do not enjoy the service of the IPVanish VPN, you can ask for a refund as there is a 30-day money-back guarantee.
How to Watch NASCAR on Roku?
Similar to the Amazon App Store for Firestick, the Roku Channel Store for Roku devices also has all the live TV streaming services we have mentioned in this guide, including FOX Sports, NBC Sports, fuboTV, Sling TV, and Hulu Live TV.
You can install the apps on your Roku device from the Roku Channel Store, log in to your preferred internet television service, and stream live NASCAR races on Roku.
Final Words
In this guide, we have walked you through several live TV streaming services that offer live NASCAR on Firestick and Roku devices. We have also included a full schedule for the ongoing NASCAR Cup Series race events, which you can check out in this guide.
In case you have further questions on NASCAR streaming without cable, please leave it in the comments below so that we can help you out.