In this tutorial, I will show you how to download and install Downloader on firestick. The guide provided below will also work for other amazon fire tv devices including firestick 4k, & fire tv cube.
It doesn't matter how obedient a Firestick user is, at some or other point of time, he/she will also definitely side load on the device. Thanks to so many innovative and cool third party apps being made every day, the urge for sideloading is somehow happening daily. But the issue is that it isn't that easy to install a third-party app on Firestick, even for the fact that the device runs itself on Android only.
Things are a little bit complicated in case of Firestick so unless you don't have an APK downloader, you are in no luck. One such or similar app that will let you download the necessary APK files directly from the source is the Downloader app. Today we will talk about how to install downloader for firestick and features of the app. Keep reading to know more!
Why Downloader on Firestick?
Downloader is a side-loading service that works quite well with both Firestick and Fire TV devices. The hassle or trouble that you were going through till now for installing a third-party app, will all be gone after the installation of the Downloader app. It's a lightweight service and believes it or not but Downloader is a kind of a hit app that's found in most of the Firestick devices. It lets you easily browse various websites and install Kodi on Amazon Fire Stick.
Attention FireStick Users – Read Before You Continue
When you stream online content on your devices, your personal information such as IP address and location gets monitored by third-party trackers. Even Currently, your IP is visible to everyone. You are also at risk of getting sued by media companies for streaming copyrighted content for free. I strongly recommend you to use a good VPN to hide your identity.
Using a VPN, you can encrypt your internet connection to get rid of prying eyes from stealing your personal information and monitor your private activities.
I personally use IPVanish VPN on my all Streaming device. MY experience with IPVanish VPN has been great because of its fast VPN servers and reliable encryption methods for keeping your data secure on the web. IPVanish also offers a 30-day money-back guarantee so you can ask for a refund if you don't like the service. We have special offers for our readers. Click here to Get 46% Off On IPVanish VPN.
Features of Downloader App
Simple UI
If you were worried that the Downloader app is going to be confusing and would require technical knowledge or skills then you were absolutely wrong. It's true that without any sort of app, it can be a little hard to sideload apps but after you have Downloader on your device, nobody can stop you from completing your pending desires as it sports a simple and easy to use UI.
Supports Majorly All File Extensions
It's an app that blends with almost all of the popular file extensions that are out there on the Internet. On Firestick, it isn't easy to find a service that's trusted, authentic and at the same time has support for all of the major file extensions that we have come across or even use it every day.
Lightweight Application
The app is quite fast and lightweight and even if by any chance, you are low on space, for some reason, you need not worry as Downloader would hardly take space somewhere between the range of 1.6 MB – 1.9 MB.
Great Download Time
As per our research and timings recorded, the average download speed is of less than one minute which is quite fast considering the other similar apps that are right now present in the competition.
Always Free!
Everything that you would have read till now or going to read, will be available to you for totally free of cost. You won't even have to spend a single penny on acquiring the services that Downloader provides.
Just Like A Browser
The downloader also works as a browser so if you have got some normal browsing needs then you may not need any external browsing application. So, go ahead and surf the web, download files, play videos, and whatever you want to!
How to Install Downloader on Firestick & Fire TV
The download and installation of Downloader is pretty easy and straightforward as we will be extracting the app directly from the official Amazon App Store.
Open your Firestick device
Once you are on the home screen, click on the search option using your remote.
The on-screen keyboard will now be opened, all you have to do is type in Downloader and just by typing the first few letters, you will be able to see the Downloader app in the suggestions below. Head over to remote and choose the Downloader app option.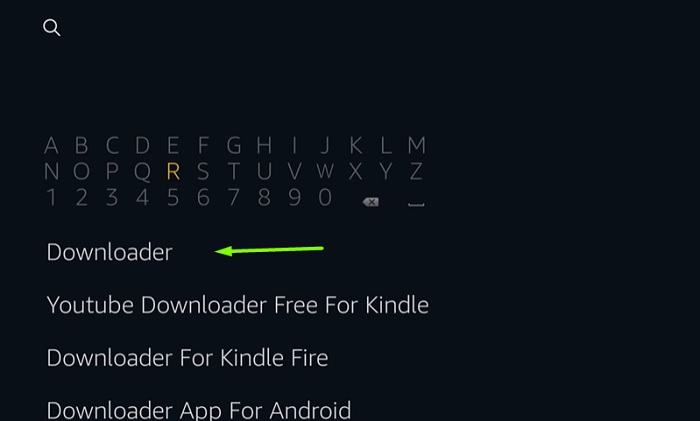 If you would have performed the procedure as mentioned above then you would have now got a screen where the Downloader app icon would already be selected. Proceed ahead by clicking on it!.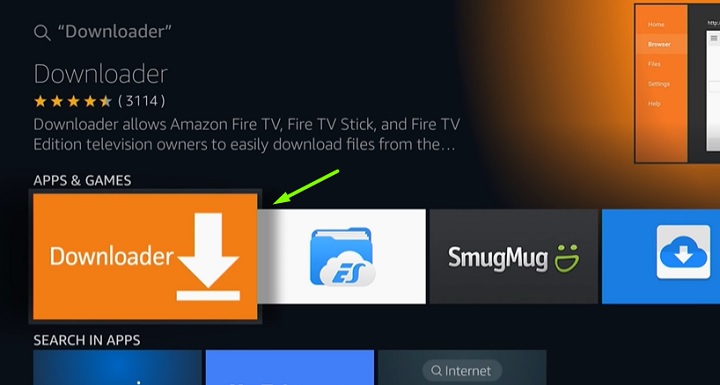 You would have landed up on the app page, choose the Download option to initiate the download and installation process.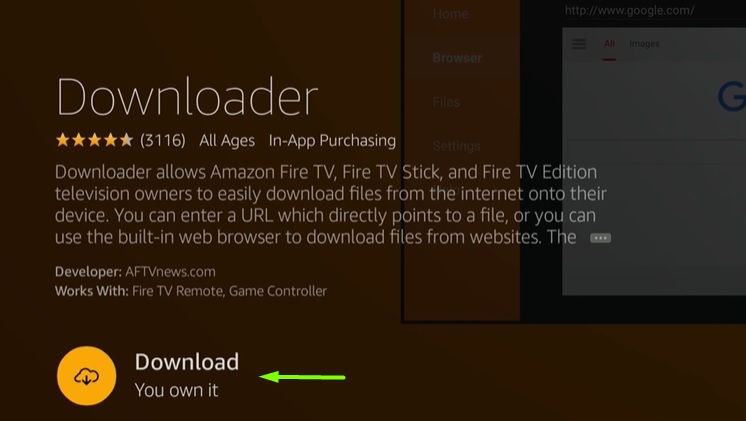 Once the app has been successfully installed, you will be able to see the Open button. If you want to open the app immediately then you can click on it otherwise you can access it later from the Apps & Channels section.
Can't Find Downloader App on Firestick App Store?
In some regions, you might not find the Downloader app in the Amazon App Store. Furthermore, the Downloader app doesn't show up in the search results, which is the most common issue among Firestick users. Here's an alternative way to install the Downloader app.
Highlight the Apps tab above the Fire TV home screen.
Under the Apps tab, three additional tabs (Featured, Games, and Categories) will show up. Select Categories to proceed.
Scroll down through the categories and select Utility.
Once again, scroll down the app list until you see the Downloader app icon.
If you manage to find the Downloader app, click it, then click Get to install the app on your Firestick.
In case the Downloader app is not present in the app list, then you can try out this method:
Visit https://www.amazon.com/ from your smartphone or PC.
Log in to your existing Amazon account.
In the search bar, type "Downloader app for Firestick" and hit the Search button.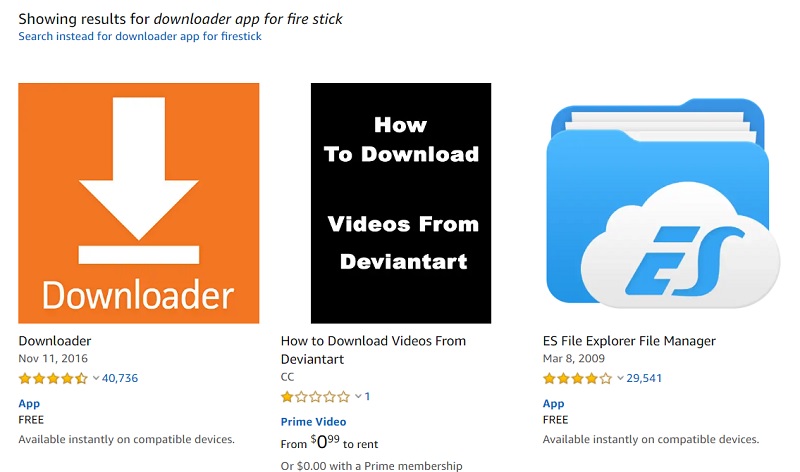 Select Downloader, then click Get App on the following page.
Now go to the Settings menu on your Firestick.
Select My Account from the options, and select Sync Amazon Content.
The Downloader app should appear in Your Apps & Channels list, with a cloud icon on top. Simply highlight and click the app to download and install it on your Firestick.
Related
DOWNLOADER ON FIRESTICK & FIRE TV: EASY INSTALL GUIDE
Final Words
Here I have mentioned a simple method to install downloader on firestick. We heard a line somewhere, "You can love it, hate it but can't ignore it!" and we feel this is something that goes well in the case of Downloader. The app is quite sporty and lets you install any app that you would like to. It's important to note two things, first, that you should enter the correct URL otherwise it may show unexpected errors and second, if the Downloader isn't being listed in the Amazon App Store then you can try changing your region from the Settings.