In this article, I will demonstrate how to Jailbreak Firestick in 4 simple steps. The same guide will also work for Fire TV, Firestick 4K, and Fire TV Cube.
Amazon's Firestick has been the best-selling streaming device for quite a while now. The reason why it is so popular among the cord-cutter is its exceptional streaming capabilities at an affordable price. It is effortless to set up, and the Fire TV user-interface is pretty straightforward as well.
"That's all good, but what about app support?" You may ask. Fortunately, the Amazon App Store is heavily integrated with Fire OS, giving users the option to install apps like Netflix, Prime Video, Hulu, FuboTV, Spotify, and many more.
Although the Amazon App Store features enough apps for average users, others may find it much limited compared to the Google Play Store. Not only is it filled with subscription-based apps, but it also misses out on a few of the essential streaming tools like Kodi due to DRM and legal constraints.
Now, you can possibly jailbreak your Firestick device to sideload third-party apps. Those who don't know what 'jailbreaking' means, it is basically bypassing the security protocols, and restrictions device manufacturer puts on its operating system. Users can even go one step further with Kernel-level changes. 'Jailbreak' is a term mostly used for Apple devices. For Android, it is widely known as 'Rooting.'
However, it comes with its consequences. Once jailbroken, the device won't be eligible anymore for manufacturer warranty. You might also brick your device forever if something goes wrong during the process.
Fortunately, jailbreaking on Fire TV devices is different. It neither requires users to make system modifications nor voids the warranty of the devices. Amazon does give developers the option to sideload apps from the developer's menu so that they can create more apps for the Fire TV platform. The option isn't hidden, and it can be accessed by anyone, similar to what the Android operating system has been offering since its release.
In this guide, we will explore more about jailbreaking a Firestick and show you how to jailbreak Firestick in different ways.
Is it Possible to Jailbreak Firestick?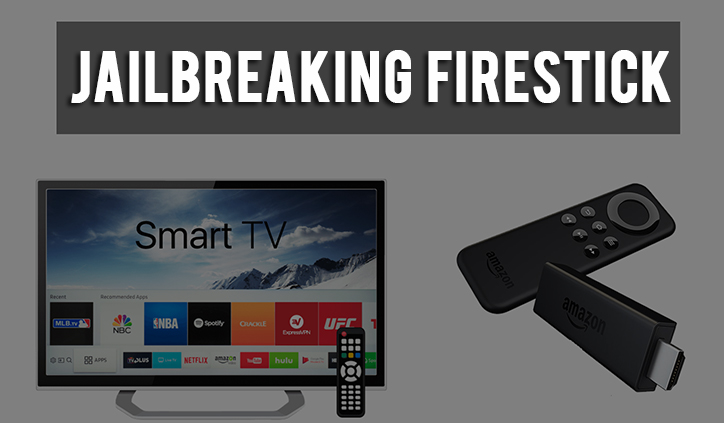 As we just talked about FireStick Jailbreak, you might wonder if it is actually possible or not. The answer is yes. The jailbreaking process on Firestick is significantly easier and safer compared to actual jailbreak that requires critical system modifications.
Some people don't even know that Fire TV devices run on a customized version of Android called Fire OS. What users install from the Amazon App Store are actually native Android apps. This also opens new possibilities for third-party developers to promote their apps on the Fire OS platform. You can check out the jailbreaking guides below to unlock the true potential of your Firestick.
How to Jailbreak FireStick
Attention FireStick Users – Read Before You Continue
When you stream online content on your devices, your personal information such as IP address and location gets monitored by third-party trackers. Even Currently, your IP is visible to everyone. You are also at risk of getting sued by media companies for streaming copyrighted content for free. I strongly recommend you to use a good VPN to hide your identity.
Using a VPN, you can encrypt your internet connection to get rid of prying eyes from stealing your personal information and monitor your private activities.
I personally use IPVanish VPN on my all Streaming device. MY experience with IPVanish VPN has been great because of its fast VPN servers and reliable encryption methods for keeping your data secure on the web. IPVanish also offers a 30-day money-back guarantee so you can ask for a refund if you don't like the service. We have special offers for our readers. Click here to Get 46% Off On IPVanish VPN.
In order to jailbreak Firestick, note that we are not going to do any system modifications that void your device's warranty. We will execute a process called 'Sideloading,' which means that we are going to install an app from an external source instead of the Amazon App Store. It is safe and doesn't break Amazon's terms and conditions related to warranty.
Most people consider a successful jailbreak by installing Kodi on Firestick. If you are not familiar with Kodi, it is a media management software that works as an independent OS environment for different extensions or 'Add-ons.' Users can install free video-streaming add-ons to watch movies, TV shows, live TV channels, sports events, and more.
Assuming that you have already set up your Firestick with an Amazon account, you can begin following the step-by-step instructions below.
Step 1: Enable Sideloading
On your Fire TV home screen, move up to the tabs section above and select Settings.
Next, scroll to the right side of the menu and click Device / My Fire TV.
Select Developer options on the following page.
Turn on Apps from Unknown Sources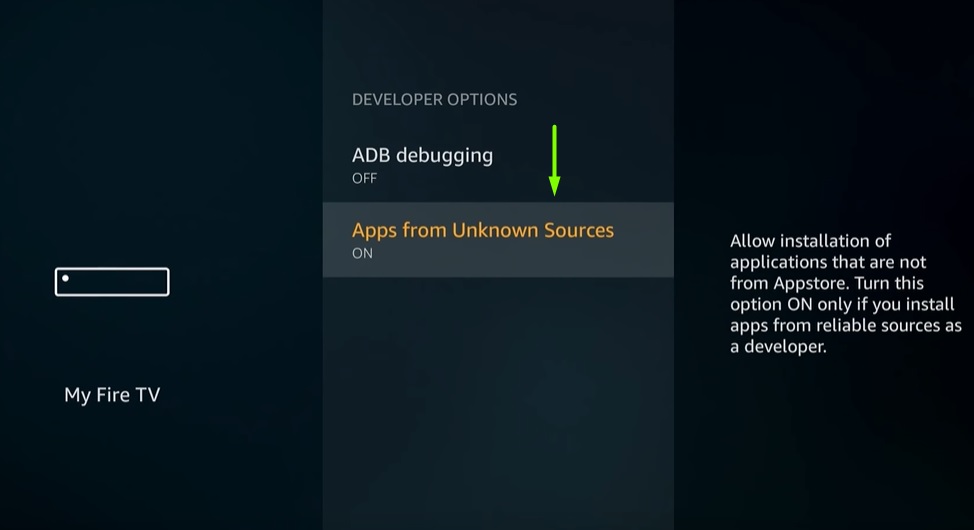 Click Turn On again to confirm the changes.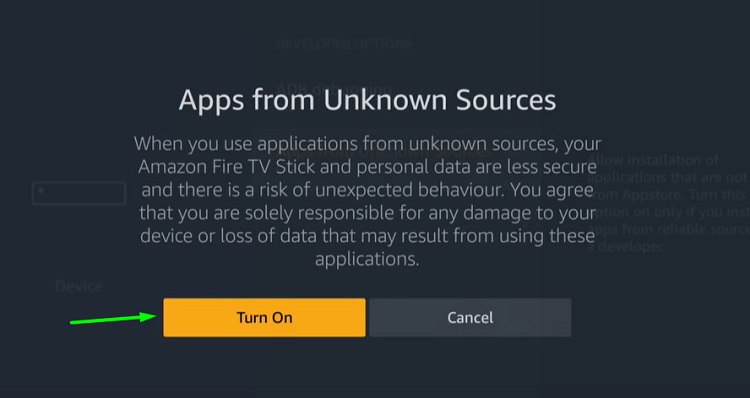 You can now sideload apps on your Firestick without any restrictions.
Step 2: Disable Data Collection
For safety precautions, we will disable Amazon's data collection system so that your activities are anonymized. It also improves your system by a little bit, considering that a background process for data collection always hogs up the device's memory resources.
Return to the Fire TV Settings
Find and click Preferences in the options.
Now select Privacy Settings in the Preferences menu.
Turn off Device Usage Data and Collect App Usage Data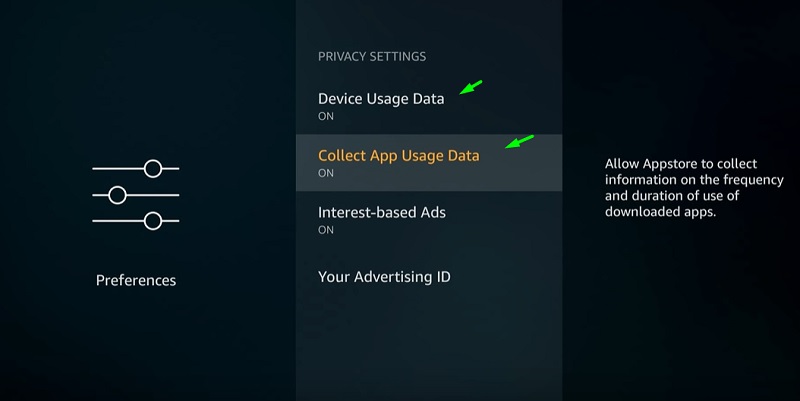 Step 3: Install the Downloader App
The Downloader app is one of the most important tools officially available on the Amazon App Store. It lets you download files from external sources, which includes APKs for app installation. You can also access your downloaded files directly from the Downloader app, a feature that we gladly appreciate.
From the Fire TV home screen, go to the Search option (magnifying glass icon) in the upper-left corner of the screen. It is situated next to the Home
Use the on-screen keyboard to search for "Downloader." As you type it, a couple of instant search suggestions will appear under the keyboard. From there, select Downloader.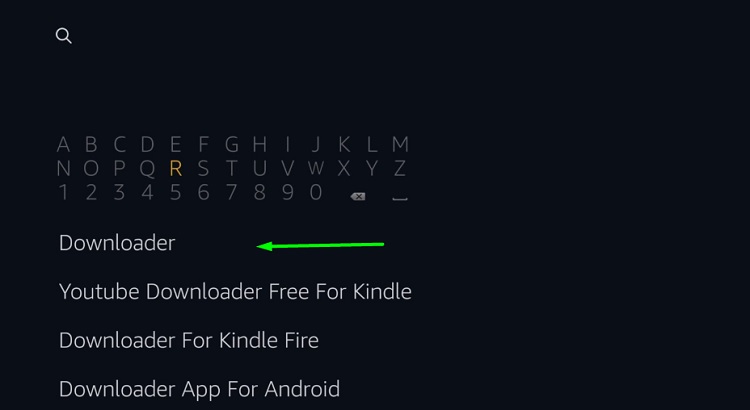 Once again, click the Downloader app icon under the Apps & Games section of the search results.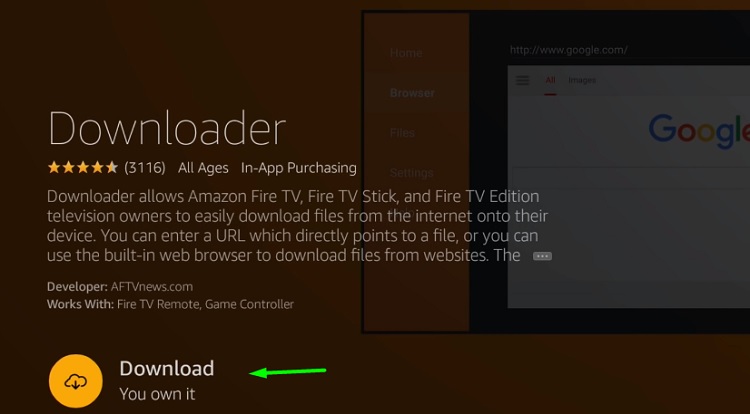 Highlight the download icon next to Get/Download to start the download process. It will get automatically installed soon.
Finally, click Open to launch the Downloader app.
Step 4: Install Kodi to Jailbreak Firestick
Now that we have enabled sideloading and installed the Downloader app on Firestick, it is time we continue to the final step for jailbreaking your device. Here's how to install Kodi on Firestick:
If you have launched the Downloader app for the first time, click Allow to grant permissions for storage access.
Click OK to skip the app update changelog.
Go to the Settings section from the sidebar, and click Enable JavaScript. Make sure the box is ticked next to the option.
Return to the Home section of the Downloader app, then click the address bar.
Enter https://bit.ly/39tFjFy using the keyboard and click Go. Kodi's official download page will load up shortly.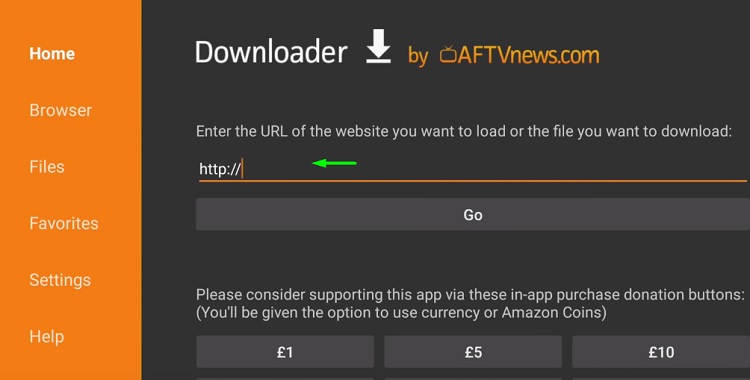 Scroll down to select Android, then click ARMV7A (32BIT) under the Recommended The latest version of Kodi (v18.7 Leia at the time of this writing) should start downloading.
Once the Kodi APK file finishes downloading, the default Android Installer will pop-up. Click Install to begin the installation.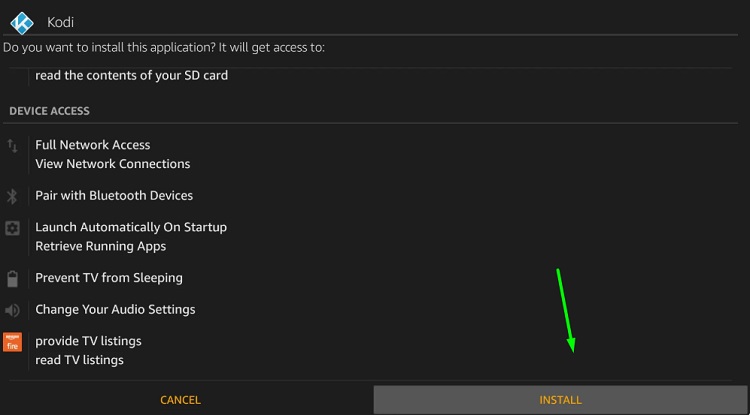 When you see the "App Installed" message, click Done OR Click Open to Run Kodi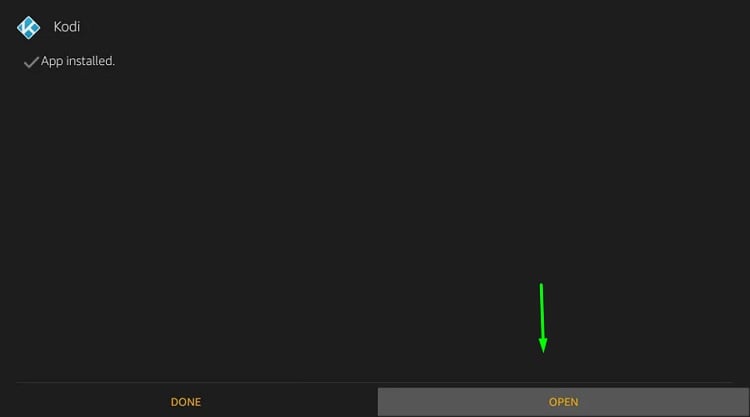 That's it! You have successfully jailbroken your Firestick. You can now launch Kodi from Your Apps & Channels section from the Fire TV home screen. For quick access to the list of installed apps, hold the Home button for a few seconds, and click Apps. You will find Kodi in the list of installed apps.
As we now have a jailbroken Firestick, some of you may wonder if it affects your daily usage. The answer is no; it doesn't. However, we have installed Kodi for a reason, and that is content consumption. We will give you a rundown on some of the things you need to know for using Kodi in the next section of this guide.
But before we do that, let us discuss the importance of using a VPN with a jailbroken Firestick.
Use a VPN with Jailbroken Firestick
A jailbroken Firestick gives you the freedom to install third-party free video streaming apps. However, these apps distribute unlicensed copies of movies and TV shows. Such sources are also often targeted by cybercriminals for stealing sensitive user information and selling it on the black market.
Some countries also have strict cyber laws, which include monitoring a user's web activities without consent. You might receive a copyright infringement notice from your ISP (Internet Service Provider) and get into more serious legal issues for streaming copyrighted content from file-hosting websites.
A VPN fixes this problem. It does not only encrypt your internet connection but also cloaks your IP address with a disposable one. Your personal information will be concealed from the prying eyes, and outsiders won't be able to track or monitor your web activities.
Our personal preference is IPVanish VPN, which is considered to be the world's fastest VPN among the competition. It uses 256-bit AES encryption to secure your web-browsing and streaming sessions as well as let users access blocked apps and websites. It supports all the major operating systems, including Amazon's Fire OS. Just go through the steps below to install the IPVanish VPN app on your Firestick.
Subscribe to IPVanish VPN From Here.
Go to the Search menu from the Fire TV home screen.
After that, type IPVanish in the search box and select IPVanish VPN in the instant search suggestions.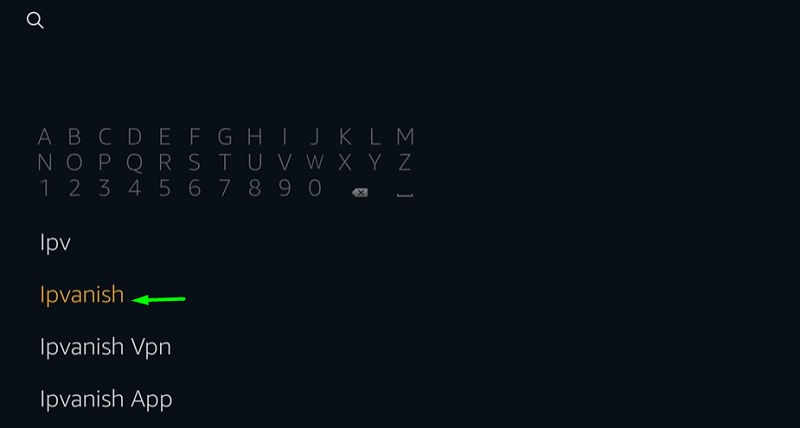 On the search results page, click the IPVanish app icon under Apps & Games.
Now click Get / Download and wait until it gets installed.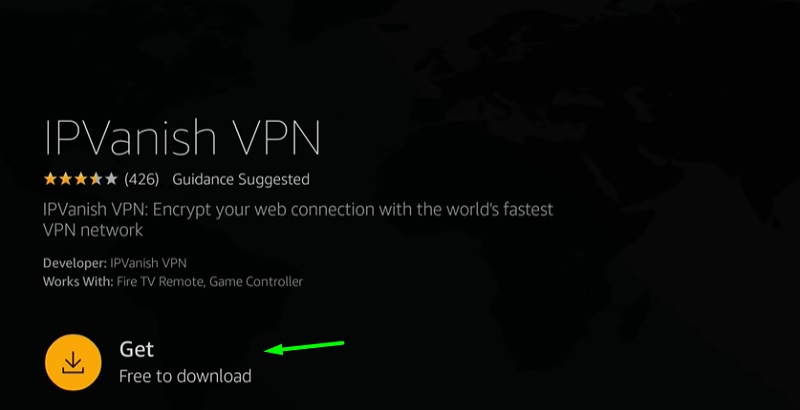 You can now launch the IPVanish VPN app, log in with your IPVanish account credentials, and connect to a secure VPN server without any hassle.
How to Use Jailbroken Firestick
Once you manage to sideload Kodi on your Firestick, it gives you access to almost every type of content. As Kodi is a media management software, it doesn't come with any content. This is where add-ons and builds show up.
Kodi Add-ons
Add-ons are the most important things in Kodi. Just like a standard operating system, Kodi lets you install standalone apps called 'add-ons' for adding additional functions. You can add a third-party repository in Kodi to install video streaming add-ons to watch movies, TV shows, live TV, sports, and more without paying for any subscriptions.
Best Kodi Addons List  – No Buffering
Kodi Builds
Kodi builds are 'all-in-one' packs for Kodi. If you don't have much time to spare, installing a build on Kodi saves you hours of work. A build contains a set of video add-ons to give users access to different content. It also changes the default Kodi home screen with a modern one to further enhance user experience and overall navigation.
Check out Our List of Best Kodi Builds
How to Jailbreak Firestick with Es File Explorer
In some regions, the Downloader app may not be available on the Amazon App Store. If it's the case for you, then there is a workaround for that. Just follow the steps below.
Enable Apps From Unknown Sources as previously shown above.
Search for ES File Manager from the Search option on Fire TV home screen.
Once you are on the app download page, click Get / Download.
After the app is installed, click Open to launch the app.
In the ES File Explorer app, click the Tools option on the sidebar.
After that, choose Download Manager from the list and click '+New' in the bottom bar.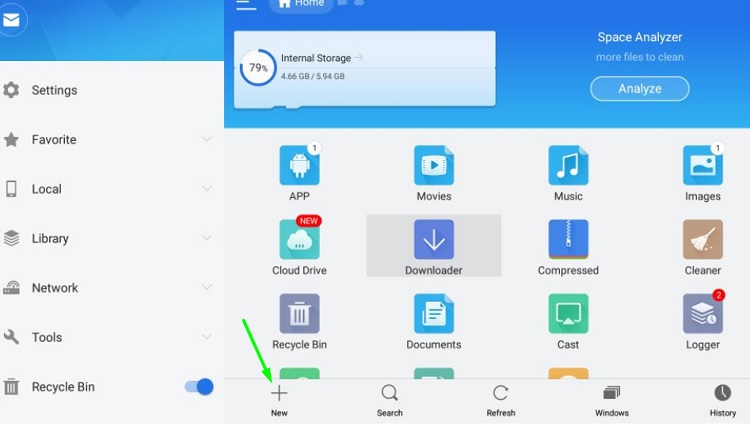 Enter https://bit.ly/39tFjFy in the Path
Now enter "Kodi" in the Name field, and click Download Now. The Kodi APK file should start downloading.
Once the download finishes, click Open file. The installer window will appear.
Click Install to sideload Kodi on Firestick.
Congrats! You now own a jailbroken Firestick.
It should be noted that the ES File Manager app is no longer a free app, so make sure you jailbreak your Firestick before the 7-day free trial period ends.
Best Jailbreak Apps for Firestick
Kodi is not the only app we can use to jailbreaking firestick. There are plenty of apps that offer users free movies, TV shows, documentaries, sports, and kids content in up to Ultra-HD quality. For those who are in search of other apps for their jailbroken Firestick, check out some of the best jailbreak apps below.
Cinema HD
HDMovies, now rebranded to Cinema HD, is one of the most popular streaming apps. It has an ever-expanding collection of movies and TV shows. You can stream your favorite content in either 1080p or 2160p (based on which Firestick variant you use). You also have the option to download a movie/episode directly from the app, which you can later watch offline. If the default links are not enough for you, then you can integrate Real-Debrid with Cinema HD to fetch high-speed HQ links.
You can sideload Cinema HD on Firestick by doing the same as you did for Kodi.
How to Install Cinema HD on Firestick
CatMouse
CatMouse is an alternative to the Terrarium app, which was once known as the ultimate video-streaming app for Android devices. You will find the latest movies and TV shows in the content library. Most of the content is available in 1080p. It does have Real-Debrid integration just like Cinema HD so that users can stream content in 4K. It also has support for closed captioning.
How to Install Catmouse on Firestick
Jailbreak Firestick Apps for IPTV & Live TV
With a jailbroken Firestick, you can watch not only on-demand content but also live TV channels. There are plenty of live IPTV apps to choose from. You will find a few of them below.
Live Net TV
The Live Net TV app lets users stream over 800 popular live TV channels from across the world, including the US, Canada, and the UK. You can enjoy entertainment, drama, movies, news, infographic, cooking, kids, and sports channels for free. It does also include a couple of HD channels. The app supports remote-input devices as well as give users the option to change the default media player.
If you stumble upon buffering issues, then Live Net TV does provide mirror links. Although it is not the best live TV app, it is free and doesn't require you to sign up for an account or subscription.
How to Install Live Net TV on FireStick
Sportz TV
Sportz TV is an affordable IPTV service for Firestick. It offers over 5800 channels from several countries, both in SD (480p) and HD (up to 1080i) quality. It also has a sizeable library of on-demand and catch-up content.
Sportz TV is a feature-rich app. It is compatible with the Firestick remote, thanks to its accessible tile-based user interface. It does have a multi-screen feature, which you can use to stream up to 4 live TV channels on the same screen. You can also choose the media player of your choice for stream playback. EPG (Electronic Program Guide) support is found in Sportz TV as well.
The monthly subscription starts from $9.95 USD only, making Sportz TV one of the cheapest IPTV services currently available for Firestick users.
Learn How to Setup Sportz TV on FireStick
FAQ
If you have any doubts regarding the Firestick jailbreak, feel free to check out the frequently asked questions below.
1. Does jailbreaking void Firestick's warranty?
Jailbreaking a Firestick is not the same as jailbreaking an Android or iOS device. It does not require any system modifications or security bypass to jailbreak a Firestick. As Amazon tries to keep Fire TV users in a restricted ecosystem, sideloading third-party apps on Firestick is considered to be a jailbreak. So the answer is no, jailbreaking does not void your Firestick's warranty.
2. Does jailbreaking impact system performance?
Jailbreaking does not impact the system performance of your Firestick. However, you might run into storage issues if you install several apps on your device. Low storage space leads to severe performance degradation, making it unusable for daily usage. Make sure to delete redundant installer files after installing an app to free up some additional space.
3. Can I still access the Amazon App Store on a jailbroken Firestick?
Yes. You can download and install official apps from the Amazon App Store on a jailbroken Firestick. You can even sideload the Aptoide App Store on your Firestick to get access to thousands of apps and games.
4. Is it possible to jailbreak a Fire TV Cube / Amazon Fire TV Edition Smart TV?
All Fire TV devices, including Firestick, Firestick 4K, Fire TV Cube, and Fire TV Edition Smart TV runs the same Fire TV operating system. Our jailbreak guide works with all of them, with no extra steps necessary.
5. What can I expect from a jailbroken Firestick?
A jailbroken Firestick opens a world of opportunities in terms of content consumption. You get access to free movies, TV series, exclusive web shows, and more with third-party streaming apps and Kodi add-ons. You can also watch live TV without an expensive cable TV subscription.
6. Should I buy a pre-jailbroken Firestick?
Pre-jailbroken Firesticks are sold on various e-commerce websites. They cost $10-$20 more compared to the original one. It might appeal to you at first, but we strongly advise you not to buy them. These are loaded with malware and spyware apps, and it is used to steal personal information. It is much better to spend your money on a new Firestick.
7. Is it safe to use my primary Amazon account with a jailbroken Firestick?
As we have already disabled Amazon's data collection services, it is safe to use your primary Amazon account with a jailbroken Firestick. If you feel uncomfortable, then you can always create an alternative Amazon account and link it to your Firestick.
Conclusion
In this guide, we have given you detailed information on how to jailbreak firestick. We have also provided an extensive set of step-by-step instructions to help you safely jailbreak your Firestick without voiding the device warranty. It is as easy as sideloading Kodi or other third-party apps on your Firestick. You can then also install add-ons and builds on Kodi to watch your favorite movies and TV shows for free.
It should be noted that we neither promote nor verify the legality of third-party apps mentioned in this guide. We are not responsible for any damages or data loss that may occur from installing such applications on your device.