Exodus Addon for Kodi is one of its kind, that gives you direct access to media content such as Movies, and Tv shows, from around the world. In case, if you didn't know about the whole addons thing on Kodi, they're basically packages or you could say a piece of software that adds extra features or functions that are normally not included with Kodi. Today, in this article, we'll be focusing on Exodus Kodi Addon, which is currently rated as one of the best Addon for Kodi.
In this post, I will show you how to download and install an exodus addon on Kodi. The same instruction also works on amazon firestick, fire TV, android box, firestick 4k, mobile, Windows pc, fire tv cube, and all other Kodi supported platforms.
If you're an avid user of Kodi, chances are, you might have heard about Exodus add-on since it used to be quite popular back in the days. Unfortunately, the addon Exodus was involved in a lot of controversies because of the content it was distributing to viewers from all around the world. The addon was shut down by authorities in a matter of time, which is quite common with most of the third-party addons and builds.
But the good news is that Exodus is back up again, and can be used freely to watch Movies or Tv shows without any restrictions. However, the installation procedure of Exodus Addon on Kodi is changed a bit. That's why, I've come up with this article, which will help you in installing the Exodus Add-on to your Kodi app.
How Did Exodus Addon Come Back?
Despite the official takedown by various Legal Authorities such as MPA, Exodus has managed to make a comeback for its users. Previously, anyone could install the Exodus Addon on Kodi through TVAddons, but this route has been closed, indefinitely, after the shut down of the Addon itself. Here's a brief intro in case if you're wondering about the Exodus Add-on revival.
Addons for Kodi are mostly developed and published by a third party or indie developers from all around the world for the sake of the community. Usually, when an addon is shut down or the developer decides to quit the project, someone else from the community would pick up the project and maintains it. You would often see these kinds of things happen, especially, if it's an open-source platform, like Kodi.
Anyways, the newly launched Exodus Kodi addon can be installed from the Kodi Bae repository. You can follow up with the guide I've shared in this article to quickly install the add-on for your Kodi.
How To Install Exodus Addon On Kodi?
Attention Kodi Users – Read Before You Continue
Please keep in mind that whatever content you're streaming on Kodi is clearly visible to your Internet Service Provider (ISP) and local authorities of your region. Kodi addons & builds offer unlimited free streaming but could also get you in legal trouble if your ISP & government found copyrighted content (Movies/TV Shows/Sports) on your Kodi. Therefore, you must be cautious and use a secure connection while using Kodi.
A VPN will help you in masking your IP address, making it impossible for anyone on the internet to track down your online activities. Not only it helps you maintain your anonymity on the Internet, but it also lets you unblock geo-restricted content. Well, there are quite a lot of VPNs available on the internet to choose from. However, the only one we believe to reliable and wholeheartedly recommend is the IPVanish VPN for Kodi.
IPVanish VPN is one of the most secure and fastest VPN in the industry. Moreover, IPVanish VPN comes with a 30-day money-back guarantee. Click here to Get 46% off IPVanish VPN.
This offer will expire soon.
Here's a step by step guide on how to install Exodus Addon on Kodi without any additional download or requirement. However, make sure you've enabled "Unknown Sources" on your Kodi App, otherwise, you won't be able to install third-party add-ons such as Exodus.
Launch your Kodi App and Go to the Settings Menu > Open System Settings > Select "Add-ons Tab in the left corner-> Find the option "Unknown Sources" and Toggle it. (Click on Yes if any warning message appears)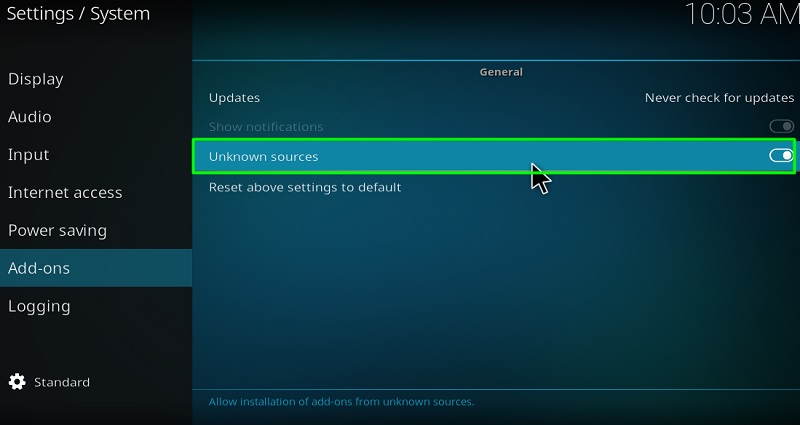 Go back to "Settings Menu" and select "File Manager" option.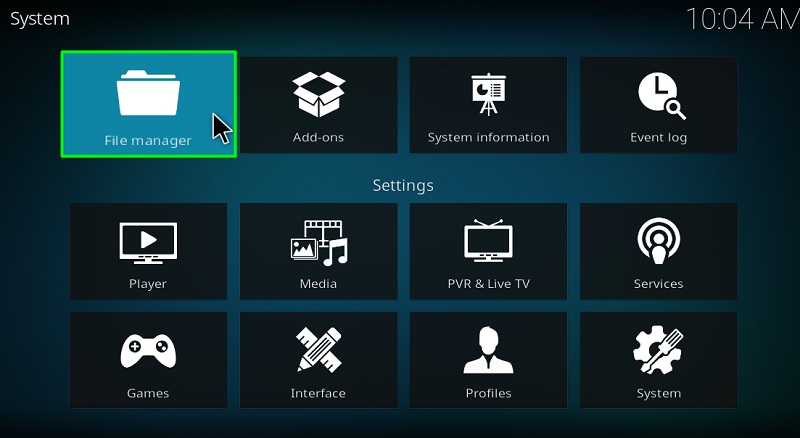 Click on "Add Source" and wait for a pop-up window to appear.
Copy and paste this link – http://mega-tron.tv/transform in the description box of the Pop-up and hit "OK".
Enter any random name as you wish (transform) in the "Media Source" field and hit "OK".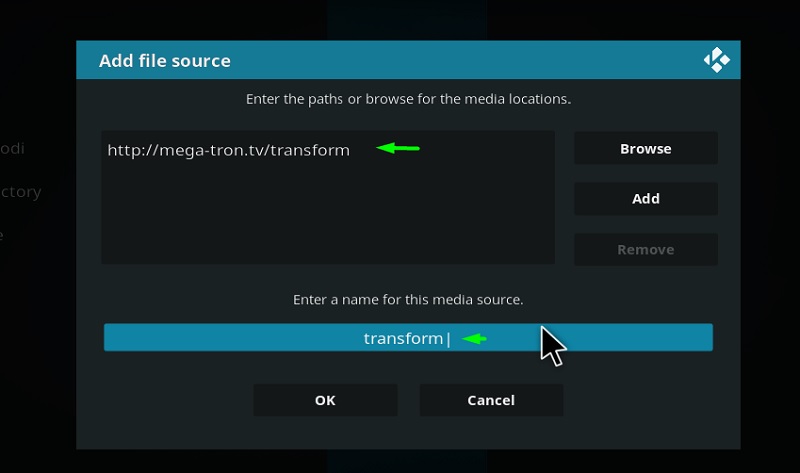 Navigate back to the "Settings Menu" screen and select the "Add Ons" option.
Select the option "Install From Zip File" on the next screen.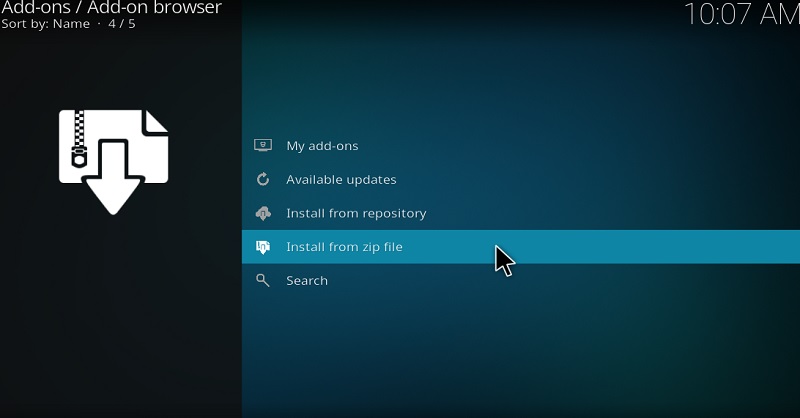 Choose the name of the media package that you've entered previously (transform) and hit "OK".
Open the "Repos" option on the next screen.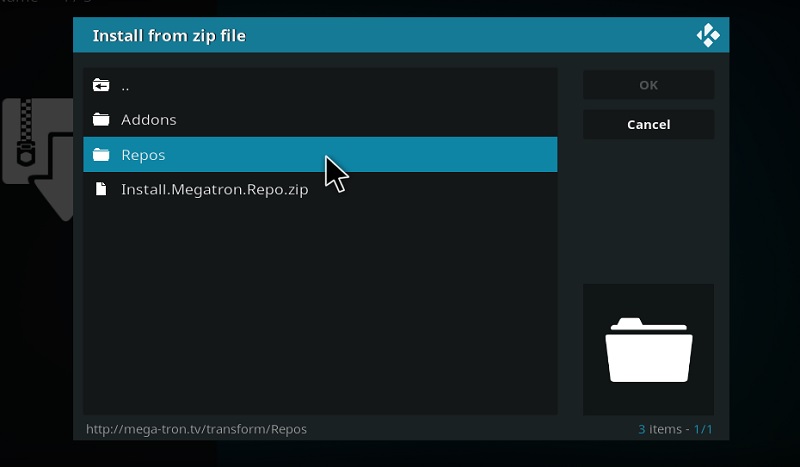 Now select "repository.kodibae-x.x.x.zip".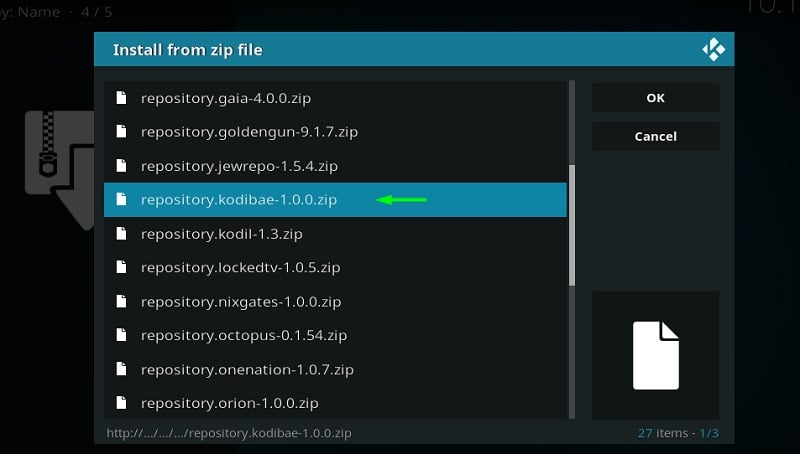 Within a few seconds, you will receive a notification once the Addon is installed.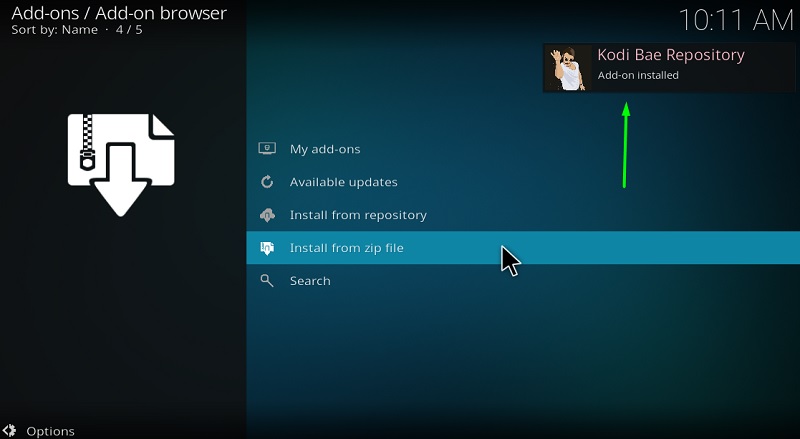 Now click on the "Install From Repository" option and select "Kodi Bae Repository"
Open the "Video Add Ons"
Find and choose the "Exodus" addon from the list of addons provided on your screen.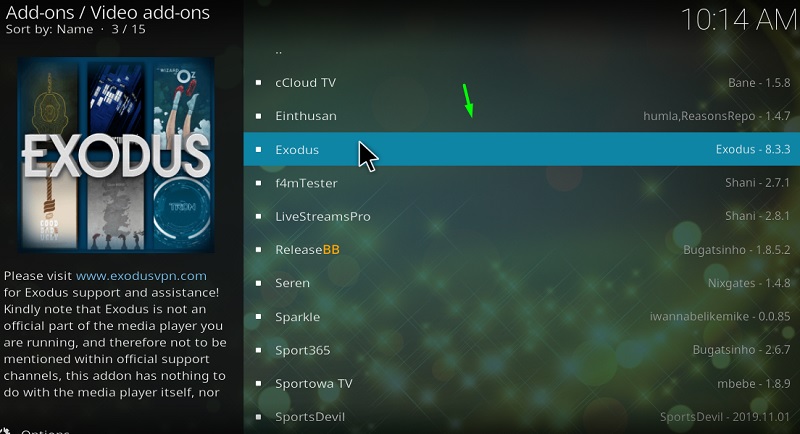 Click on the "Install" option on the Exodus Addon page for the installation process to complete.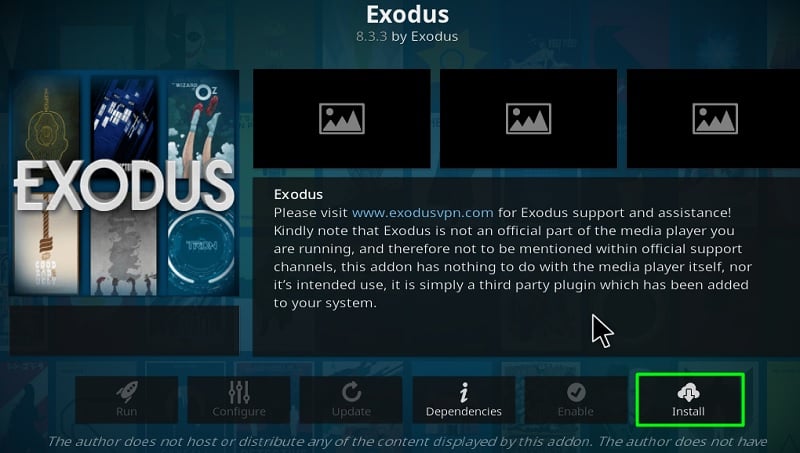 Note:- In case if you're Kodi Lelia version, you will probably receive a pop up window showing all the additional add-ons that will be installed along with the Exodus Add-on. Simply click on "OK" to proceed with the installation process. You will receive a notification message once the installation is successful on your Kodi App, That's it!  Now you can start using the Exodus Addon to watch your desired movies or Tv shows from all over the world without any restrictions
How To Update Exodus Addon On Kodi?
It's recommended to always update the addons and plugins on Kodi to avoid facing any performance issues or errors. You will have to manually check and update the Exodus addon to experience uninterrupted service on your Kodi. Go ahead and follow the below steps to update Exodus Add-on on Kodi, firestick or windows PC.
Launch the Kodi App and wait for the addons to load.
Go to the "Addons" tab and select "Video Addons" option on the left side of the window.
Select the "Exodus" Addon from the list of installed addons on your Kodi App.
Right-click on "Exodus" addon and Open up the "Information" Tab to proceed.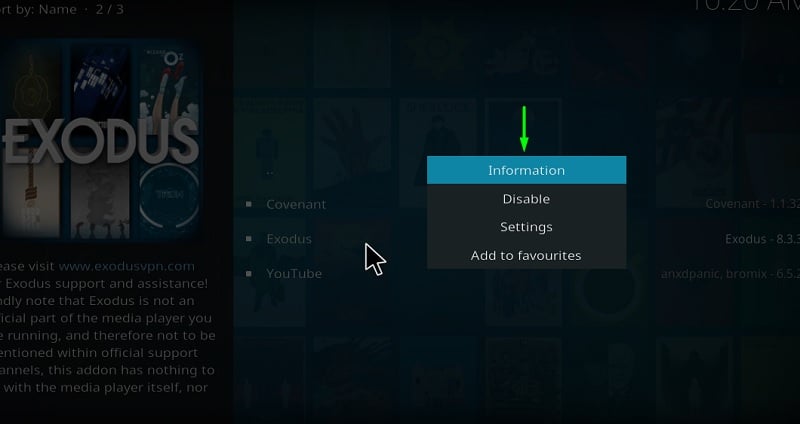 Click on the "Update" option to see if there are any updates available for the addon.
In case if there is an update available, you will receive a pop up showing all the information related to the update. Simply hit the "Update" option from the Pop Up window to automatically update the Addon.
How To Use Exodus Add-on on Kodi
Exodus provides full access to all the latest and popular Movies or TV shows or Web series from all over the world. You simply need to install the Addon to start streaming your favorite Movie or TV show Title for free of cost. You may refer to the following steps to get started with Exodus Addon on Kodi.
Launch the Kodi and proceed by opening "Addons" Tab.
Under the "Addons" Tab, select "Exodus" addon to open it up.
In the Exodus Main Menu, you may select "Movies or TV shows" as you wish.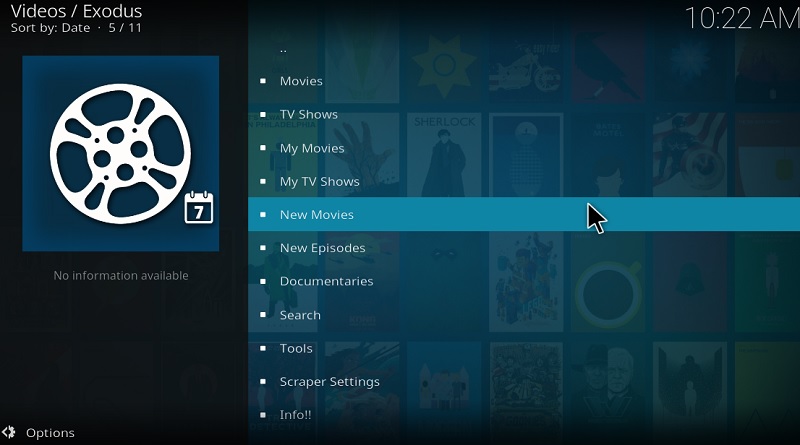 You can sort the Movie or TV shows tiles by Genre, alphabet, etc.
Select any Movie or TV show and wait for the Addon to scrap sources for you.
Choose your desired Source from the list and wait for a few seconds for the stream to begin.
In case if the Movie or TV show doesn't begin streaming, then you might have to select another source and try again. Scrapped sources will be arranged from the highest resolution to the lowest resolution, so you will have to select the Source accordingly.
How To Fix Exodus Not Working Error?
There are quite a few technical errors and glitches with Exodus Addon that might interrupt your streaming experience on Kodi. Most of the users have reported errors like "No Stream Available" or "Exodus Error", which are fairly easy to fix. You don't need to contact the developers or troubleshoot, simply follow the below-mentioned steps to rectify Exodus errors on Kodi.
Fix No Stream Available Error
This is probably the most common errors faced by pretty much every other Exodus Add-on user. Please keep in mind that you cannot ask for support in the official forum of Kodi for issues related to Addons that are developed by third-party developers. In this case, the error "No Stream Available" isn't related to Exodus Addon.
It's actually related to the Source that you've selected from the Scrapped list for streaming the requested Movie or Tv show title on your Kodi. This error usually indicates that the content has been removed or cannot be accessed from the Source location. In such cases, you will have to select another Source from the list to stream the requested content.
You're likely to face similar errors, especially in cases where the selected Movie or TV show is recently launched. But, you'll always have the option to change the Source and stream the content again.
Fix Exodus Error On Kodi
The Exodus Error has been reported by quite a large number of Kodi users in the online forums. In fact, the developers are also aware of this issue and have confirmed to release a fix for this issue via an official update. So, you'll have to wait for some time in order to resolve the issue.
But, you can fix the issue temporarily and continue using Exodus Addon on your Kodi. Simply uninstall the Exodus Addon from the Settings and re-install by following the above-mentioned guide. We'll be updating the article once an update is available for this issue, make sure to bookmark this page.
Related
Final Words
That's pretty much everything I've got to cover up in this article. Make sure to share this article with your friends who might find it helpful. You may reach out to me through comments in case if you're facing any issues with the installation of Exodus Addon on Kodi.