In this guide, we will discuss about VPN in detail and show you how to install NordVPN on Firestick, so that you can use it to unblock geo-restricted content and stop third-party web trackers from logging your web activities.
Many streaming services enforce geo-blocking protocols to protect licensing and copyright agreements that are meant to be followed in a specific region only. However, you can use a VPN (Virtual Private Network) service to bypass geo-blocking.
Now, it isn't illegal to circumvent geo-blocking with a VPN to access the on-demand content overseas. If you are paying for the same premium subscription as others, then you have the right to access the content that is restricted in your country.
Since VPN routes and transmits your data packets to a private network rather than your internet service provider (ISP), your web activities stay anonymous. The presence of some form of high-level encryption also ensures data leak protection and hijack-proof networking.
Whether you are trying to access a streaming service that is unavailable in your region or using third-party apps for subscription-free content consumption, the benefits of using a VPN are endless.
There are many VPN services in the market, but not all of them are compatible with Amazon's Firestick, which is one of the most popular streaming devices worldwide.
As Firestick runs on a stripped-down version of Android, it does have the VPNService API. VPN services that natively support the API help Firestick users connect to a VPN server for a prolonged session.
NordVPN is one of the most popular VPN services among VPN users, and it is officially compatible with Fire TV devices. If you own a Firestick, then NordVPN is a must-have app for you. This VPN tutorial will demonstrate the step-by-step installation process of NordVPN on Firestick. Let's get started!
What is NordVPN?
NordVPN is one of the most secure and trusted VPN providers across the globe. It uses the OpenVPN and IKEv2/IPsec protocols for data encryption, which are the industry-standards for VPN services. NordVPN's zero-log policy is also verified by security researchers.
Similar to other VPN services, NordVPN routes a user's network traffic through a stack of private and secure servers. As a result, the user's real IP address stays hidden, and the users' location is replaced by the server's location.
NordVPN offers over 5500 servers in 59 countries across the globe, which includes Australia, Canada, France, Germany, Hong Kong, India, Indonesia, Netherlands, Singapore, South Korea, Taiwan, United Kingdom, United States, etc.
What makes NordVPN unique among its competitors is its extensive set of features. Alongside the standard VPN servers, NordVPN also serves specialty servers for its users.
You can use the Dedicated IP feature to get your own static IP in a VPN server, which is useful especially for those who use a VPN to access business servers or make online payments regularly. Having your own VPN IP also lets you access websites and services that blacklists shared IPs.
NordVPN's P2P specialty servers also come in handy at times when you are trying to stream content directly from a torrent link. Services that use peer-to-peer networking for content distribution also benefits from the P2P servers.
The Double VPN feature routes your traffic through two separate VPN servers, giving you an extra layer of security between your Firestick and the internet. If you are traveling in another country where VPN usage is banned (ex: China), you can connect to NordVPN's Obfuscated servers to prevent VPN traffic from being blocked.
NordVPN's CyberSec technology also blocks malware and malicious web trackers from hijacking your network or connected devices. Other than that, it does have the split tunneling feature, as well as gives users the ability to use a custom DNS.
NordVPN's monthly subscription starts from $11.95 only. They also offer frequent discounts on 1-year, 2-year, and 3-year plans, which effectively brings down the subscription price to as little as $3.49/month. All of the plans come with a 30-day money-back guarantee. A single NordVPN subscription will let you use its VPN services on up to six devices at once.
NordVPN Features
NordVPN has thousands of secure VPN servers in 59 countries worldwide.
It encrypts your network to anonymize your activities on the Internet.
It offers peer-to-peer and obfuscated servers without any additional fee, which is a rare addition in VPN services.
CyberSec blocks malware, third-party web trackers, and intrusive advertisements.
NordVPN delivers reliable service at affordable subscription plans.
Read – Why Firestick & Kodi Streamers Need VPN?
How to Install NordVPN on Firestick?
The NordVPN app is downloadable from the Amazon Appstore for Fire TV devices. If you are not familiar with Firestick's interface, then you can follow the steps below to install the NordVPN on Firestick.
Click the Search (magnifying glass) icon on the top-left side of the Fire TV home screen.
Next, use either the on-screen keyboard or your voice to search for the "NordVPN" Choose NordVPN from the keyword list below the search menu.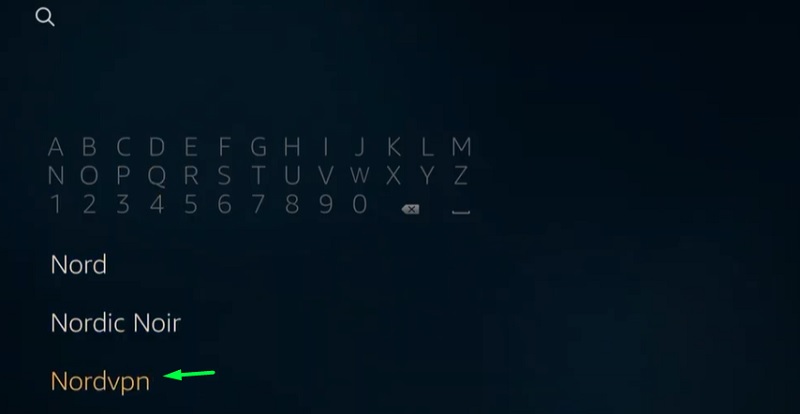 Navigate to the Apps & Games category on the next page, then highlight and click the NordVPN.
Click Get / Download to begin downloading the NordVPN app. It will be installed on your Firestick in a minute or so.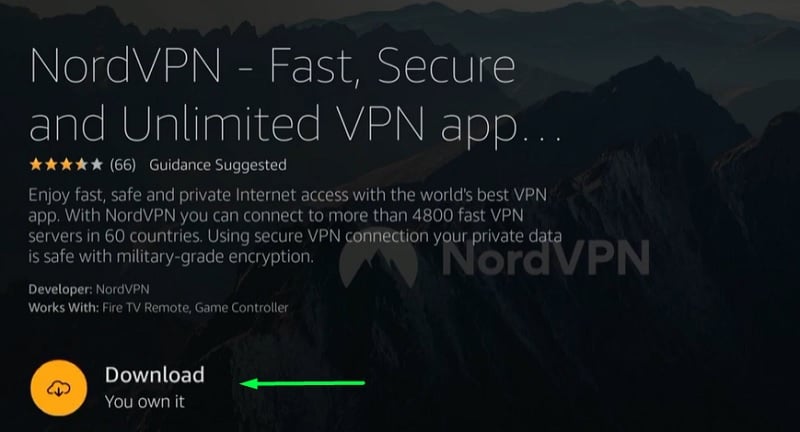 Return to the Fire TV home screen once NordVPN is installed on your Firestick. Scroll down to Your Apps & Channels section and launch the NordVPN app. In case it's not listed, navigate to the end of the section, and click See All. You will see a detailed grid-view of the apps you have installed on your Firestick, where you will also find NordVPN.
How to Sign Up for a NordVPN Subscription?
In order to connect your Firestick to a secure NordVPN server, you will have to sign in with a NordVPN account with an active subscription. Assuming that you haven't signed up for a NordVPN subscription yet, you can follow the step-by-step instructions below and get one.
Go to nordvpn.com from a web browser on another device.
Scroll all the way down to the plans section, and choose your preferred NordVPN plan.
Click Continue to Payment on the next page.
Enter your email address in the required field, then select your payment method.
Fill up your billing information and credentials, then click Continue.
Once you successfully purchase a VPN subscription, check your mailbox for an email from NordVPN. Follow the on-screen instructions to complete your NordVPN account creation process.
Steps to Sign In to NordVPN on Firestick
Now that you have your NordVPN account with a subscription, you can sign in to the NordVPN app on Firestick and connect to your preferred VPN server. Here's how:
Launch the NordVPN app on your Firestick. The NordVPN splash screen will appear.
Select the Log In option from the Home page of the NordVPN app.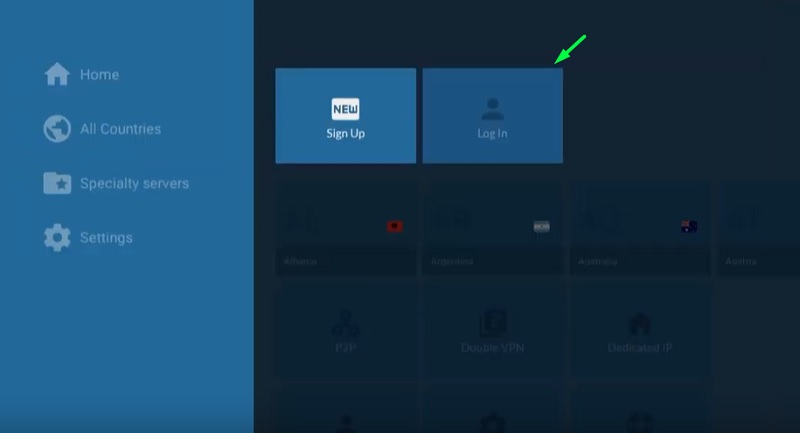 Enter your NordVPN credentials in the required fields, then click Log In.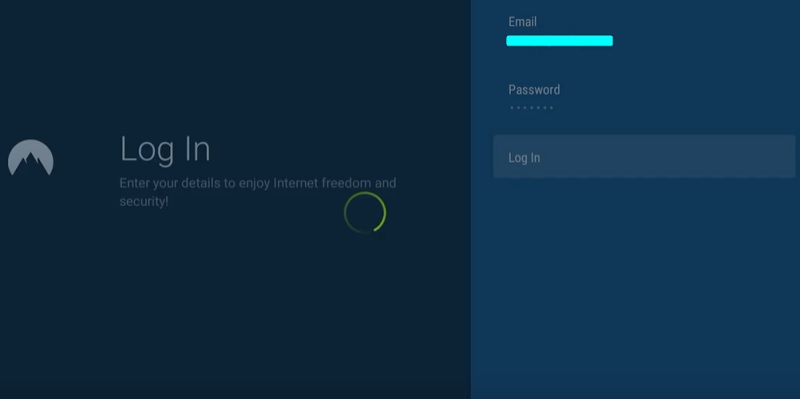 That's it! You can now connect to a VPN server and enjoy unrestricted access to blocked content on your favorite streaming services.
Overview of NordVPN App on Firestick
The NordVPN app has a Leanback styled user interface, which we have seen in other Firestick apps as well, such as VLC and Plex. It makes app navigation more comfortable with a remote.
Clicking the left directional key on the Firestick remote toggles the sidebar, which consists of four categories: Home, All Countries, Specialty servers, and Settings.
The Home category includes two main options, Connect now and Search. With the first option, you can instantly connect to the fastest VPN server. The Search option is self-explanatory. You can use it to search for a particular VPN server in a country (Ex: United States #3161, Australia #405).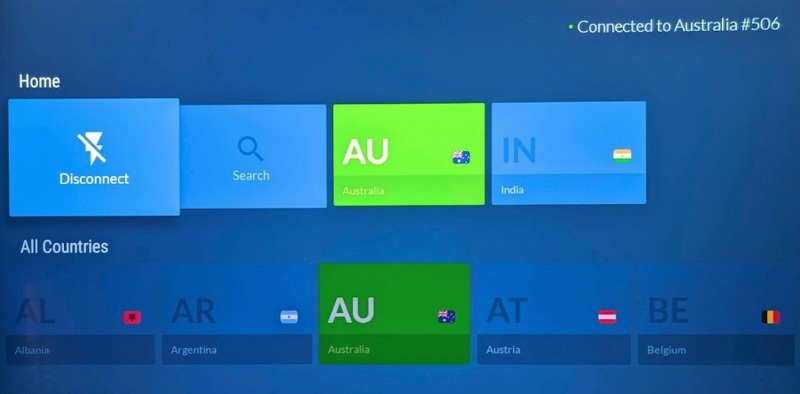 All Countries lists all the 59 countries that have NordVPN servers. You can simply click on your preferred country, and you will be connected to the fastest VPN server hosted in the country.
Specialty servers include P2P, Dedicated IP, Double VPN, and Obfuscated. We have extensively discussed all the options previously in this guide.
The Settings category has a handful of options, which are My Subscription, Settings, Auto-Connect, Trusted apps, and Activity Log. Here's more about the options in details:
My Subscription: You can check your subscription details, as well as sign out from the option.
Auto-Connect: If you want NordVPN to connect to a VPN server automatically on startup, you can also set it up using this option.
Trusted Apps: This option gives you access to the split tunneling feature, which lets you disable VPN for selected apps.
Activity Log: It shows you an offline log of your activities in the NordVPN app.
Settings: It includes the toggle for CyberSec and the option to set up custom DNS.
Once you connect to a VPN server, you can return to the Fire TV home screen and launch the app you want to open. NordVPN's service keeps running in the background so that you stay connected to NordVPN's secure VPN server. If you wish to close your session, simply open up the app and click Disconnect.
Verdict
NordVPN is one of the best VPN apps and a must-have for your Firestick. The subscription is quite affordable, and you can unblock most of the streaming services with a 100% succession rate. It also has some security features, which protect your Firestick from being hacked by cybercriminals.
In this guide, we have given every piece of information you need to know about NordVPN. You can follow the set of steps included in this guide to install the NordVPN on Firestick, as well as sign in to the app with your NordVPN account.