In this guide, you will learn how to Install & Activate CBS on Firestick. This method works on all Amazon devices including Fire TV, FireStick 4K and even Fire TV Cube.
There are many ways to entertain yourself these days. But the one thing that has been stuck to us since childhood is the habit of sitting in front of our TV and enjoying our favorite shows. There have been many replacements for cable TV's and the Firestick introduced by Amazon is one of the most popular ones till date.
Within Firestick there are several apps that are several apps that can be used to access various video and audio content. CBS is one of those. The app has made a name for itself and installing CBS on FireStick is the main focus of this article. But before that let's see what it really is and check out some of its features.
What is CBS?
CBS is an American video-on-demand service. It offers plenty of content on a subscription-based system. The content is brought straight from CBS's network and libraries. The app has millions of subscribers already. Here are some of the features that have to lend a hand in its success.
Features of CBS on FireStick
Ads are certainly one of the most annoying things on TV. On CBS you can watch several series without an ad interruption.
You don't need to worry if your internet connection is not that reliable or if you are busy for some reason. There is a provision to watch your favorite content later in offline mode. You just need to download it.
You can download a lot more compared to other apps too. CBS allows some users to download 25 episodes or movies at the same time. This service is only available to ad-free subscribers.
CBS is not limited to one device. You get to enjoy the video content on a maximum of 5 different devices using the same account.
The videos that you downloaded will stay there for 30 days. However, they will only stay there for 48 hours after the start of playback.
Amazon and Netflix are not the only ones that produce good original content. CBS produces some original series which are pretty awesome as well.
There is a wide variety of content waiting for you. It includes some very popular reality shows, news magazines, and other shows.
How to Download & Install CBS on Firestick
You can find CBS App in the Amazon app store. So, the whole process of installing it is just a piece of cake. Just follow the steps below to install CBS app on fire tv stick.
Get your firestick and look for the search bar.
Type in CBS and hit search.
Locate the official CBS app from the search results and select it.
Now, choose the download option and wait for the process to finish.
After the process is completed, click on the install button.
Once installation completes you can either run right then or run it later.
How to Activate CBS on Amazon Fire TV
This step might be a tad bit harder than installation. But, it is still pretty easy. We will walk you through it. Just follow our lead.
Go to the app section on your firestick.
Find the CBS app and open it.
Choose the Activate option.
Upon doing this you will probably get an activation code. It will be displayed on your screen.
Next, you have to use your smartphone OR PC. Use a browser visit this URL – https://www.cbs.com/activate/firetv/
Enter the activation code in the required area.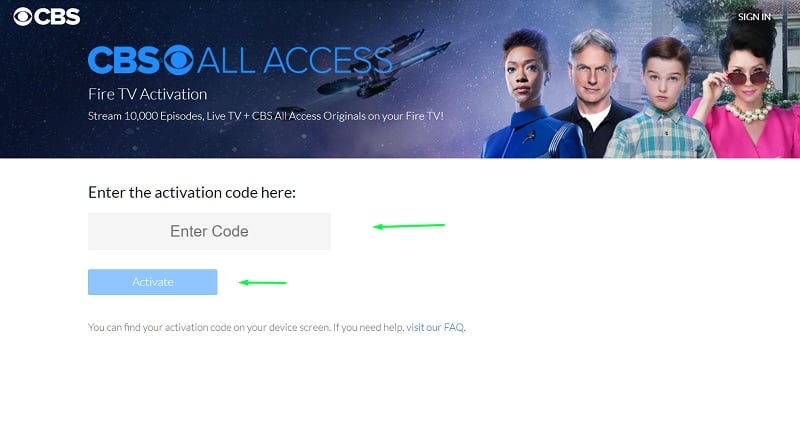 Choose Next.
You will have to sign in using your CBS login credentials.
After you have logged in, the app will load automatically. Its contents will be displayed once loading is complete.
Related 
Conclusion
So there you have. An article about how to install CBS on firestick. We have also told you how to activate it. You should be able to do it with ease now. With the features, we mentioned above and the comparatively low price, CBS does seem to be a good app on firestick. Enjoy.