Fix "Home is Currently Unavailable" for all amazon fire devices including FireStick, Fire TV, FireStick 4k & Fire Tv Cube. In this post, I have listed 5 best ways to fix this issue.
Amazon Fire TV devices are some of the most popular streaming devices among the cord-cutters. The Firestick is especially very popular because of its affordable price tag and versatility. An Amazon Prime subscription is all you need to start streaming content online. You can stream your favorite movies and TV shows from not only Prime Video but also Netflix, FuboTV, YouTube and many more. However, the Fire TV devices are not perfect. One of the many problems that users sometimes encounter is a static message saying "Firestick Home is currently unavailable." Continue reading this guide to fix this issue on your Firestick or other Fire TV devices.
Solve: Home is Currently Unavailable on Firestick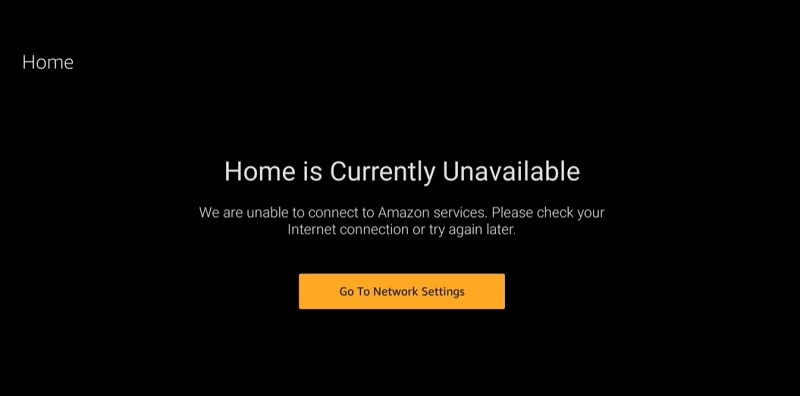 If you are getting the same error as me OR if your firestick is not working then you should definitely try below methods.
Attention FireStick Users – Read Before You Continue
When you stream online content on your devices, your personal information such as IP address and location gets monitored by third-party trackers. Even Currently, your IP is visible to everyone. You are also at risk of getting sued by media companies for streaming copyrighted content for free. I strongly recommend you to use a good VPN to hide your identity.
Using a VPN, you can encrypt your internet connection to get rid of prying eyes from stealing your personal information and monitor your private activities.
I personally use IPVanish VPN on my all Streaming device. MY experience with IPVanish VPN has been great because of its fast VPN servers and reliable encryption methods for keeping your data secure on the web. IPVanish also offers a 30-day money-back guarantee so you can ask for a refund if you don't like the service. We have special offers for our readers. Click here to Get 46% Off On IPVanish VPN.
#1 Fix: Restart Fire OS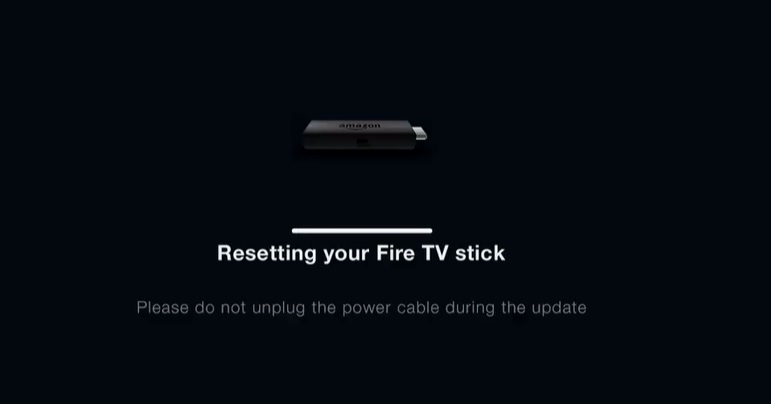 If you are getting the error message, then a simple restart can probably fix the issue. To restart your Fire TV device, simultaneously press and hold the Select button and the Play/Pause button on your Firestick remote for 5-10 seconds until Fire OS restarts. This is the most common fix to get rid of the "Home is currently unavailable" message.
Related – How To Clear Cache on Fire TV Stick
#2 Fix: Reconnect to Wi-Fi
The problem can persist if you are connected to a Wi-Fi network with no internet access. You can follow the steps below to fix the problem.
Restart your router by unplugging and plugging the power adapter to the wall socket. In case you use mobile data, turn off the Wi-Fi hotspot and re-enable it.
Now move over to Settings among the group of tabs above the Fire TV home screen.
Select Network from the list of options.
Select your preferred network under the Network If you don't see your network, click Rescan. Make sure your Wi-Fi router is not too far from your Fire TV device.
Enter the Wi-Fi password using the on-screen keyboard. Click Connect once you are done.
Restarting your router will free up resources on your router and begin to process and respond to incoming data packets. But make sure your internet connection is working correctly. Verify it from your internet service provider first. If this doesn't fix the issue, then carry on to the next fix.
#3 Fix: Disconnect your Firestick or Fire TV Devices
You can try disconnecting the Firestick or Fire TV from your television. Follow the steps below:
Turn off your Fire TV device and unplug the Amazon power adapter.
Disconnect the device from the HDMI port of your TV.
Disconnect the MicroUSB power cable from the Firestick.
After a minute, replug everything back and turn on your Firestick or FireTV to initiate a cold boot.
Reconnect to your Wi-Fi network by following the steps in #2 Fix.
If your home screen loads up recommendations and your app list as intended, then the problem has been successfully fixed.
Related – How To pair Your Fire TV Remote
#4 Fix: Deregister your Device
In case the previous fixes haven't solved the issue yet, you might have to deregister your device. Follow these steps below to deregister your Firestick or Fire TV device:
Open a browser tab on your smartphone or PC and visit the Amazon website. You can also use the Amazon app on your Android or iOS device.
Log in to your existing Amazon account. It has to be the same account linked to your Firestick or Fire TV device.
Click here to get redirected to the "Manage Your Content and Devices"
Click the Devices tab above. You will see your registered Fire TV or Alexa certified devices in this section.
Select your preferred Fire TV device and click Deregister.
Your device will be deregistered from your Amazon account. Note that all of your installed apps will be removed and some features will stop working. Now restart your Fire TV device and sign in to your existing or another Amazon account to register your Firestick or Fire TV. After that, the apps you've downloaded earlier from the Amazon App Store will start installing automatically.
#5 Fix: Factory Reset your Fire TV Device
If none of the fixes mentioned above solved the issue, then resetting your Fire TV device is the final possible fix for you.
Head over to the Settings
Select My Fire TV or Device.
Select Reset to Factory Defaults. In case you have a parental PIN set up, you may need to enter the PIN to proceed.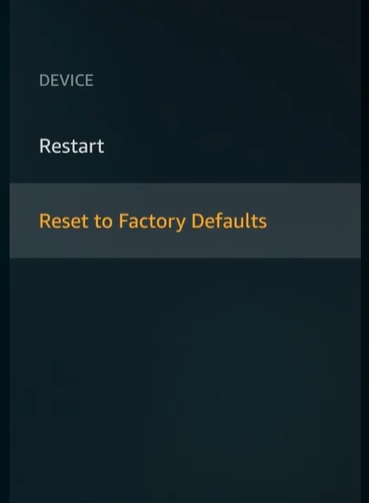 Select Reset. Your Fire TV device will now start resetting. Do not turn off the device.
Once done, sign in to your Amazon account and follow the on-screen instructions to set up your Fire TV device properly. This fix will hopefully solve the problem.
Final Verdict
In this guide, we have listed some fixes for the "Amazon Firestick Home is currently Unavailable" message on your Firestick and Fire TV. If the issue still persists, contact Amazon Customer Support and claim a replacement for your defective unit.