I've been seeing a lot of users struggling to free up storage space on their Firestick devices simply because they've installed way too many apps from Amazon App Store and do not know how to remove them. Well, it's quite a common problem that many Firestick users go through. In fact, I went through the same problem when I first purchased my Firestick device. Now that I've been through this, I'll be guiding how you can uninstall apps on Firestick devices in just a few steps.
In addition to this, certain apps do not function properly at times, which might affect the performance overall. In such cases, it's best to uninstall the app and install them if required. Also, you might've noticed quite a few apps installed on your Firestick device that you never use. Such apps are called unwanted apps and they come pre-installed on your device which constantly consumes the storage space on your Firestick device. In this post, I will also teach you how to remove preinstalled apps from firestick.
How To Uninstall Apps On FireStick
Attention FireStick Users – Read Before You Continue
When you stream online content on your devices, your personal information such as IP address and location gets monitored by third-party trackers. Even Currently, your IP is visible to everyone. You are also at risk of getting sued by media companies for streaming copyrighted content for free. I strongly recommend you to use a good VPN to hide your identity.
Using a VPN, you can encrypt your internet connection to get rid of prying eyes from stealing your personal information and monitor your private activities.
I personally use IPVanish VPN on my all Streaming device. MY experience with IPVanish VPN has been great because of its fast VPN servers and reliable encryption methods for keeping your data secure on the web. IPVanish also offers a 30-day money-back guarantee so you can ask for a refund if you don't like the service. We have special offers for our readers. Click here to Get 46% Off On IPVanish VPN.
You just have to perform the below-mentioned steps in order to uninstall or Remove app from Firestick device. However, some of the apps cannot be uninstalled as they're required to ensure the smooth functioning of your Firestick Device. It's good if you do not touch stubborn apps to avoid any unnecessary issues.
Turn ON your Firestick device and wait for the home screen to appear.
Go to "Settings" by going into the Top menu using your Firestick remote controller.
Navigate to the "Applications" option under "Settings" to proceed further in the process.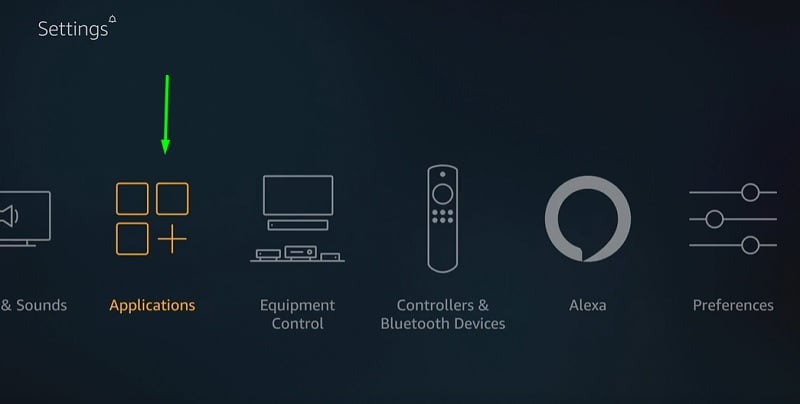 Now open up "Manage installed applications" to see all the installed apps on your device.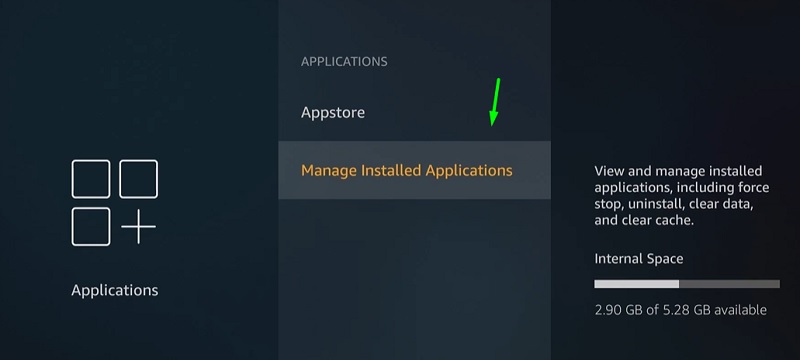 Select any app from the provided list that you want to uninstall from your device. (For example, I choose "Bee TV")
Tap on the "Uninstall" option to delete the selected App from your Firestick device.
Note:- Make sure to clear the cache and data of the selected app before you begin to uninstall the app. Doing this will ensure that there are no residual files of the app are left on your storage. You can also use any cleaner apps to remove the data of uninstalled apps from your Firestick device.
Alternative Method to Delete Apps on Fire TV Stick
There's one more way to directly uninstall the apps from the home screen itself without having to go into settings. You can follow this method if you simply want to remove the app without clearing its data.
Turn ON your Firestick device and wait for the applications to load properly.
Tap on the home button and hold it for a few seconds on your Firestick remote controller.
A new screen will appear with 4 shortcuts, select "Apps" from the available options.
On your next screen, you just have to pick the app that you want to uninstall permanently.
Open up additional options for the selected app by tapping on the "Menu" button your remote controller.
Select "uninstall" from the list of options provided on your screen to begin uninstalling the app.
Additional Info:- The apps that you have downloaded from Amazon App Store are stored in your cloud storage as well. The apps will remain in your cloud even if you have removed them from your Firestick device. In order to completely remove the app from your Cloud storage, simply select the app and access its options, select "Remove from cloud".
Within a few seconds, the app will be removed from your cloud storage as well.
Related
Winding Up
I hope this article would prove to be helpful for removing or uninstalling the apps from your Firestick device. Once the storage space is free, you can install any other apps from the Amazon App Store without any restrictions. Let me know in the comments if you're unable to remove any stubborn apps or if you have any doubts.