In this step by step guide, I will explain How to Install Exousia on Firestick. The app can also be installed on amazon firestick 4k, fire tv cube & android TV box.
There has been a rapid growth in the popularity of premium on-demand and live TV streaming services. However, due to the major influx of cord-cutters worldwide, the subscription prices for streaming services have also seen a significant increase, which is why many of us are still disinclined to pay for more than one monthly subscription at a time.
While there are legitimate streaming services that offer on-demand content and live TV channels for free to its users, they are very limited in terms of quality and original programming.
This is where third-party streaming services do its part. Apps such as Terrarium TV and Mobdro are some of the most popular third-party streaming apps of all time, then followed by clones such as Cinema HD and TVZion. Although we neither endorse piracy nor encourage our readers to stream copyright content from illegitimate sources, note that there are no proper laws that consider streaming publically distributed content from file hosting services to be an illegal activity.
Today we are checking out a relatively new third-party streaming app named Exousia, which lets you stream movies, TV shows, and live TV channels for free. Since it is compatible with Fire TV devices, we will show you the way to install Exousia on Firestick in this guide, as well as give you a detailed overview of the Exousia app.
What is the Exousia App?
Exousia by I4Apps is an all-in-one content streaming service that offers thousands of hours of on-demand movies and TV shows, alongside 1000+ IPTV channels from several countries across the globe.
The app has built-in web scrapers, which searches for the latest publically available content from thousands of file hosting websites. As a result, you get access to the newly released blockbuster movies and recently aired episodes of popular TV shows. The content library is massive, and it receives updates regularly, which is a rare find on third-party streaming services.
With the addition of premium live TV channels from the United States, Canada, the United Kingdom, and several other European and Asian countries, Exousia also serves well as a free IPTV service. However, most channels are capped in SD quality, and it's pretty difficult to find working HD channels.
Features of Exousia Apk on Firestick
Exousia's streaming library consists of a wide variety of movies and binge-worthy TV shows.
Users can stream on-demand content in up to 1080p Full-HD quality.
Exousia's professional Leanback-styled, user-friendly app interface scales great on big-screen televisions. Also, it does natively support the Firestick remote.
Unlike other third-party streaming apps, Exousia receives regular updates from its developers.
In spite of in-app advertisements, Exousia is totally free to use and doesn't require users to pay for any sort of subscriptions.
How to Install Exousia APK on Firestick?
Attention FireStick Users – Read Before You Continue
When you stream online content on your devices, your personal information such as IP address and location gets monitored by third-party trackers. Even Currently, your IP is visible to everyone. You are also at risk of getting sued by media companies for streaming copyrighted content for free. I strongly recommend you to use a good VPN to hide your identity.
Using a VPN, you can encrypt your internet connection to get rid of prying eyes from stealing your personal information and monitor your private activities.
I personally use IPVanish VPN on my all Streaming device. MY experience with IPVanish VPN has been great because of its fast VPN servers and reliable encryption methods for keeping your data secure on the web. IPVanish also offers a 30-day money-back guarantee so you can ask for a refund if you don't like the service. We have special offers for our readers. Click here to Get 46% Off On IPVanish VPN.
A small team of developers works on the Exousia app. Hence, it is not available on either the Google Play Store or Amazon Appstore for Fire TV devices. You can download the latest version of Exousia from I4Apps' official website, then sideload the APK file on your Firestick. If you haven't tried sideloading apps on your Firestick yet, the following steps will show you how to do it.
Step #1: Enable Sideloading on Firestick
First, we have to enable the app sideloading on Firestick. Although Amazon doesn't encourage users to install third-party apps on Fire TV due to security risks, we can assure you that Exousia won't harm your Firestick.
First, move to the top bar of the Fire TV home screen to select the Settings
Now scroll to the end of the Settings menu and select the My Fire TV / Device
After that, select Developer options in the following menu.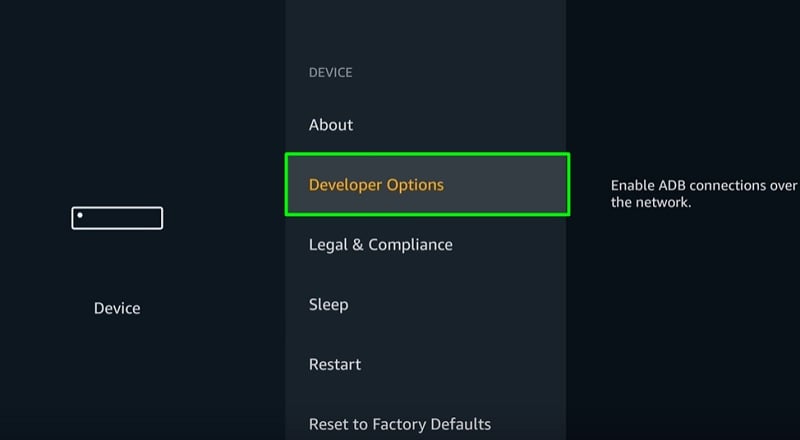 Enable Apps from Unknown Sources. A warning message will appear regarding the risks associated with sideloading. Click Turn On to dismiss the prompt and confirm changing the settings.
You have successfully enabled app sideloading on Firestick. You can now go back to the Fire TV home screen by pressing the Home button on your Firestick remote, then keep following the instructions below.
Step #2: Install the Downloader App
We will install the Downloader app from the Amazon Appstore since it allows users to download files on their Firestick devices, unlike Amazon's Silk Browser. We will use the app to download the Exousia APK file and sideload it.
Select the Search option (magnifying glass icon) at the upper-left corner of the Fire TV home screen.
Search for the "Downloader" app using the on-screen keyboard or your voice, then choose Downloader from the keywords that show up below.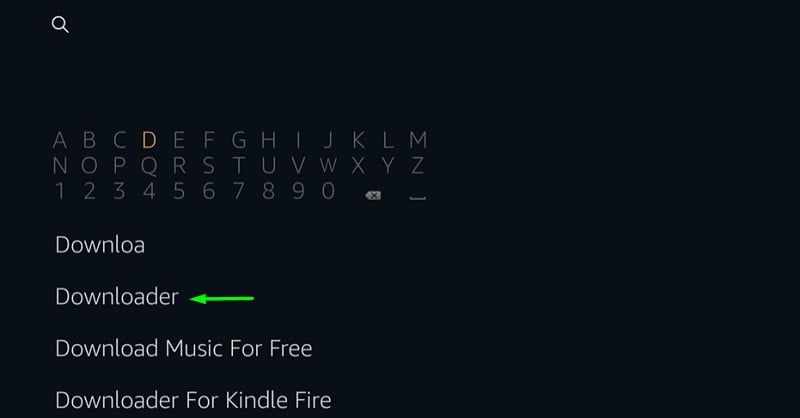 Now scroll down to the Apps & Games section on the next page and click the Downloader app icon.
Click Get to start downloading the Downloader app. The app installation should take less than a minute to finish up.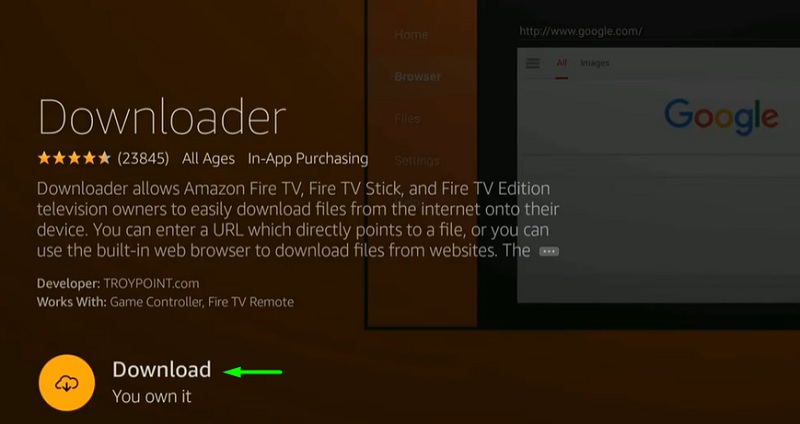 Once you have installed Downloader on Firestick, click Open to launch the app.
Step #3: Download & Install Exousia APK on Firestick
On the first boot of the Downloader app, click Allow to give the app storage permissions, then click OK to close the changelog.
Now select the Download bar on Downloader's Home page, and type in this link carefully:

https://bit.ly/3aE4ci4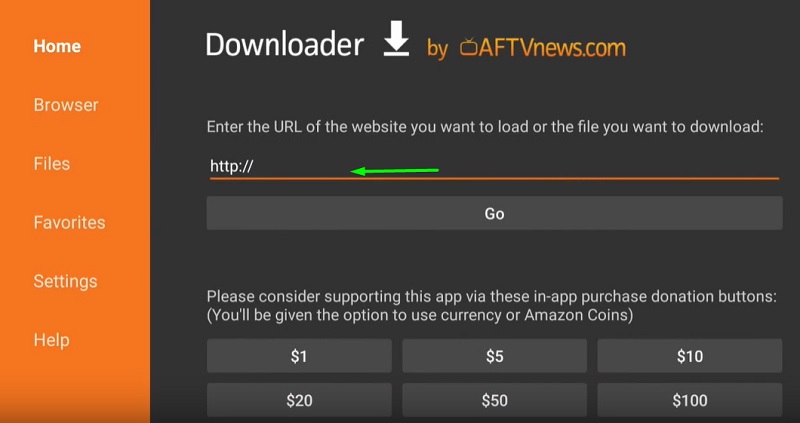 Next, click Go and wait until Downloader finishes downloading the Exousia APK file.
Once the download ends, Android's built-in APK installer should appear after the APK file finishes downloading. Simply click Install to sideload Exousia on Firestick.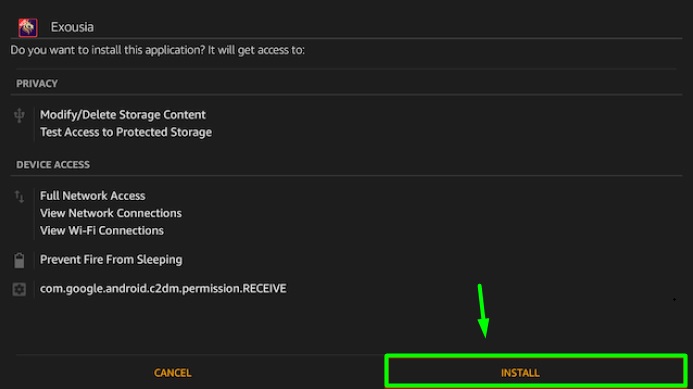 When the installer gives you the "App Installed" message, click Done to close the installer and return to the Downloader app. As you now have Exousia installed on Firestick, you can click Delete to remove the Exousia APK file. It will free up some space on your Firestick's internal storage.
On a side note, you can launch Exousia from Your Apps & Channels section on the Fire TV home screen.
Overview of the Exousia App on Firestick
When you launch Exousia APK on Firestick for the first time, you will have to Allow the app to access your Firestick's internal storage. After that, you will find yourself on Exousia's default Recents page.
The Leanback UI layout of Exousia consists of several options, including Recents, Xmas Movies, Movies, TV Season, Sports IPTV, General IPTV, Requested IPTV, App Store, Choose Player, and Options.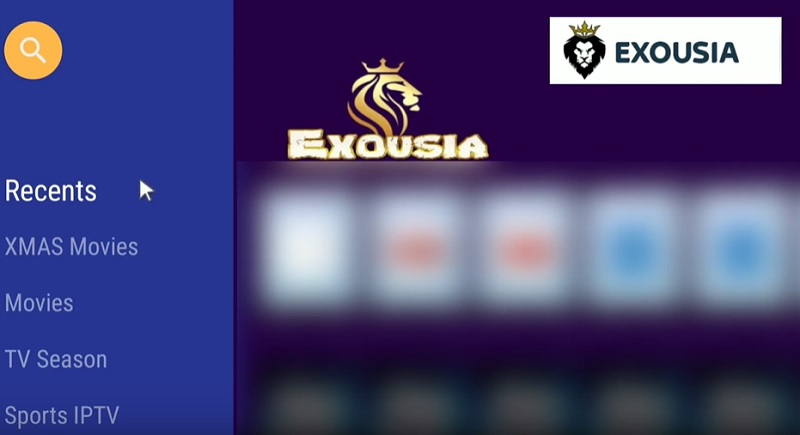 The options are pretty self-explanatory, and all of them work flawlessly except the TV Season option. As of now, the TV Season library is empty. However, we can safely assume that a future update will fix this.
Upon selecting a movie, TV show, or live IPTV channel, several streamable sources will show up in the list. You can choose your preferred stream quality from the list as well.
Unlike other third-party streaming alternatives, Exousia doesn't have many user tweaks to offer. However, you can choose an external player, such as MX Player and VLC for content playback.
Related
Wrapping Up
At first glance, Exousia seems promising as a third-party streaming app. It works exceptionally well on Firestick at the time of this writing. However, similar to other third-party streaming solutions, we can't guarantee if the developers will keep supporting the app for an extensive period of time.
At least for now, you can try installing Exousia on Firestick by following this guide and enjoy streaming on-demand movies/TV shows and IPTV channels.